The old truck market is starting to heat up, with well-preserved examples of older trucks starting to gain in value considerably. They're gaining in interest, too, with old work trucks suddenly becoming desirable items as people appreciate their tough, simple exterior design that doesn't exist much in today's truck world. If you're looking for a well-preserved old truck, here are six excellent options.
The only truck on this list that isn't actually a truck is this 1984 Chevy El Camino, which is a truck in the sense that it's got a 2-door cab plus a bed, but it's not a truck in the sense that it's a rear-wheel drive, car-based vehicle. It's traveled just 87,000 miles from new, and it's offered by Russ Darrow Chrysler Dodge Jeep Ram in Madison, Wisconsin, for a reasonable $8,399.
This 1984 Ford F-150 is one of the nicest trucks you'll ever see from this era. Offered by Country Club Autos in Delray Beach, Florida, this F-150 features a unique blue and tan paint scheme, along with truly amazing preservation as it's traveled just 42,500 miles from new. The ad notes that it's got a factory 302 cu in. V8 — a desirable 5.0-liter engine with lots of power and torque — and it boasts a beige cloth bench seat. It's offered for $24,900.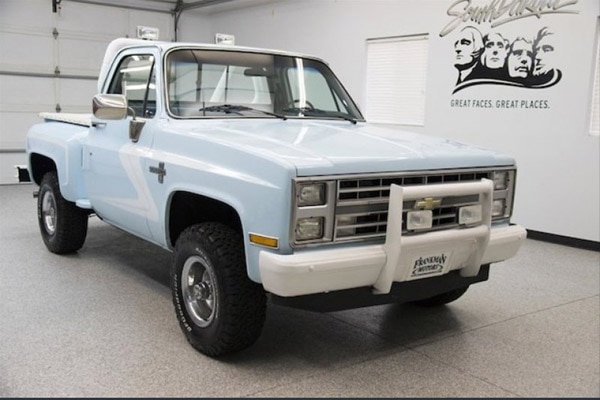 1986 Chevy Silverado – $21,681
This 1986 Chevrolet Silverado is a tremendously well-preserved example of a vehicle nobody really thought to preserve. Offered by Frankman Motor Company in Sioux Falls, South Dakota, which has an incredible inventory of well-preserved 1980s and 1990s cars, this pickup features a distinctive baby blue paint scheme, a cool light bar over the bed and an odometer that shows just 27,822 miles. It's listed for $21,681, which seems pretty reasonable given the condition and this truck's unique style.
Although every vehicle on this list is rare, this particular truck is especially unusual — largely because it's tremendously surprising to see a "heavy duty" Dodge Ram from this era preserved so well. These, more than almost any other truck, were built to tow and haul, and I'm shocked by the condition of this truck — especially considering it appears to be on an actual ranch, where it probably saw actual work duty. It's offered by a private seller in Sheridan, Wyoming, with just 55,700 miles for $25,000 — and yes, it has a manual transmission.
1992 Chevy Silverado – $39,998
This 1992 Chevrolet Silverado is especially impressive because of its mileage. While many of the trucks on this list have been driven at least a little over the years, this one was basically stored. I say that because it has just 3,224 original miles, all apparently added by the same owner in South Dakota. This truck is now offered by Dillon's Auto in Lincoln, Nebraska, with a blue exterior and a blue interior — and it's truly a time capsule.
1993 Ford F-150 Lightning – $35,000
Although most car enthusiasts remember the "later" Ford F-150 Lightning, which was sold in the late 1990s and early 2000s, the "early" model is also noteworthy — in large part for its rarity, as Ford made the high-performance truck in tremendously small numbers in the early 1990s. This F-150 Lightning is especially well preserved, touting under 8,700 miles and an asking price of $35,000, from C&R Auto Fleet in Gettysburg, Pennsylvania.
MORE FROM OVERSTEER:
Here's Why the Koenigsegg Agera RS Is Worth $10 Million
I Bought the Most Unreliable BMW Ever Made
Autotrader Find: 1990 Subaru Legacy With a Landau Roof