Although it's very difficult to find well-preserved versions of cars from some brands, that problem doesn't exist in the Cadillac world. At any given moment, there are dozens of well-preserved Cadillac models for sale — largely due to the brand's older buyer base, I'd imagine. It's interesting to see some of these time capsule cars — and I've rounded up five of the very best-preserved used Cadillac models currently listed for sale on Autotrader.
1984 Cadillac Eldorado Biarritz – 6,400 Miles
The Cadillac Eldorado Biarritz was the handsome, and rather uncommon, convertible version of the 1980s Cadillac Eldorado. Many drivers saved their Biarritz models, thinking they'd be worth big money someday — and this particular one is a good example, as it's traveled just 6,400 miles from new. Finished in white with a red leather interior, this Biarritz is offered by The Auto Livery in Ross, Ohio, for $27,995.
1986 Cadillac DeVille Fleetwood – 24,900 Miles
This 1986 Cadillac DeVille is in excellent condition — no surprise, as it's traveled just 24,900 miles in the 30-plus years since it was sold new. Finished in light blue with a dark blue interior, the DeVille is truly a time capsule, and an impressive one — and it's a rarity, as most of the well-preserved Cadillac models are 2-door vehicles, like the others on this list. This DeVille is offered by Semones Automotive in Blairs, Virginia, for $6,995.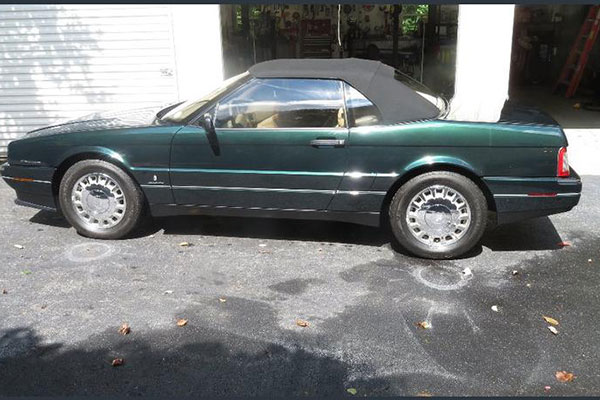 1993 Cadillac Allante – 4,300 Miles
This 1993 Cadillac Allante is wonderfully preserved, and it hails from the final — and most desirable — year of Allante production, 1993, which is the only year the car came with the powerful Northstar V8. This Allante is finished in green with a beige leather interior, and it comes with the factory hardtop — but the most impressive characteristic is the fact that it's traveled just 4,300 miles from new. It's now offered by a private seller in Young Harris, Georgia, for $18,900.
1999 Cadillac Eldorado – 5,000 Miles
Although we've previously featured this 1999 Cadillac Eldorado as an "Autotrader Find," it's worth bringing back because it so perfectly fits the parameters of this list. It's a '99 model with just 5,000 miles, finished in white with a light tan interior. It's in beautiful shape and in gorgeously clean condition, and it's offered by a private seller in Ambridge, Pennsylvania, for $25,000.
2004 Cadillac XLR – 3,300 Miles
This 2004 Cadillac XLR is in fantastic condition, which is no surprise considering that it's traveled just 3,300 miles from new. Finished in a tan-ish silver with a beige interior, this XLR is truly a showpiece, given the fact that it's barely been driven in the 15 years since it was first sold — and while there are a few low-mileage XLR models on Autotrader, no other examples have mileage anywhere near this low. This one is offered by Haacke Motors in Layton, Utah, for $45,995.
MORE FROM OVERSTEER:
Here's Why the Koenigsegg Agera RS Is Worth $10 Million
I Bought the Most Unreliable BMW Ever Made
Autotrader Find: 1990 Subaru Legacy With a Landau Roof