With every passing month, fewer and fewer Saab models are listed on Autotrader, as the now-defunct brand fades from our roads into our memories. But as of right now, there are still a good number of Saab models listed on the site — and today, I'm showing you what I consider to be five of the best Saab models you can buy on Autotrader right now.
1994 Saab 900 Commemorative Edition – $11,500
The "original" Saab 900 finally came to an end in 1994, after nearly two decades on the market. The 900 Commemorative Edition was the very last model, and was produced alongside the all-new 900 during the 1994 model year. This particular Commemorative Edition is one of the nicest original 900 models for sale on Autotrader, and it's offered with just 72,000 miles by a private seller in Connecticut for $11,500.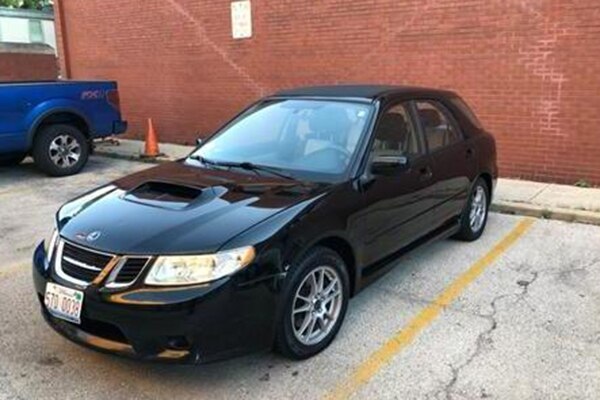 2005 Saab 9-2X Aero Manual – $5,750
Although the Saab 9-2X generated a lot of controversy when it first debuted for essentially being a rebodied Subaru WRX wagon, I recommend this particular example. That's because this is the ultimate 9-2X: for one, it's an Aero model, with the WRX's 227-horsepower turbocharged 4-cylinder, and it's also a manual. This is, in fact, the only manual 9-2X Aero on Autotrader, and these are great Saab models for people worried about parts availability, since it's largely a Subaru underneath. This 9-2X Aero is offered by a private seller in Chicago for $5,750.
The 9-3 Viggen was the high-performance version of the original 9-3 model, which was sold from 1999 to 2002. There are only two 9-3 Viggen models on Autotrader, and the other is a convertible — I've always preferred the hatchback versions. This particular one also has some charming "SAAB" graphics on the lower half of the body that recall older models. If you're interested, this 9-3 Viggen is offered with 176,000 miles by Carolina Auto Imports in Charlotte, North Carolina though the price is unlisted.
2008 Saab 9-3 TurboX SportCombi – $17,999
A lot of Saab fanatics consider the 9-3 TurboX SportCombi to be the last really special Saab, the last ultra-fun model in the vein of old-school Saabs before the brand finally folded. It's easy to see why: not only is the 9-3 TurboX SportCombi a handsome wagon, in keeping with the hatchback tradition of many older Saabs, but it also boasted a surprisingly powerful 250-hp turbocharged V6, mated to an all-wheel-drive system. This particular one even has a manual transmission, making it particularly desirable. It's offered by Dan Deery Toyota in Cedar Falls, Iowa, for $17,999.
The Saab 9-4X is a handsome crossover that was the last Saab model on sale when the brand finally folded after the 2011 model year — an honor it shared with the "new" 9-5 sedan. Built alongside the Cadillac SRX, the 9-4X was sufficiently "Saab-ified," and it remains an excellent crossover, assuming you can find parts. This particular 9-4X is an Aero model, meaning that it features the optional 300-hp turbocharged V6. Like the 9-3 TurboX above, this, too, is offered by Dan Deery Toyota in Cedar Falls, Iowa, though it's a bit more expensive at $24,999.
MORE FROM OVERSTEER:
Video | Here's Why I've Already Spent $28,000 On My Ford GT
This Chrysler PT Cruiser Looks Like a London Taxi
Autotrader Find: Never-Titled 1997 Plymouth Prowler With Matching Prowler Trailer