In recent years, it's become a major trend to modify Jeep Wranglers for all sorts of use — not just off-road driving. The Jeep Wrangler aftermarket industry has become a big one, and a huge percentage of Wrangler owners perform at least some form of modifications. But some Wranglers take it a little farther than "some form of modifications" — and here's proof, with the five craziest Jeep Wrangler builds currently listed for sale on Autotrader.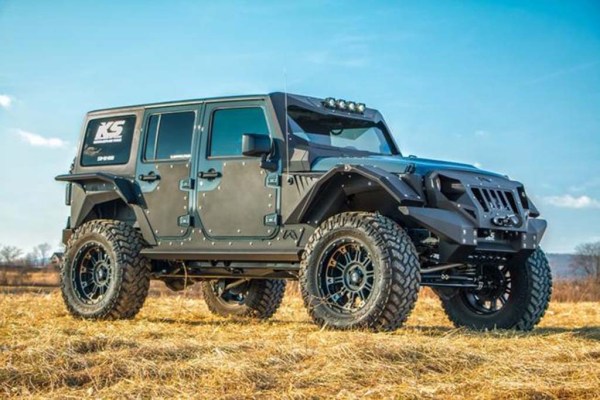 I've nicknamed this the "angry Jeep Wrangler" because it looks like it's ready to fight in some sort of battle. Offered for sale by a private seller in rural New Columbia, Pennsylvania, this Wrangler has been dramatically modified from the stock look with customized items practically everywhere — the wheels, the grille, the fenders, the doors and even the interior. You'd surely notice this Wrangler coming down the road — but the head-turning look isn't cheap, as it's offered for $99,997.
Hemi-Powered Jeep Wrangler Pickup – $70,000
This Wrangler pickup is a converted 4-door "Unlimited" model that's been transformed into an extended cab truck. It's finished in bright blue and fitted with big tires (and color-matched wheels), along with a steel bumper and winch to go off-roading. But that's not the craziest part. That honor goes to the engine: The Wrangler's standard 6-cylinder has been ripped out and replaced with a 6.4-liter Hemi V8, which makes a claimed 540 horsepower — which must make this Wrangler incredibly fast. It's offered by a private seller in Oklahoma City for $70,000.
Jeep Wrangler Crew Cab Pickup – $114,000
My favorite Wrangler on this list is a crew cab pickup truck model, which was built by AEV — a company well-known for creating these truck conversions. Effectively a 4-door Wrangler with a pickup bed, this Wrangler pickup hasn't been modified with crazy wheels or tires or other upgrades — it's simply presented with a nearly stock look, aside from, well, the rear end. It's offered for $114,000 by BMW of Santa Maria in Santa Maria, California, not far from Santa Barbara.
6-Wheeled Jeep Wrangler – $238,000
This is Jeep Wrangler modification to the extreme. The Wrangler you're looking at here is not just a 6-wheeled Wrangler (which would be crazy enough), but a 6-wheel-drive Wrangler, meaning all six wheels can turn … for when you're in especially difficult terrain conditions. This Wrangler was also converted into a crew cab pickup, and it's truly a sight to behold — at least in photos. It's offered by a private seller in Huntington Beach, California, and (not surprisingly) the asking price isn't cheap: It's currently listed for sale for $238,000.
The Most Insane Wrangler – $138,000
This is one of the craziest Wrangler builds I've ever seen, shy of the 6-wheel-drive vehicle listed above. Not only is this Wrangler modified to an absurd degree, but it appears that basically every panel and detail has been changed on every surface of the Jeep. This Wrangler was modified by Starwood Motors, a known Wrangler modification shop, and it's currently offered for sale by Starwood in Dallas for $138,000. That's big money for a Jeep, of course, but it's unlikely you'll find many that look like this. Find a Jeep Wrangler for sale
Doug DeMuro is an automotive journalist who has written for many online and magazine publications. He once owned a Nissan Cube and a Ferrari 360 Modena. At the same time.
MORE FROM OVERSTEER:
There Is a Batmobile Tumbler For Sale on Autotrader
The Hyundai Galloper Was a Rebadged Mitsubishi Montero
Video | I Bought the Cheapest Chevrolet Corvette Z06 in the US