Whenever I do a list of the "highest-mileage" vehicles on Autotrader, I'm always focused on two categories: the highest-mileage overall vehicles, which are nearly always pickup trucks, and the highest-mileage vehicles in some weird group that usually doesn't have high-mileage vehicles, like exotic cars or European luxury vehicles. Well, today I'm bringing you something a little different: the highest-mileage SUVs, just because I was curious exactly what they were.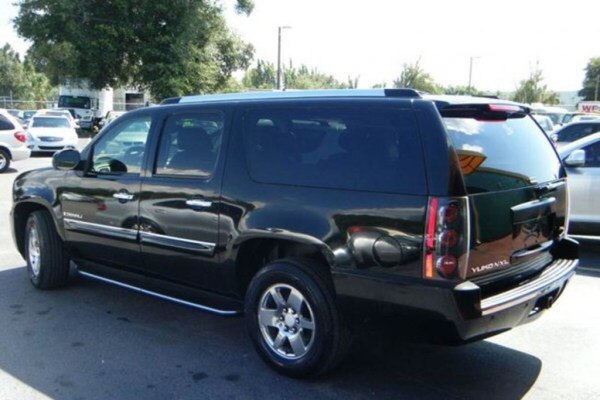 2007 GMC Yukon XL Denali – 444,000 Miles
The highest-mileage SUV currently listed for sale on Autotrader is this 2007 GMC Yukon XL Denali with 444,000 miles, offered at $9,950 by A to Z Auto Sales in the Orlando suburb of Apopka, Florida. The situation with this one is obvious: It was used by a car service, as indicated by the little numbers on the front bumper, and the extended-length wheelbase, and the simple fact that it's a 444,000-mile GMC Yukon. The Carfax report shows four accidents, which seems about right for a vehicle that drives 44,000 miles a year. Find a GMC Yukon XL for sale
2003 Ford Excursion – 415,000 Miles
Probably the nicest vehicle on this list in terms of overall condition, this 2003 Ford Excursion looks immaculate. Offered for $10,000 by a private seller in the wealthy Detroit suburb of Grosse Point, Michigan, this 2003 Excursion has covered 415,000 miles since new, which is massive — especially in a giant, V8-powered SUV that gets something like 12 miles per gallon. The seller notes that no expense has been spared on the maintenance of this Excursion, which seems credible based on the images — and while the Carfax report shows three accidents, it also shows one single owner since new and a lot of trips to Detroit-area Ford dealerships. Find a Ford Excursion for sale
2008 Lincoln Navigator – 410,000 Miles
Just like the Yukon above, this 2008 Lincoln Navigator with 410,000 miles was surely used by a car service — as indicated by the color, the long wheelbase, the high mileage and the fact that the seller's opening line in the description is "THIS VEHICLE SEATS 8 PASSENGERS WITH LUGGAGE!!!" Like the Yukon, it's listed for sale in Florida, although this one is in Jupiter, which is just north of Palm Beach on the Atlantic coast. The Carfax report shows several owners, all in Florida, and also shows the mileage didn't really start adding up until 2010, when it was purchased used by the current owner. It's offered by a private seller for just $9,000. Find a Lincoln Navigator for sale
1996 Toyota 4Runner – 388,000 Miles
This 1996 Toyota 4Runner has covered 388,000 miles since it was sold new in Hinsdale, Iowa, on May 21, 1996. Although the Carfax report shows it was branded with a "Not Actual Mileage" title, it appears the mileage is indeed accurate, and that the 4Runner has had a long life in many states — Iowa, Nebraska, Colorado, Illinois, New Jersey and now Pennsylvania. Now it's offered by Fuelin Fine Auto Sales in Pen Argyl, Pennsylvania, near Allentown, for just $1,800 — clearly nearing the end of its life, but in relatively nice shape with a few years left to go. Find a Toyota 4Runner for sale
1994 Ford Bronco – 377,000 Miles
This 1994 Ford Bronco has reportedly traveled 377,000 miles since new, though it's hard to verify, since a VIN isn't attached to run a Carfax report. Nonetheless, it certainly looks like it's traveled 377,000 miles, as even the small number of attached photos show it's in fairly worn condition. Still, Bronco models of this vintage are relatively desirable; this one is offered for $5,500 by a private seller in Heiskel, Tennessee, near Knoxville. Find a Ford Bronco for sale
2002 GMC Envoy – 370,000 Miles
This 2002 GMC Envoy has traveled 370,000 miles since it was purchased new on October 2, 2001 and registered in the Columbus, Ohio, exurb of Centerburg. Amazingly, the Carfax report shows it was involved in two accidents within the first year of its life — one in March 2002 and one in June — and none since, with the Carfax report showing nothing but registration renewals and dealership services since that second accident. It's currently offered for $3,441 by Hadocy Buick GMC in Columbus, where it looks like it's in surprisingly nice condition, considering the mileage. Find a GMC Envoy for sale
Doug DeMuro is an automotive journalist who has written for many online and magazine publications. He once owned a Nissan Cube and a Ferrari 360 Modena. At the same time.
MORE FROM OVERSTEER:
Video | The Lamborghini Jarama Is Ugly, Weird and Ultra-Rare
The Volkswagen Phaeton Was a $120,000 12-Cylinder VW Luxury Sedan
Here's an Absurd Winter Driving Myth You Shouldn't Believe