You might be surprised to learn that there are dozens of vehicles listed for sale on Autotrader for over $1 million. In fact, a vehicle listed for $1 million isn't even close to the most expensive car — as you can tell from this list of the five most expensive cars currently offered for sale on Autotrader, all of which are available for around $2 million or more.
The most expensive car currently listed for sale on Autotrader is this 2015 LaFerrari, which is offered by Pagani Beverly Hills in the Los Angeles area. Like many "used" LaFerrari models, this one has only delivery miles, with 131 miles shown on the odometer. It's yellow with a black interior and yellow piping, and it's more expensive than the vast majority of residential homes in the United States. But, it's also one of the coolest cars ever made.
This McLaren P1 is also one of the most expensive cars currently listed for sale on Autotrader. Offered by McLaren Newport Beach in Southern California, this P1 has traveled just 836 miles from new — and it's listed for $2,750,000. It's silver with a black interior, and it's an excellent example of one of the single most exciting supercars ever built.
2003 Ferrari Enzo – $2,700,000
The Ferrari Enzo is (obviously) a special car, and examples of the Enzo seem to be finding their way to the market less often, as the car ages and settles into collections. This particular Enzo is finished in Ferrari's famed Rosso Corsa exterior color, and it boasts a black interior — along with 4,524 miles, meaning it's been driven a lot more than the other cars on this list. It's offered by Boardwalk Ferrari in the Dallas area for a whopping $2.7 million — far more than the original sticker price of about $650,000, but well within the market range for the increasingly pricey Enzo.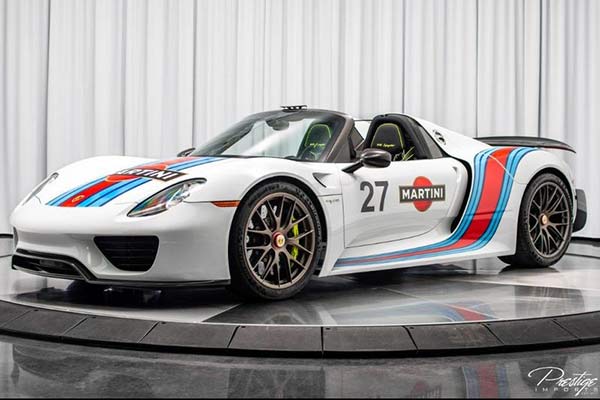 2015 Porsche 918 Spyder – $2,150,950
The 918 Spyder is, obviously, Porsche's craziest supercar ever — and this is an excellent example of the car. Finished in Martini Racing livery, this 918 Spyder has covered just 869 miles from new — and now it's offered by Prestige Imports in the Miami area for $2,150,950, making it the most expensive 918 Spyder currently listed for sale on Autotrader. The color scheme may not be for everyone, but it certainly seems to add to the car's desirability on the used market.
2012 Bugatti Veyron – $1,990,000
The Bugatti Veyron is world famous for its top speed achievements — and now, this 2012 Veyron can be yours for $1,990,000. It's offered by Ferrari of Fort Lauderdale in South Florida, and it's listed with 2,367 miles, meaning the prior owner (surprisingly) drove it a bit. The Carfax report shows that it was sold new in California before bouncing around to Ohio and New York, finally landing in Florida where it's currently offered for sale. This particular Veyron is a Grand Sport model, painted in a handsome gray color with a black leather interior.
MORE FROM OVERSTEER:
Video | Hoovie and Doug: What's Your Favorite Car You've Ever Owned?
Autotrader Find: 1987 Chevy Corvette With 330,000 Miles
Video | I Bought a 2005 Ford GT