Over the years, Aston Martin has been responsible for many, many wonderful vehicles, a huge portion of which we've all lusted after. Today, I'm going to list my five very favorite Aston Martin models in the brand's history — a list that includes some rather unorthodox choices, especially considering how many great cars Aston Martin has made.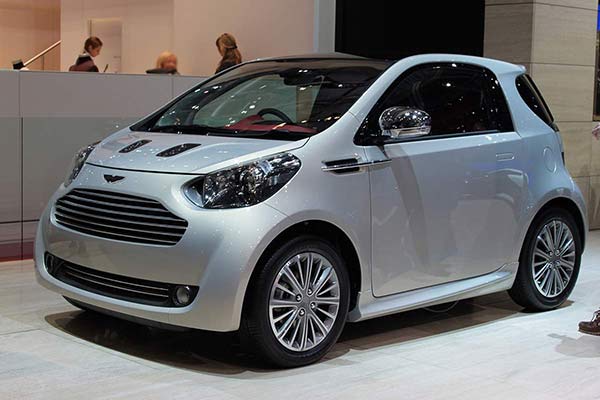 Aston Martin Cygnet
I love weird cars, and the Aston Martin Cygnet isn't just one of the weirdest Aston Martin models, but also one of the weirdest cars ever made. It was a super-tiny Toyota hatchback (branded as the Scion iQ in the United States), except it was … an Aston Martin. Made to bring Aston into compliance with emissions and fuel economy regulations, the Cygnet was truly bizarre — and only sold in Europe. I've seen a few on the road, and I'm always absolutely thrilled when I do.
1960s Aston Martin DB5
It may be a cliche, but it's a cliche for a reason: The DB5 is the first Aston Martin most people see, given its success in the James Bond world, and it's still the most famous Aston of all time. As a result, you may roll your eyes at seeing it on this list, but the simple truth is this: It's absolutely, beautifully, incredibly gorgeous, and it always has been. The DB5 is the best representation of Aston's beautiful "vintage" era, and it obviously belongs on this list.
1970s-1980s Aston Martin Lagonda
The Aston Martin Lagonda is one of the craziest luxury sedans in history, with its absolutely bizarre interior and ridiculous styling that truly resembled an anteater. I can't think of another car I find quirkier, or weirder, and I'm thrilled I had the chance to experience a Lagonda earlier this year. The Lagonda certainly isn't the most sought-after Aston model — in fact, it's one of the least sought-after — but it'll always be one of my favorites.
Aston Martin One-77
The Aston Martin One-77 was, disappointingly, never sold in North America. But it's still an absolutely beautiful car, and probably the pinnacle of modern Aston Martin, as it had a seven-figure price tag and a production run of just 77 units for the entire planet. The One-77 also boasted a 750-horsepower V12 and a supposed top speed of around 220 miles per hour, putting it squarely into supercar territory.
2000s Aston Martin Vanquish
It may seem like a weird decision to include a mostly-depreciated early-2000s Aston Martin on this list, but I've always loved the Vanquish. To me, it was a return to form for Aston Martin after the mediocre DB7 in the 1990s, and I still think it's one of the best-looking modern cars in existence. It's especially wonderful if it's had a manual transmission swap to replace the original and mediocre sequential manual transmission, which Aston Martin offers to do at the factory.
MORE FROM OVERSTEER:
Video | Hoovie and Doug: What's Your Favorite Car You've Ever Owned?
Autotrader Find: 1987 Chevy Corvette With 330,000 Miles
Video | I Bought a 2005 Ford GT