As of this writing, in September 2018, there are precisely five SUVs or crossovers still offered with a manual transmission option. I say "as of this writing," because they're dwindling fast: The Mazda CX-5 offered it up until recently, and the Honda HR-V has just lost its manual option as we head into the 2019 model year. Same deal with the Subaru Forester: it's now CVT only for 2019. That means we're down to just this handful.
Fiat 500X
The Fiat 500X still offers a manual transmission, but barely. It's a "price leader," and it's only offered on the 2-wheel drive base model, which is called the 500X Pop. Get that version and the manual is mandatory, and it's mated to a 160-horsepower 1.4-liter turbocharged 4-cylinder. Upgrade to any other 500X aside from the very base model — or even just add all-wheel drive to the base model — and you get a 9-speed automatic, along with a 180-hp 2.4-liter 4-cylinder.
Jeep Renegade
Given that the 500X is offered with a manual, it's no surprise you can also still get a manual in the Jeep Renegade, as they share powertrains and a platform. In the Renegade, the manual has wider availability: it's still mated solely to the 160-hp 1.4-liter turbocharged 4-cylinder, but you can get the manual on base-level Sport or mid-level Latitude or Altitude models. Once again, it's offered only with front-wheel drive; if you want four drive wheels (or a top-end Limited or Trailhawk model), you have to get an automatic and the 180-hp 2.4-liter 4-cylinder.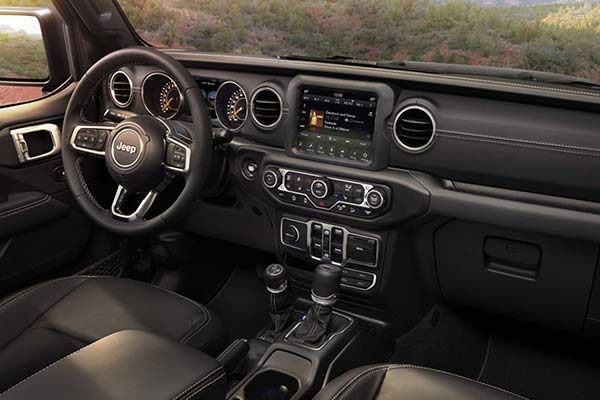 Jeep Wrangler
Even when all the other manual SUVs die, the Jeep Wrangler will probably be the lone holdout. The Wrangler is, of course, an off-road-focused SUV, and some off-roaders say they prefer to tackle the trails with three pedals, insisting it provides better control. The result is that a manual is offered on the Wrangler with the standard 285-hp 3.6-liter V6, making it the only Chrysler product that has an available manual transmission mated to the "Pentastar" V6.
Mini Countryman
The Mini Countryman (technically the "Mini Cooper Countryman") now offers a plug-in hybrid powertrain, and that's not available with a manual. But the car's other two powertrains — a 134-horsepower turbocharged 3-cylinder in the base model, and a 189- or 228-hp turbocharged 4-cylinder in "S" and "John Cooper Works" models, respectively — are still offered with a 6-speed manual. I imagine the transmission isn't especially popular, but it's still available due to the Countryman's sporty image and driving experience.
Find a Mini Countryman for sale
Mitsubishi Outlander Sport
Like the Fiat 500X, the Mitsubishi Outlander Sport still offers a manual transmission solely in its most basic, entry-level model: the Outlander Sport ES with front-wheel drive. That model uses the manual mated to a 148-hp 2.0-liter 4-cylinder — but if you step up to any other version (SE, SEL) or add all-wheel drive, you get an automatic. SE and SEL models also mate their automatic to a slightly more powerful engine: a 170-hp 2.4-liter 4-cylinder, which hooks up to a CVT.
Find a Mitsubishi Outlander Sport for sale
MORE FROM OVERSTEER:
Video | The Volvo XC40 Is the Quirkiest Volvo in Decades
Lexus Once Had a "Pebble Beach Edition" Trim Level
Video | A $25 Part Fixed My Broken Rolls-Royce Phantom