The eight cars you see below are all 20 years old, but they're not inexpensive, by any stretch of the imagination. Instead, these are eight of the most expensive older models on Autotrader, each priced well into the 6-figure range. They're all rare, desirable, unique, collectible -- and, for most of us, completely out of financial reach. But at least we can check them out online.
Oh, and one more thing: These eight cars aren't the most expensive vehicles on Autotrader in absolute terms, because I've removed duplicates -- like multiple Porsche 911 Turbos or Lamborghini Diablos. You'd thank me if you browsed through the listings of expensive older cars on Autotrader, because there are more 911 Turbos than I thought were actually manufactured in Stuttgart. Anyway, on to the list.
1. 1995 Ferrari F512M - $659,900
The Ferrari F512M marked the end of the line for the Testarossa model. It boasted extremely limited production numbers -- just 75 examples were sold in the United States during its sole model year of 1995 -- and it featured some unique touches over the Testarossa (and the later 512TR) like distinctive wheels, exposed headlights, circular taillights and a modernized interior. Marshall Goldman Motors near Cleveland, Ohio, has two F512Ms, and this is the nicest one: a 5,200-mile example with an enormous $659,900 price tag.
2. 1997 Porsche 911 Turbo S - $429,700
Many enthusiasts consider the 993-era Porsche 911 to be the ultimate 911 model, and the ultra-rare Turbo S was the ultimate version of the 993. With only 183 examples sold for the entire world, the Turbo S had a little extra power than the standard 993 Turbo, along with a few other minor upgrades, including a bigger wing and an air-intake hole that's rather unceremoniously placed on the rear fenders. You probably won't find another 993 Turbo S -- and that's why it's available for the enormous price of $429,700 from United Imports in Jacksonville, Florida.
3. 1989 Aston Martin V8 Vantage Volante - $375,000
The modern Aston Martin V8 Vantage is known for beautiful styling and (increasingly) affordable prices, but the earlier model, sold throughout the late 1970s and the 1980s, is little-known except among enthusiasts. This 1989 V8 Vantage is a convertible model (in Aston parlance, a Volante) from the car's final model year, making it perhaps the most desirable version -- and it's traveled 27,700 miles from new. This Vantage is especially unusual, according to its ad, because it's fitted with a manual transmission rather than the Chrysler 3-speed automatic that went into many Vantages. You'll pay for its uniqueness, though: This V8 Vantage is offered by Long Island Sports Cars, an authorized Aston Martin dealer, for $375,000.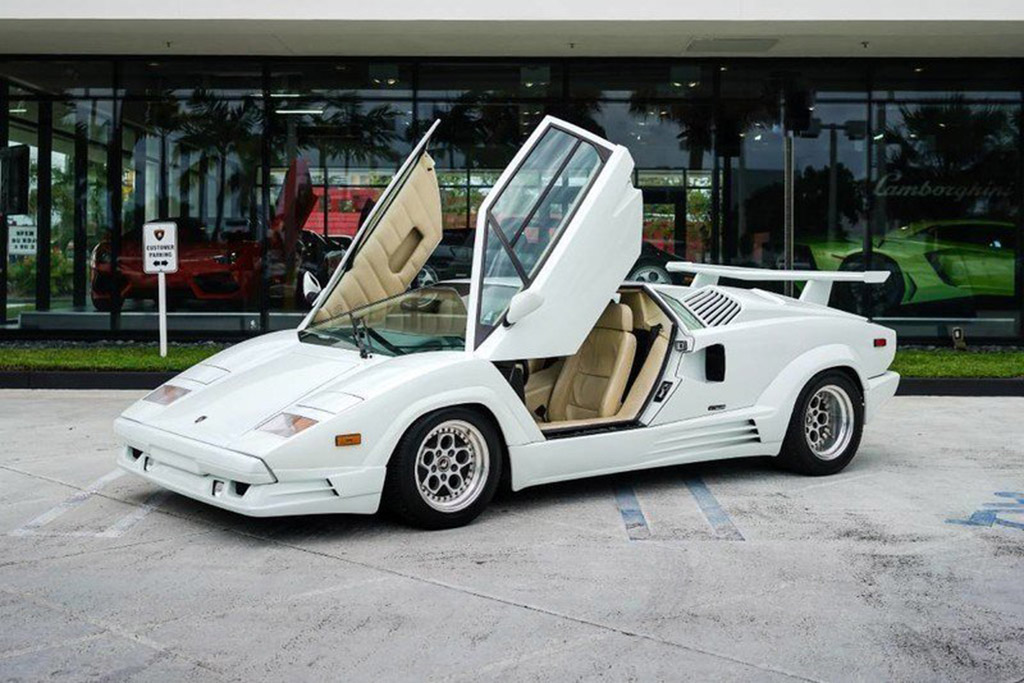 4. 1989 Lamborghini Countach - $299,951
Few cars offer as thrilling a design as the Lamborghini Countach, and that's especially true of the rare 25th-Anniversary model. It featured additional side strakes, a wider body and a huge rear wing that gave it an especially insane appearance compared to other Lamborghini models, including other Countachs. This particular Countach is also finished in white, giving it possibly the most 1980s look of all. It's available from Lamborghini Palm Beach with just 27,700 miles on the odometer and a stratospherically high price of $299,951 -- reasonable for the Countach today, indicating a huge increase in value over the past few years.
5. 1990 Lamborghini LM002 - $249,500
The Lamborghini LM002 is the ultimate SUV, with a Countach-sourced V12 in back, massive tires, ridiculously brawny styling and a hilariously wide interior that's loaded down with Italian leather. This wasn't intended to be a performance SUV but rather a massive, terrain-tackling truck -- and oh, boy, was it ever. While the LM002 was available in the low-$100,000 range as recently as a few years ago, demand has steadily increased, and this 1990 model is now offered for $249,500 by World Class Automobiles in South River, New Jersey, not far from New York City.
6. 1996 Lamborghini Diablo VT - $239,900
Although car enthusiasts could debate endlessly about whether the Lamborghini Countach or the Diablo looks more ridiculous, one thing is for certain: Neither car looks like anything on the road today. This shiny Diablo VT -- offered by Fusion Luxury Motors north of Los Angeles -- is an excellent example of that, with its huge rear wing and its impossibly low (and wide) wedge shape. Few cars are as exciting as this one, and even though the interior is nowhere close to modern standards, you forget that the moment you open the scissor doors, get out and stare at what you've been driving. The downside: a $239,900 asking price.
7. 1994 AM General Hummer (Predator Conversion) - $169,950
While a standard 1994 Hummer is probably a $25,000 to $35,000 vehicle, this particular example is no standard 1994 Hummer. Instead, it's been highly altered by Hummer modification firm Predator, Inc., to offer an unbelievable array of upgrades -- including, most notably, a Duramax diesel engine with a claimed 500 horsepower and 1,000 lb-ft of torque. But modifications go a lot further than that, and they ensure that this particular Hummer is ready for just about any off-road excursion. Of course, you'll pay for all those extras: This Hummer is offered for $169,950 in Vista, California, north of San Diego.
8. 1993 Land Rover Defender 110 - $159,995
I once asserted that the Land Rover Defender 110 is, defying all odds, the most valuable 1993 vehicle in existence. And this is the most expensive '93 Defender 110 on Autotrader: a clean, 83,000-mile example offered for sale by Jaguar Land Rover Golden Valley, located in the Minneapolis area. Although this might seem tremendously overpriced, 1993 Defender 110s are highly sought after by SUV enthusiasts, largely because the Defender 110 was only imported for that one year, and only 500 examples ever came to the United States.
MORE FROM OVERSTEER
The McLaren MP4-12C Is a Great Deal at $140,000 -- Or Is It?
Here's Why the GT3 RS Is the Ultimate Porsche 911
Here Are All the Cars With the Vanity License Plate "TURBO" Across the Country