As you may know, I love weird buttons and switches inside vehicles. I recently spent the day at the New York Auto Show, and I made it my goal to find the strangest buttons, dials and switches in the car industry. I took dozens of photos, but I narrowed it down to 13 really weird ones. In each case, I'm going to show you a photo of the button, and then I'm going to tell you about it. Before I give my explanation, try to guess what it does; in many cases, I think you might be surprised to learn that even a car expert will be stumped.
Alfa Romeo "D N A"
If you climb inside the Alfa Romeo Stelvio or Giulia, you'll be greeted with a circular knob that says "d n a," inexplicably in lower case letters. Unless you're well versed in Alfa Romeo, you'll be confused by this — but this is the drive mode selector. "D" is for "Dynamic," "N" is for "Natural" and "A" is for "All-Weather." Find an Alfa Romeo for sale
Audi Windshield Knob
If you get in an upscale Audi model, you'll see that the switch panel for the headlights also contains this unusual silver knob with a diagram on it that appears to show the windshield. This knob controls the head-up display: turning it will increase or decrease the brightness, while pushing it in will turn it on and off. Find an Audi for sale
Ford Expedition +/-
The Ford Expedition has an unusual rotary dial to select gears — but that's not the strangest thing in this photo. That honor goes to the "+" and "-" buttons below the gear lever, which seem oddly cryptic. What are they for? Shifting gears. There are no paddle shifters in this SUV — if you want to change gears manually, you have to push the buttons. Find a Ford Expedition for sale
Ford Mustang "Horse"
The Ford Mustang's steering wheel has a button with a horse on it, positioned next to telephone and music buttons. Of course, it isn't just any horse, but the exact horse that makes up the Mustang logo — and pressing this button brings up various performance-related items inside the Mustang's gauge cluster screen. Find a Ford Mustang for sale
Honda Ridgeline "Pickup Truck"
The Honda Ridgeline features a rather unusual button below the gear lever, which seems to show a Ridgeline driving down a slightly rough road. This button controls the "traction management" system for the Ridgeline's all-wheel drive, allowing drivers to choose which mode they want to be in — normal, snow, mud or sand. Find a Honda Ridgeline for sale
Infiniti "Blue Circle"
New Infiniti models have a button on the steering wheel with a car surrounded by blue circles. This cryptic button activates Infiniti's "ProPILOT" system, which is Infiniti's automated driving system that can automatically steer and drive the car for a very brief period of time before requesting driver intervention. Find an Infiniti for sale
Kia "Star"
On many new Kia models, there's a button near the infotainment system with a star on it. It's positioned directly next to "RADIO" and "MEDIA," both of which have obvious functions — but the star button doesn't. As it turns out, the star button is a custom button: You can program it to do one thing, like bringing up a screen you use frequently, so it's just one button push away. Find a Kia for sale
Lexus "Person in Door"
I found this button on the Lexus LX 570. Take a quick glance at it, and it looks like a person getting into a door. I asked my wife what she thought it meant, and she suggested that when you press it, you must go inside a box. Actually, it controls something called "Easy Entry Mode" — and if you push the button on the Lexus LX SUV, the suspension will lower the vehicle slightly to give you easier access the next time you climb back inside. Find a Lexus for sale
Mercedes-Benz G-Class "Home Arrow"
The new Mercedes-Benz G-Class is a huge improvement over the outgoing model — and that includes the steering wheel, which features this odd home button with a little arrow on it. This button actually has a relatively obvious function: It sends the gauge cluster screen "back" or to the "home" screen if you're going through your gauge cluster menus. The confusing part is that it's placed next to the cruise controls. Find a Mercedes-Benz G-Class for sale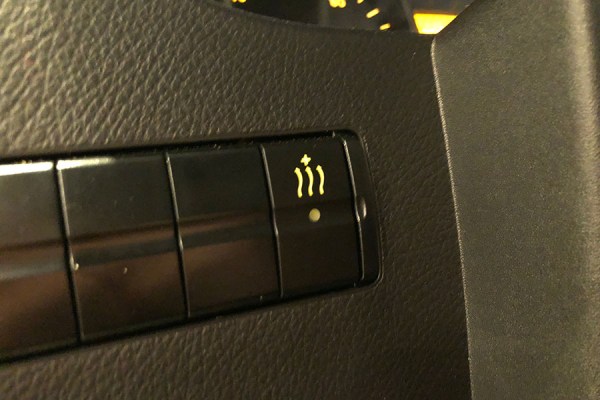 Mercedes-Benz Sprinter "Squiggly Lines"
The Mercedes-Benz Sprinter has a little button next to the steering wheel that can only be described as "squiggly lines and a plus sign." I had truly zero idea what this thing did, so I looked it up. Apparently, it controls something called the "heater booster," which is designed to help your Sprinter's engine warm up a little faster if you're in a cold climate. You can also use the heater booster when you're moving to make sure the engine stands at an optimal operating temperature. Find a Mercedes-Benz Sprinter for sale
Nissan Leaf "e-Pedal"
The Nissan Leaf has a button marked "e-Pedal" that sits directly next to the transmission lever. This button has an odd function: Although the Leaf has two pedals, you can undertake "one-pedal driving" if you activate the e-Pedal, meaning the car will automatically begin braking if you simply remove your foot from the accelerator. Yes, you no longer have to press the brake. It's a cool sensation — and, yes, when the car starts slowing itself down, it puts on the brake lights for you. Find a Nissan Leaf for sale
Range Rover "Rear Arrows"
The new 2-door Range Rover SV Coupe has been making headlines for its price tag and its rarity, but it also includes another interesting item: This button, which shows an arrow leading away from the Range Rover, and another button that shows an arrow pointing back to it. As it turns out, this button automatically retracts or extends the Range Rover's rear cargo shelf, which you can use for picnics and other high-class tailgating events. Find a Range Rover for sale
Toyota Mirai "H2O"
OK, so this button is weird until you know the car it's on is the Toyota Mirai. The Mirai is a hydrogen fuel cell vehicle, meaning its only emission is water — so it's not so surprising to see a water-related button in it. But what exactly does the H2O button do? It's quite cool, actually: You push it, and it opens a little duct that allows water to pour out of the car and on to the ground. The car will emit water automatically, if it needs to, but you can also do it manually with the push of a button. Find a Toyota Mirai for sale
Doug DeMuro is an automotive journalist who has written for many online and magazine publications. He once owned a Nissan Cube and a Ferrari 360 Modena. At the same time.
MORE FROM OVERSTEER:
Here's Everything I Hate About My Cheap Ferrari F355
The BMW M760i Is the Most Expensive BMW Ever
Autotrader Find: 1989 Cadillac Allante With 1,600 Miles