Later today, I'm showing you around one of the weirdest SUVs ever made. In its honor, I've created a little list of some of the weirdest SUVs you can buy right now on Autotrader. I've featured a couple of these SUVs before, but today I'm aggregating them in one single list of SUV weirdness. Enjoy!
2006 Honda CR-V With 521,000 Miles
We've all always known the Honda CR-V is reliable — but maybe we didn't realize it was exactly this reliable. Here's a one-owner 2006 Honda CR-V offered by Steve Coury Ford in rural Payson, Arizona, between Phoenix and Flagstaff — and it's got 521,000 miles on the odometer. Presumably owned by someone who commuted into Phoenix, this CR-V was out of warranty within two years of the purchase date. Maybe more impressive is the unbelievable Carfax report showing 94 dealer service records in the last 12 years — meticulous maintenance, which is likely the reason for the amazing mileage. Find a used Honda CR-V for sale
6-Wheeled Hummer H2
Here's probably the weirdest SUV on this list: a Hummer H2 that's been turned into a 6-wheeled Hummer H2. Yes, that's right: This isn't your regular long-wheelbase limo, but rather a stretched H2 with one extra set of wheels. It's offered by Greater Chicago Motors in Chicago with 18,000 miles and the surprisingly reasonable asking price of $54,995 — not terribly out of line with other low-mileage 2008 Hummer H2 models with the regular number of wheels. Find a HUMMER H2 for sale
Crazy Lifted Hummer H2
There are Hummer H2s, and then … there's this. This is a modified Hummer H2 that goes beyond your usual modifications to the point where it's lifted like a monster truck — with monster truck tires to match. The Hummer H2 wasn't known for impressive off-road capability, but I suspect this one could run over just about anything. It's currently listed for sale at Lewisville Autoplex in the Dallas area with just 2,272 miles for $59,982. Find a HUMMER H2 for sale
Jurassic Park Jeep Wrangler
Here's a used Jeep Wrangler two-door for sale with 210,000 miles — which, in itself, would be pretty interesting. But this one's a bit more special than most old 1988 Wrangler models, because it's a "Jurassic Park" Jeep Wrangler — meaning it's fully painted in the custom livery of the Jeep Wrangler models used in the first "Jurassic Park" movie. It even features the giant antenna. It's offered by Shockley Honda in the D.C.-area city of Frederick, Maryland, for just $4,033 — which is probably cheaper than building one yourself. Find a used Jeep Wrangler for sale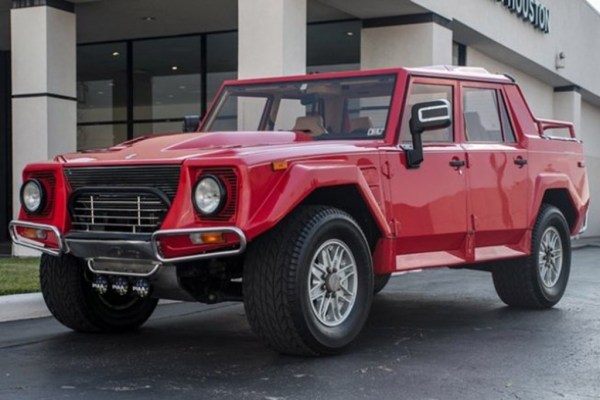 1990 Lamborghini LM002
The Lamborghini LM002 is among the weirdest SUVs of all. Manufactured by Lamborghini throughout the late 1980s and early 1990s, the LM002 used a front-mounted V12 and a manual transmission. It also touts ridiculous styling and a bizarrely-laid-out interior — but it's hard not to love the "Rambo Lambo" for its sheer excess. This 1990 model is offered by Lamborghini Houston for $324,991; prices for LM002s are certainly on the upswing. Find a Lamborghini LM002 for sale
Doug DeMuro is an automotive journalist who has written for many online and magazine publications. He once owned a Nissan Cube and a Ferrari 360 Modena. At the same time.
MORE FROM OVERSTEER:
There Is a Batmobile Tumbler For Sale on Autotrader
The Hyundai Galloper Was a Rebadged Mitsubishi Montero
Video | I Bought the Cheapest Chevrolet Corvette Z06 in the US