It's hard to believe that the minivan market was once fiercely competitive. Today, what few vans Chrysler and Honda don't sell are almost certainly Toyota Siennas. And there's the long-forgotten (and surprisingly good) Kia Sedona, for those who really don't want to blend in.
Minivans had plenty of competition back in the 1990s, which prompted manufacturers to think up imaginative ways to differentiate their designs. Truthfully, few of these were very good. Here's a look at the five strangest special-edition minivans cooked up by their builders.
Ford Windstar Northwoods
Ford was no stranger to outdoorsy-themed vehicles. Years of Broncos, Explorers and even Aerostars with two-tone paint, Eddie Bauer script badges and, occasionally, upholstery seemingly patterned after ugly Christmas sweaters set the tone for the Ford Windstar Northwoods. The appearance package arrived for 1998 — the one year the Windstar came standard with an extra-long driver's door intended to ease access to the rear seats — and for between $285 and $795, depending on the trim level, it included light green and tan two-tone paint and tan-accented wheels.
It was not even remotely rugged. Find a Ford Windstar for sale
Mercury Villager Nautica
Apparel brands are routinely tied into special versions of cars, but few have seemed as awkward as the Mercury Villager Nautica. The Villager itself was just an OK van. Codeveloped by Ford and Nissan, it was built at a Ford plant in Ohio as the Villager and the Nissan Quest. The Villager Nautica was the range topper, and for about $26,000 in 1994, it included two-tone exterior paint with bright yellow stripes, leather seats and a duffle bag.
Nautica clothing drew its inspiration from sailing, something probably not especially popular with Villager van buyers. After all, the Villager was only rated to tow up to 3,500 pounds. Find a Mercury Villager for sale
Pontiac Trans Sport Montana
Right around that same time, General Motors gave its minivans their first redesign. Gone were the Dustbuster looks and in were boxier vans with dual sliding doors. The new GM vans — sold as the Chevrolet Venture (keep reading), the Oldsmobile Silhouette and the Pontiac Trans Sport — earned good reviews but flunked their crash tests.
The unpainted plastic cladding Pontiac slapped all over the Trans Sport to create the Montana package — which ranged from $1,010 to $1,225 in 1998, depending on the trim level — hardly helped. Pontiac cast the Trans Sport Montana as a rugged van, and the vehicle counted tires that were designed to seal themselves after being punctured as its only actual capability enhancement. Soon, the Trans Sport name would be dropped, and every Pontiac minivan until the brand's closure would be called a Montana. Find a Pontiac Trans Sport for sale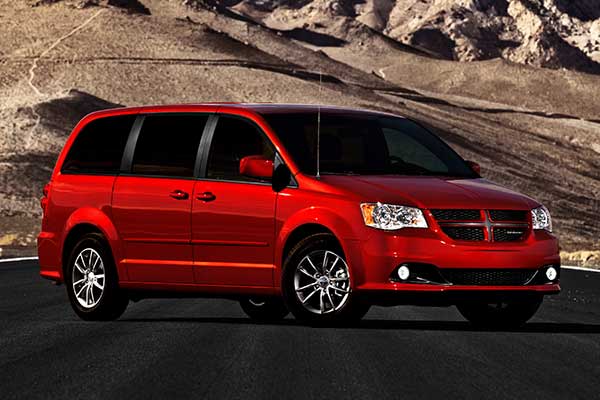 Dodge Grand Caravan R/T
Dodge toyed with the idea of a sporty minivan beginning in the mid-1990s, but it took until 2011 for its people hauler to get the R/T treatment. And what an R/T the Grand Caravan was! Changes to the standard Grand Caravan included such sport-oriented touches as a body-color grille, a power adjustable passenger's seat and power adjustable pedals! Harp on the fact that Mercedes-Benz gave its dour R-Class the AMG treatment, but don't forget that Dodge demoted the R/T to a slightly nicer trim level for its minivan for a few years. Find a Dodge Grand Caravan for sale
Chevrolet Venture Warner Bros. Edition
Back when X-to-the-Z Xzibit was installing TV screens on top of TV screens on MTV's "Pimp My Ride," automakers offered factory- and dealer-installed rear-seat entertainment systems on any family-friendly vehicle. Easily the most complete was the Chevrolet Venture Warner Bros. Edition. This trim was the flagship of the Venture line for a few years, and it included Warner Bros. badges that featured a tuxedo-clad Bugs Bunny.
The van's best feature was its roof-mounted, fold-down LCD screen, which was tied to a VCR. Yes, read that again: There was a brief period when LCD screens and VCRs were commonly paired together. For the next decade, nearly every SUV, crossover and van could be had with an LCD screen first paired to a VCR and later to DVD and Blu-ray players. Today, however, few rear-seat entertainment systems are offered, though some automakers sell tablet holders that mount to the backs of the front seats. Find a Chevrolet Venture for sale
MORE FROM OVERSTEER
Autotrader Find: 1996 Lamborghini Diablo For $149,000
Video | The Pagani Huayra Roadster Is a Crazy $3 Million Supercar
Here Are 5 Fast SUVs for $20,000 or Less