We often report on AutoTrader.com's most frequently searched cars, which usually account for thousands of listings each. But we recently explored another statistic: the site's scarcest models. We compared the number of searches for each model against the number of matching vehicles for sale, leading us to the cars with the highest demand per listing. But as we poured over the data – and with Halloween looming – we noticed that in addition to being scarce, most of the site's rarest cars are also downright scary, either due to their design, price tag or a combination of other spooky factors. So, forgive us for the play on words as we bring you the 'scarciest' cars on AutoTrader.com.
1. Subaru Brat
Despite active listings fluctuating between zero and one, there were nearly 2,700 searches last month for the unusual Subaru Brat, officially making it the "scarciest" vehicle on AutoTrader.com. Released in 1977, the Brat was a four-wheel drive pickup truck based on Subaru's compact DL and GL models, which were offered in sedan, station wagon or coupe body styles. Only offered outside Japan, the Brat's name was derived from an acronym meaning "Bi-drive Recreational All-terrain Transport" – except in Australia, where it was inexplicably known as the Subaru Brumby. While its mere existence is slightly spooky, the Brat's scariest feature was also its most unique: rear facing jump seats mounted in the bed which were completely exposed to the elements and offered little protection in the event of a collision.
Photo by Flickr user dwstucke
2. Toyota Van
Though we think most of the people who did the 2,400 searches for Toyota Van last month were mistakenly looking for one of the automaker's newer minivan models, we can't help but imagine they were in for quite a shock when they saw the 1980s era Van – provided they visited the site when one was listed. While Toyota is well-known today for its popular Sienna, the automaker's first foray into the minivan market came in the early '80s with the unimaginatively-named Van, which was little more than a cargo van with windows and seats. While its 87-horsepower 2.0-liter engine would be enough to frighten most consumers, the Van's biggest spook came from its seating position, which placed the driver and front passenger directly above the front axle, eschewing crumple zones altogether. Needless to say, frontal impacts in the Van weren't pretty, sales weren't brisk, and by 1990 Toyota replaced it with the egg-shaped Previa.
3. Subaru XT
Although it was seen as futuristic when it arrived in 1985, the Subaru XT's exterior styling is positively terrifying by today's standards. It may be for the best, then, that despite more than 1,600 searches last month, just one or two listings for the doorstop-shaped coupe appear on AutoTrader.com. Sold as the "sporty Subaru" alongside the more practical Legacy, the XT wasn't a bad car, offering a 111-horsepower turbocharged four-cylinder and later a more muscular 145-horsepower 2.7-liter flat six. But its wedge shape and massive front and rear overhangs rekindle memories of the worst of the '80s, further enhanced inside thanks to the XT's strange two-spoke steering wheel and control stack protruding from the steering column. While it's not uncommon to find a gearhead who fondly remembers the XT's futuristic look, we think the coupe probably wouldn't need a costume to go trick-or-treating these days.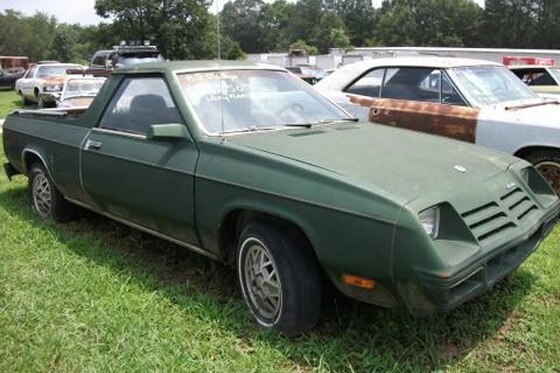 4. Dodge Rampage
While more than a few consumers thought the car-based Subaru Brat was the answer to a question no one asked, nearly everyone wondered what the heck Chrysler was thinking when it released a competitor to the quirky Subaru for the 1982 model year. Officially dubbed the Dodge Rampage, only the front-wheel drive pickup's name was scary. The rest – including a 96-horsepower carbureted four-cylinder engine and optional 3-speed automatic transmission – was downright miserable. But our research shows Chrysler may have actually been thirty years ahead of its time, since more than 1,300 people visited AutoTrader.com last month looking for a Rampage, despite the number of vehicles for sale fluctuating between one and none. For less of a fright, check out the truck's even rarer mechanical twin, the more appropriately named Plymouth Scamp.
5. Chevrolet LUV
We're not sure why so many people are interested in a Chevrolet LUV, but we think that if most consumers actually found an example of the small truck, they would be horrified by its downright unnerving performance. Manufactured for GM by Isuzu, the LUV preceded the popular S-10 as Chevrolet's small pickup offering in the United States. But since it was born out of the 1970s oil crisis, the LUV was designed to offer impressive fuel economy – and it did, consistently recording more than 30 miles per gallon. Unfortunately, it achieved those remarkable numbers without the help of today's technological aids, meaning the miserly figures came the old-fashioned way: low power. The little truck was never offered with more than 75 horsepower. Nonetheless, there were 1,200 searches on AutoTrader.com last month for the LUV, with just one example for sale.
6. Mitsubishi Starion
The Mitsubishi Starion succeeded at scaring its European competitors, proving that Japanese automakers could make solid performance cars. Last month, many AutoTrader.com shoppers agreed, with more than 1,000 searches despite only one or two Starion listings available nationwide. It's a shame the car isn't more common, as its athletic styling, torquey engines and direct feedback impressed early '80s journalists, who were used to more conservative sedans and hatchbacks from Japanese automakers. And while the Starion's 197 horsepower may seem average by today's standards, the coupe certainly succeeded in worrying automakers like Porsche, whose more expensive 944 model produced just 150 horsepower at that time.
Find a Mitsubishi Starion for sale
Photo by Flickr user zanthrax-dot-nl
7. Ferrari F40
It's no surprise that the Ferrari F40 is a scarce commodity on AutoTrader.com, with active listings rarely moving past two. And while we think most of the 1,073 searches for the car last month were likely daydreaming gearheads, we can't help but sympathize considering the F40's rarity, stunning lines and earth-shattering performance. Unfortunately, those desirable qualities come at a price, and despite the F40's stripped down interior that lacks even a radio, its notorious turbo lag, and its uncontrollable power, the supercar's price of admission is its scariest feature. With average values between $500,000 and $600,000, the F40 is definitely expensive to buy – but its carbon fiber body, high-strung engine and unique parts make it even more costly to run. And with routine services that can easily run five figures, the F40's costs certainly terrify us even more than its intimidating engine note.
8. BMW 325iX
BMW fanatics won't be surprised to learn that the unusual BMW 325iX made our "scarciest" list, considering its rarity and desirability. Indeed, there were nearly 4,000 searches for the 325iX last month, with only about four cars available. But while the all-wheel drive 325iX may feature handsome styling and all-weather appeal, the twenty-plus-year-old car certainly has its weak spots – and hair-raising mechanical reliability is among them. While the typical late '80s 3 Series is known for having more than its share of faults, the 325iX took it to an entirely new level thanks to unique parts and a complicated drivetrain, making it perfect for do-it-yourselfers – and downright scary for those of us who are at the mercy of our mechanics.
9. Dodge Omni
For the compact Dodge Omni, the devil was in the trim levels. Introduced in 1979, the standard Omni was little more than a mainstream, fuel-saving hatchback – but its performance variant was so much more. Released for 1984, the sporty Omni was originally going to be called 'Coyote' before receiving a last-minute name-change that saw it rebadged to Omni GLH, for "Goes Like Hell." And if the automaker's fire and brimstone reference wasn't unnerving enough, Chrysler later debuted an even hotter version called the GLHS, which is thought to have stood for "Goes Like Hell, Some more" – and it did, thanks to 175 horsepower in a vehicle weighing only around 2,200 pounds. According to Chrysler, the Omni GLHS could hit 60 mph in just 6.7 seconds – impressive for its time, and certainly enough to scare the shoppers who did 1,000 searches for the Omni last month.
10. Ford Festiva
Despite just four listings, there were more than 3,000 searches for the tiny Ford Festiva last month on AutoTrader.com, earning it 10th place on our list of the "scarciest" cars. And while its gutless engine, slow-witted transmission and miniscule tires are certainly enough to secure it a place among the scariest cars to drive, we find the Festiva alarming for another reason: its movie roles. In Suburban Commando, a meek and timid Christopher Lloyd drove a Festiva, constantly backing down from other drivers' challenges. In Fun with Dick and Jane, both characters lose their jobs and are forced into a lowly Festiva – which they use to rob banks. And in Election, Matthew Broderick tries to derail a student's life and fix a school election. His car of choice? You guessed it – a FordFestiva. We'd stay away, if only to avoid the unnerving stereotypes seemingly conjured by one of Ford's smallest vehicles.