Fuel prices are rising again, renewing interest in fuel-efficient vehicles and even driving up prices for efficient used cars. The average price for a gallon of regular unleaded is nearly $4 nationwide, high enough to make some car shoppers think twice before buying a gas guzzler. For those people, we suggest checking out one of these attractive and affordable fuel sippers. Each is capable of getting at least 40-mpg on the highway according to EPA estimates. All but one tops 30-mpg in city driving, too. Plus, our picks include a variety of body styles and powertrains – from diesel to electric – so there's something for everyone.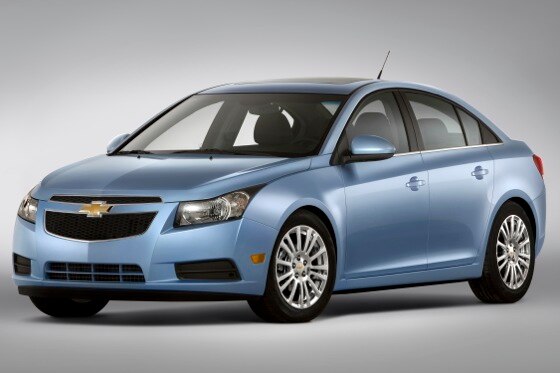 Chevrolet Cruze Eco

Thanks to weight reductions, improved aerodynamics and low rolling resistance tires, this compact American sedan achieves 28-mpg city/42-mpg highway with a 1.4-liter turbocharged 4-cylinder engine and 6-speed manual transmission. With the optional 6-speed automatic transmission, the Cruze Eco takes a slight economy penalty but still gets a respectable 26 mpg city/39 mpg highway. The nicely equipped base model includes standard cruise control, Bluetooth, USB port, tilt/telescope steering wheel and power mirrors. Standard 17-inch wheels and a slightly lowered suspension give the Cruze Eco a sporty look, and the starting price is under $20,000.
Find a Chevrolet Cruze Eco for sale.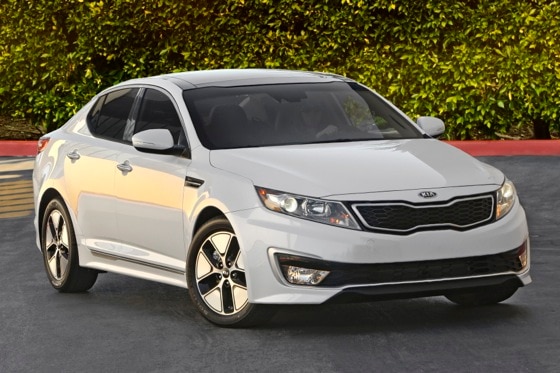 Kia Optima Hybrid
Want great economy but need more space than a compact can offer? The Kia Optima Hybrid offers the fuel economy of a compact in a sporty-looking mid-size sedan. With a 2.4-liter direct-injection gas engine plus a 40-horsepower electric motor, the Optima Hybrid is rated at 35 mpg city/40 mpg highway but its performance is nearly identical to the standard Optima. It can even operate in zero-emissions, full-electric mode up to 62 mph. A 6-speed automatic transmission is standard, as are power seats, dual-zone climate control and Kia's UVO infotainment system with Bluetooth. The Optima Hybrid is covered by a 10-year/100,000-mile warranty and starts at $25,700.
Find a Kia Optima Hybrid for sale.
Hyundai Accent
No list of fuel misers would be complete without a conventional subcompact. The newly redesigned Hyundai Accent is an excellent choice, offered in 4-door sedan or 5-door hatchback styles, and good for 30 mpg city/40 mpg highway. Both the standard 6-speed manual and optional 6-speed automatic transmission achieve identical fuel economy with an efficient direct-injection 1.6-liter 4-cylinder engine. It's no luxury car, but the Accent is spacious for its class and comes equipped with 6 airbags. The less expensive 4-door Accent starts at just $12,545, while the 5-door SE is priced at $15,895 with alloy wheels, fog lamps and Bluetooth.
Find a Hyundai Accent for sale.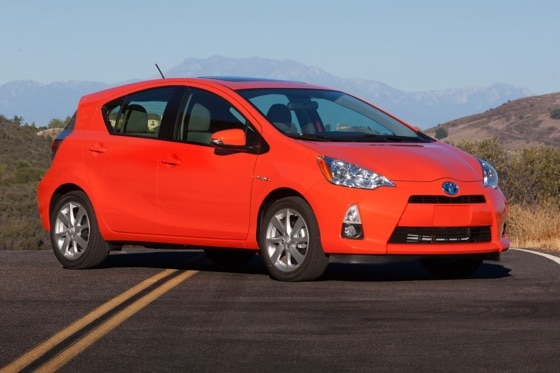 Toyota Prius C
The newest vehicle to join the Toyota Prius lineup of hybrid cars is the subcompact 4-door Prius C. It uses both gasoline and electric motors like its larger sibling, but with a smaller gasoline motor for combined output of 99 horsepower. The C is not a large vehicle, but it does have space for five passengers and offers the versatility of a hatchback with a folding rear seat. Plus, the Prius C really makes the most of a gallon of gasoline, its city mileage topped only by plug-in vehicles. Fuel economy is rated at 53 mpg city/45 mpg highway. Available in four trim levels, the base car includes a full-color information display, keyless entry and tilt/telescope wheel with audio controls for under $19,000, while the loaded Prius C Four with alloy wheels, heated seats, a moonroof and HD radio comes in at $24,380.
Find a Toyota Prius C for sale.
Ford Focus Electric
The sticker price on the energy-efficient and zero-emission Ford Focus Electric is high, but the all electric 5-door hatchback may be the least expensive vehicle on this list to operate. It uses no gasoline, but is rated at 110 mpgE city/99 mpgE highway, reflecting the approximate equivalent mileage if the Focus Electric ran on gas. That's the best of any five-passenger vehicle sold in the U.S. Its 141-horsepower electric motor can take it to a top speed of 84 mph, and range is estimated at 76 miles. Once the batteries are depleted, a full recharge takes less than 4 hours. The starting price is about $40,000 before any government incentives, and the Focus Electric comes well equipped with 17-inch wheels, push-button start, 9-speaker audio system and SYNC infotainment with MyFord Touch.
Learn more about the Ford Focus Electric.
Volkswagen Passat TDI
Europeans have long depended on diesel technology to stretch a gallon of fuel. The new U.S.-built VW Passat TDI does just that, too. With a standard 6-speed manual, it returns 31 mpg city/43 mpg highway, serious economy for a spacious 5-passenger sedan. With the optional automatic, mileage is a bit lower but is still impressive, rated at 30 mpg city/40 mpg highway. The Passat TDI features class-leading rear-seat legroom, perfect if you need rear-seat space comfortable for adults. Pricing for the clean, quiet diesel starts at $25,995 and includes dual-zone climate control and Bluetooth hands-free. Further minimizing cost of ownership, Volkswagen covers scheduled maintenance for the first 3 years or 36,000 miles.
Find a Volkswagen Passat TDI for sale.
Even luxury and performance vehicles are becoming more efficient as automakers work hard to comply with increasingly stringent government economy regulations and consumer demand. For shoppers, the focus on economy is paying off, especially with rapidly rising fuel prices. Drivers can now choose larger vehicles with the efficiency of yesterday's subcompacts, or smaller vehicles boasting economy that was once the stuff of only science fiction. Each vehicle here addresses fuel efficiency with its own unique solution, but all successfully deliver it without sacrificing on comfort and style.