When I wrote about buying my 1999 Toyota Land Cruiser, I referred to Salt Lake City, Utah, as the "Land Cruiser Capital of the Country." This is no overstatement. I'm willing to bet that there are more Land Cruisers per capita here in the Beehive State than anywhere else in North America. It's the only place I've ever been where brand-new $85,000 200-Series Land Cruiser models are a common sight, along with all of the more common Land Cruiser series sold in the United States throughout the years.
On top of all of this, Salt Lake City is home to the Toyota Land Cruiser Heritage museum, possibly the greatest and most curated collection of Land Cruisers anywhere in the world, and home to at least one example of just about every Land Cruiser ever sold and not sold in the United States. The museum is completely free to visit, the only condition being that you make an appointment in advance. Once there, you're treated to a full tour complete with the backstory of every vehicle on display.
I made my long-overdue visit this past winter, where I spent over three hours poring over every version of Land Cruiser ever built. As many of these vehicles are foreign-market examples that have yet to cross the United States' 25-year age threshold for legal import, they're here under special conditions that treat them as museum pieces rather than operable vehicles, and no more than a few miles per year can be added to the odometer — making a walk down the museum's aisles that much more surreal. Altogether, it was one of the top-five automotive experiences of my life, and here are just a few of my favorite Land Cruisers that were on display.
1997 JDM PX10
The PX10 was the precursor to the FJ Cruiser and was sold in extremely low numbers and only in the Japanese market. Somewhat of an experiment, the PX10 was basically a 70-Series from the beltline down and was built by a third-party contractor. Overall, further information on the PX10 is scarce.
1959 U.S. Market FJ25
This particular FJ25 was driven to the museum from Las Vegas and still had 'Southern Nevada Land Cruisers' badges and 'Land Cruiser Association' stickers on the fenders and dashboard. Another interesting attribute of the museum was that many of the vehicles on display still showed old dealer stickers or club membership badges like this one, which helped tell the story of where they came from and how they might've ended up at the museum. Among my favorites was a 'Radiation Check' sticker that was on a JDM 1986 BJ70 news truck that had presumably been brought over after the 2011 Japanese earthquake.
BXD10 Toyota Mega Cruiser
The Holy Grail, or rather close to it. The BXD10 Mega Cruiser was developed by Toyota in the early 1990s for use by the Japanese military and was built from 1995 to 2002. Obviously modeled after the Humvee, the Mega Cruiser wasn't quite as hardcore as its American-made inspiration, which is likely part of the reason it didn't share the success of the Humvee. Like the Humvee, though, it did have portal axles and a torque-rich diesel engine. Unlike the Humvee, it actually came with 4-wheel steering on top of all that. To get this one into the U.S., it was cut up and imported as parts and then welded back together once it was stateside. Pictured on the wall behind the BXD10, Toyota also made a civilian version of the Mega Cruiser known as the BXD20. THAT, as far as I'm concerned, is the automotive Holy Grail.
1988 South American Market FJ73 FST
The only place where Toyota sold a 70-Series Land Cruiser with a removable canvas top, like this one, was the South American market. . This one stood out to me thanks to its clean lines, along with the fact that it's green with black wheels — a winning color combination on any 4×4.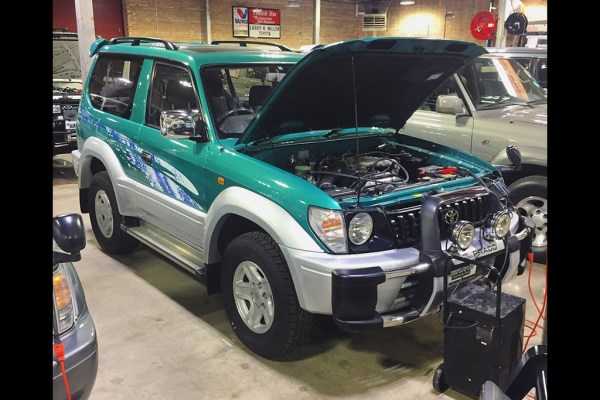 1997 JDM VZJ90
The Prado line of Land Cruisers was meant to be a 'lighter-duty' option for Land Cruiser buyers, despite still being highly capable off-road. Prados are sold throughout most of the world, except for in North America, where a variation of it is sold as the Lexus GX. If any vehicle in the museum screamed '1990s,' it was this one. Only four years until similar models can be imported, titled and taken to Moab.
Altogether, the five vehicles I've highlighted here make up about 1/10th of the collection on display, and my description of each pales in comparison to the knowledge held by the staff and on the plaques and posters around the building. So with that, if you ever find yourself in Salt Lake City with a few hours to kill, you can't go wrong in making an appointment for an in-person tour of one of most comprehensive collections of 4x4s in the United States. Find a Toyota Land Cruiser for sale
Chris O'Neill grew up in the rust belt and now lives in Salt Lake City, Utah. He managed to work in the auto industry for a while without once crashing a corporate fleet vehicle. On Instagram, he is the @MountainWestCarSpotter.
MORE FROM OVERSTEER:
Autotrader Find: 1998 Porsche Boxster Race Car
Does Anyone Buy the Base Model of an Exotic or Luxury Car?
I Think the "997" Porsche 911 Turbo Is an Amazing Bargain