Recently, I vacationed at a beautiful resort in Nassau, Bahamas. For my wife and I, this was our last trip together before the arrival of our new baby in March. Just to be clear, this is an actual, live human she is birthing, and not an upcoming car purchase that I'm calling my "new baby." Anyway, I had planned to think about cars as little as possible during our babymoon and focus on eating as much food as possible — but instead, I spent most of the week obsessing over the fleet of Rolls-Royce Ghosts that the resort uses as airport shuttles.
When we arrived in Nassau, I was greeted with a familiar sight: a purple Rolls-Royce — except a Ghost model instead of my Phantom — which ferried us to the beach resort. The Ghost is the smallest and most affordable sedan in their lineup, but still not cheap, since its base price is still well over $300,000. Many ridicule the Ghost for its shared chassis with the BMW 7 Series — but there are plenty of key differences. The quality of materials inside is far above anything found in a BMW, and the air-ride suspension is calibrated primarily for comfort. While the Ghost is the farthest thing from sporty, the 563-horsepower twin-turbo V12 gives this heavy sedan more than enough power. I was very impressed with this resort's choice in airport transportation, obviously, but I couldn't help noticing that the instrument cluster was lit up with an error message, and there was a jug of oil in the passenger seat.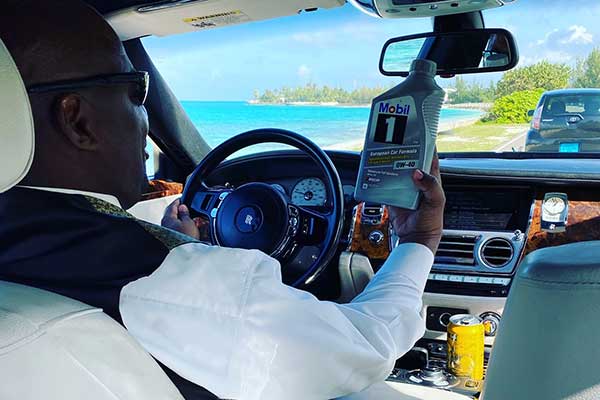 When I looked more closely, I could see the warning was for the engine oil level — so, I asked the driver for the scoop. He explained that this Ghost, a 2010 model, was one of the oldest in their fleet and uses some oil. He planned to top off the engine using the oil jug in the passenger seat once we arrived. I was very amused that I had traveled to a tropical island and immediately found myself in another luxurious hooptie, which I also noticed had some serious wear and tear. For example, the finish on the engine start button had completely worn off, and the leather materials inside were clearly suffering from the tropical environment.
During my 4-night stay, I enjoyed watching the fleet of Ghosts at work, hauling a steady stream of guests in and out of the resort. I even found myself wishing I had brought my filming equipment to make a video about these cars — despite going on vacation so that I could take a much needed break from constant filming. After four days of gluttony and relaxation, the time came to return to the airport, but it wasn't a sad occasion for me, since I was eager for another ride in a Ghost. This time, we were treated to a much newer 2015 model, which looked to be in much better condition. However, I was completely blown away when I saw 94,000 miles showing on the odometer!
I figured this Ghost was purchased by the resort in used condition with higher mileage, but when I asked the driver, he said that everything in their fleet was purchased brand new. Despite being on an island that's only 20 miles long and 7 miles wide, the constant trekking back and forth from the airport had racked up the mileage that quickly. I was curious about the maintenance, and the driver said the resort had a garage full of tools and equipment to fix anything that's needed, and it regularly flies out a Rolls-Royce mechanic when more serious issues crop up.
Toward the end of the drive, I asked about the older 2010 Ghost that I had ridden in earlier and the fact that it was using oil. He laughed and remarked that it was still running pretty well considering it had almost 200,000 miles, and it would probably be retired soon. In a moment, that Ghost went from being just another hooptie in my mind to the eighth wonder of the world.
Despite sitting outside in the salty, humid tropical weather for nearly a decade and being used like a Taxi on an island where the highest speed limit is 45 miles per hour, that weathered purple Ghost racked up the kind of mileage few Rolls-Royce models have ever seen — and of course, I wanted to buy it. Unfortunately, though, my very intelligent wife was there to drag me into the airport before I could strike a deal. Find a Rolls-Royce Ghost for sale
MORE FROM OVERSTEER
Video | GM Was Brilliant to Bring Back Hummer But Should Also Revive the Typhoon
5 Great 1980s SUVs for Sale On Autotrader
Autotrader Find: 1989 Mitsubishi Precis for $2,475