When I first sat down in the 2018 Land Cruiser that Toyota gave me to drive for a week, I was a little disappointed. Disappointed in the primitive cabin technology, disappointed in the lack of storage space on the center console and disappointed in little things like the fact that the turn signal stalks lack one-press lane change functionality. This is an $85,000 vehicle, after all.
I should preface this by saying that I'm the biggest Land Cruiser fan there is. I own a 1999 100 Series Land Cruiser, which I've written about for Oversteer many times. I also like to think that I am among the Land Cruiser elite, as I am one of only a few people on this side of the world who've driven a Civilian Mega Cruiser — a vehicle that is to the Hummer H1 what the Land Cruiser is to a Chevrolet Tahoe.
Needless to say, I'd been eagerly awaiting the arrival of this brand new Land Cruiser press loaner for some time. I drove it around town a bit on the night it was dropped off — and, while I did feel superior to just about everyone else on the road, I quickly grew frustrated by the lack of characteristics one would expect from an $85,000 vehicle. There's little to love about the infotainment experience. The massive third row seats occupy a large portion of the cargo area, whether they're in use or not — and removal requires tools, time, and a few YouTube videos. Then there's the fuel economy — an incomprehensible 13 miles per gallon in the city, 18 mpg on the highway and 15 mpg in combined driving. In 2018! After my first few hours with the vehicle, a rather poignant saying came to mind: don't meet your heroes.
And then I took it off-road. And everything changed.
Not on just any old off-road trail mind you, but four hours south of Salt Lake City down the famed Hole in the Rock Road, a 60-mile winding dirt road that starts just outside the town of Escalante and leads to a big hole in the rock where you can climb down into a remote corner of Lake Powell. It was here that I was reminded of everything I adore about the Toyota Land Cruiser.
Part of the experience was actually getting down to Hole in the Rock Road, which involved considerable time spent driving on interstates and remote 2-lane highways. It's here that I should point out that the Land Cruiser does have a ton of redeeming qualities. First and foremost, it's quick, especially for a 6,000 behemoth. It takes 6.7 seconds to go from 0-to-60 miles per hour thanks to the pairing of a 381-horsepower 5.7-liter V8 and an 8-speed automatic. It feels even faster than its 0-to-60 time would imply, and passing on the highway is a breeze.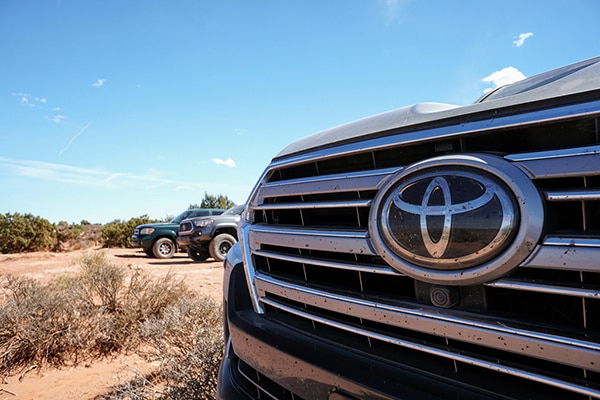 The Land Cruiser also offers a bevy of driver-assistance technologies, consisting of a pre-collision system with pedestrian detection, lane-departure alert, automatic high beams, radar cruise control, blind spot monitoring and front and rear parking sensors. Every little bit helps when piloting a vehicle this big, and this tech really made the highway driving experience a lot less painful. Also helping things were the plush brown leather seats. Up front, the seats are both heated and ventilated, while the outboard rear seats are heated. There's also a heated steering wheel.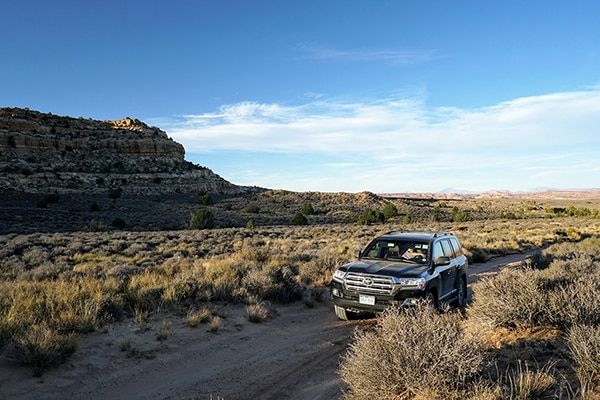 Once we made it to the dirt, I was king, asserting my dominance over the paltry Toyota 4Runners, Jeep Wranglers, Ford F-150s and Toyota Tacomas lining the trail, as I barreled along like a locomotive. Toyota doesn't market a fancy suspension for the Land Cruiser, but I was able to cruise comfortably at 60 miles per hour over washboards and uneven road surfaces in quiet serenity, with hardly any vibration making its way into the cabin. In low speed situations, I had my pick of a bevy of off-road features to play with, as I made my way over obstacles. The Land Cruiser uses full-time four-wheel drive, with selectable low range and a center locking differential. In lieu of a rear locker, the Land Cruiser has Toyota's Active Traction Control system, or A-TRAC, which can electronically mimic the effects of a front and rear locking differential.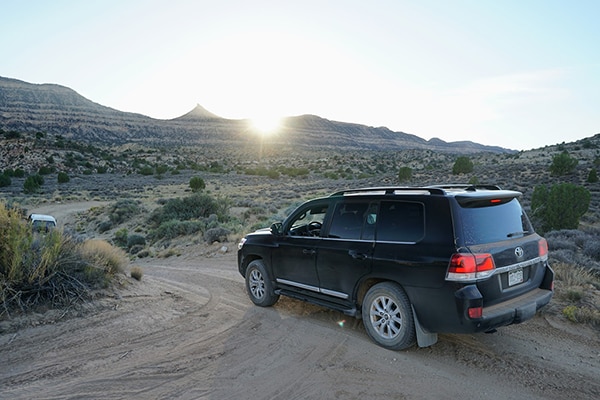 The Land Cruiser also has a system known as KDSS, or Kinetic Dynamic Suspension System, which senses when the vehicle is traversing uneven terrain and disconnects the sway bars to allow for greater wheel articulation. There's also a Crawl Control feature which Toyota refers to as an off-road cruise control, and Multi-Terrain Select mode, which includes different settings for different types of terrain. Finally, the Land Cruiser has a hill descent mode and another unique feature called off-road turn assist, which can brake the inside rear wheel during a tight turn off-road to theoretically cut down on turning radius.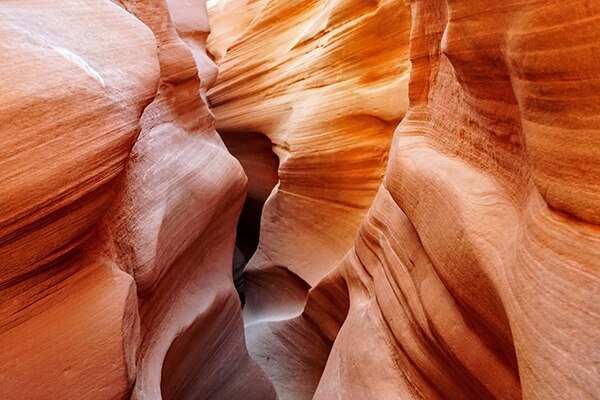 After poking around in some slot canyons for the afternoon, I headed to a dispersed campsite a few miles away. Once there, another area of the Land Cruiser shined: its tailgate. For those who don't know, the Land Cruiser has offered a split rear tailgate design on every model sold in the US since the 60 Series that came out in 1980. The glass is hinged at the top and opens upward, while below is a tailgate which functions just like a truck tailgate. The tailgate makes it easier for controlling loads or for keeping pets corralled, and it can serve in a variety of functions that make the Land Cruiser feel like more than just a vehicle. I used it as a bench for hanging out with friends after a hike, and like a countertop when making dinner at the end of the day.
If the Land Cruiser were my personal vehicle, the only things I'd feel compelled to change would be that I'd remove the low-hanging running boards and mud flaps, which are bound to be snagged on a rock, and I'd add a pair of more aggressive all-terrain tires in order to minimize the chances of a puncture. Other than that, the Land Cruiser really cannot be beat.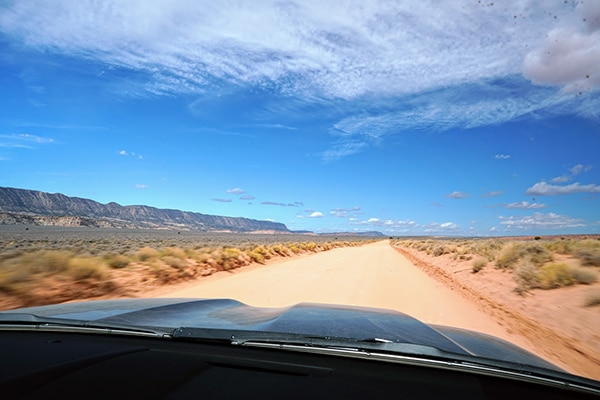 In order to appreciate this vehicle, you have to really use it. Use it for its utility. Use the off-road features. Use the tailgate. Experience its excellent build quality and reliability first-hand. Only then can you really understand its greatness. The Toyota Land Cruiser is a vehicle, but it's also a tool for doing, and a fine one at that.
The future of the Land Cruiser here in the U.S. is a bit uncertain. Toyota puts next to no marketing dollars into promoting this thing — and last year, the vehicle only sold 3,000 units. With a next-generation model likely under development, it has yet to be seen whether Toyota is committed to the Land Cruiser nameplate in the U.S. market. The Land Cruiser brand is one that warrants investment, though. Like driving the Tail of the Dragon in a Porsche Cayman GTS or cruising the Pacific Coast Highway in a Ford Mustang convertible, there really is no more iconic way to explore America's vast wilderness than from behind the wheel of a Toyota Land Cruiser. Because you just don't get this experience from any other vehicle.
Chris O'Neill grew up in the Rust Belt and now lives in Salt Lake City, Utah. He worked in the auto industry for awhile, helping Germans design cars for Americans. On Instagram, he is the @MountainWestCarSpotter.
MORE FROM OVERSTEER:
The Rolls-Royce Drophead Coupe Is the World's Most Opulent Convertible
Here's What Happens When Project Cars Go Completely Wrong
Killing the Original Jeep Grand Wagoneer Was a Big Mistake — Or Was It?