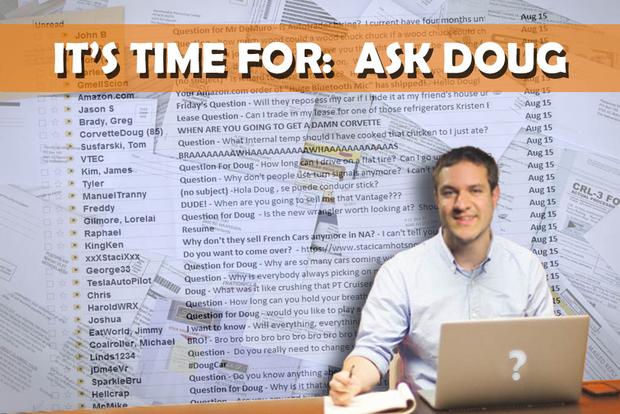 Welcome to the latest version of Ask Doug, a weekly segment we do here on Oversteer wherein you ask Doug some questions, and Doug provides you with real, truthful, highly researched responses that are often completely incorrect.
If you'd like to ask Doug something, you can! Just email me at OversteerDoug@gmail.com, or send me a message on my Facebook page. While I can't promise I'll respond to your letter on the site, I can promise that I will at least look at it and possibly make fun of you with my friends.
Anyway, this week's Ask Doug is a question about turbocharged engines, from a reader I've decided to name Vikram. Vikram writes:
Doug,
I see the 2017 Honda CR-V is coming out with a turbo engine. I drive a CR-V and wish it had more power when driving through the mountains of Colorado. It seems that every car manufacturer is sticking turbo engines in their vehicles to meet CAFE standards, which is fine; however, I'm used to Hondas lasting forever. Growing up, I always heard turbo engines don't last. Will the new turbo engines from Honda and other car manufacturers kill the engine-mileage longevity we've come to expect?
Thanks,
Vikram
For those of you who don't want to read Vikram's letter, because you see "Honda CR-V" in the title and instantly feel like actually getting back to work might be more exciting than reading the rest of this, allow me to summarize: Vikram's asking if all these new turbocharged cars will have any sort of longevity. Specifically, Vikram is asking about Honda, because he's used to long-term Honda reliability, and he's worried that might change if they start to roll out turbocharged vehicles.
Well, Vikram, I can tell you this: Your fears are shared with everyone over here in Doug DeMuroLand, which includes both a) Doug DeMuro and b) Marvin, my stuffed anteater, who had a lot of problems with his Eclipse Turbo back in '97.
Before I explain my own fears, allow me to summarize the situation. In the last decade or so, gas mileage has become one of the single biggest concerns among automakers. In fact, it's become such a big deal that I'm surprised we haven't seen something like the Ford Fuel Economy, a single-seater vehicle with bicycle tires that runs exclusively on solar power and dreams.
All of this gas-mileage thinking runs somewhat counter to the fact that we, the people, seem to be purchasing more and more SUVs by the day, to the point where it appears that there will soon need to be a new class of ultratall SUVs to see over the normal SUVs in traffic.
Anyway, the point here is that automakers -- in a desperate bid to eek out even 1 extra mile per gallon from their vehicles -- all seem to be resorting to turbocharged engines, because they seem to offer a lot of power when you need it and a lot of gas mileage when you're just cruising. And this leads to Vikram's question: Will these engines hold up in the long run?
Vikram, I don't know, and it scares me to my very core.
The automakers, of course, say they will. However, this goes against just about everything that any of us who owned turbocharged cars from the 1980s and 1990s know to be true. I can't tell you how many calls I've received from mechanics over the years telling me that the turbocharger is leaking, that oil is seeping from the turbocharger, that water is flowing through the turbocharger because it is openly crying or that the turbocharger committed an armed robbery and needs a good criminal defense attorney.
So the answer is, quite simply, that nobody knows for sure. This whole rash of turbocharging everything that moves only started 7 or 8 years ago. For those of us who love used cars, that's nothing -- especially since the turbocharging craze has only really completely swept the industry in the last 3 to 5 years. How will these things hold up when they're 8, 10 or 15 years old?
We just don't know, Vikram, but I completely understand your concern. I believe that there is some chance you will wake up in 9 years with your turbocharged CR-V and discover the turbocharger that's been forcing all that air into the engine has disintegrated, the block is destroyed, the heads are warped, you're leaking coolant and oil, there are metal engine shavings coming through the climate vents, and you're screwed. On the plus side, you should be grateful -- without that turbocharged engine, you would've spent the last 9 years getting 1 less mpg.