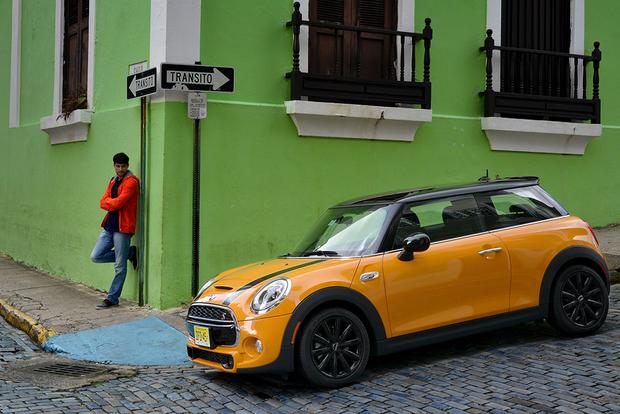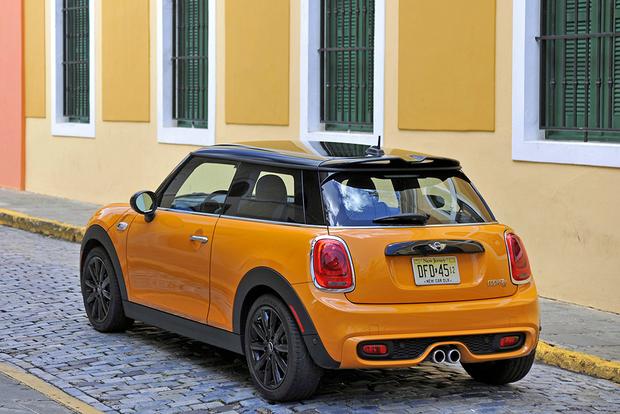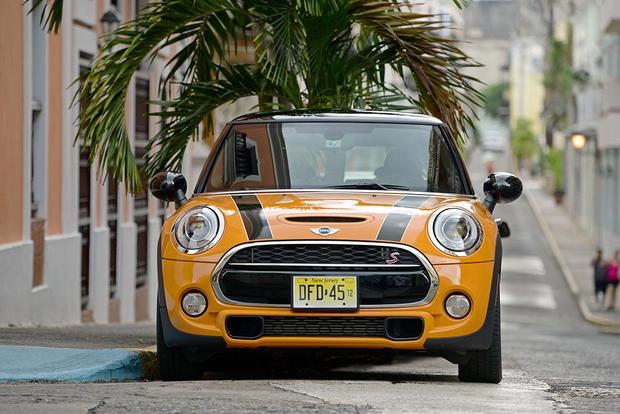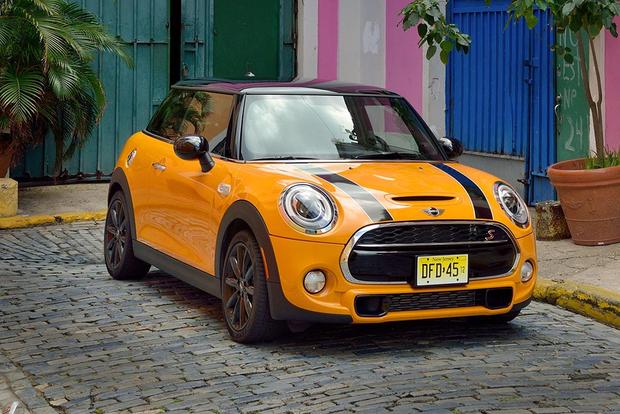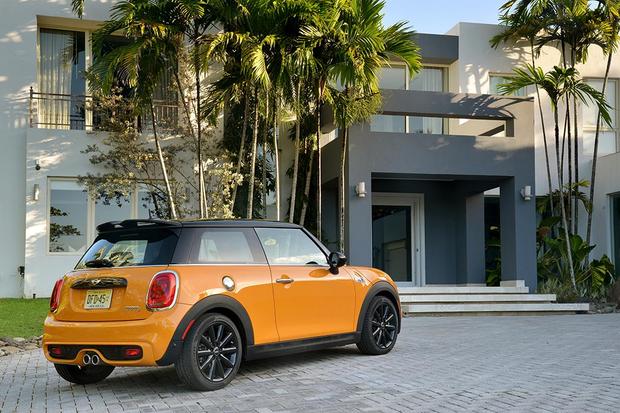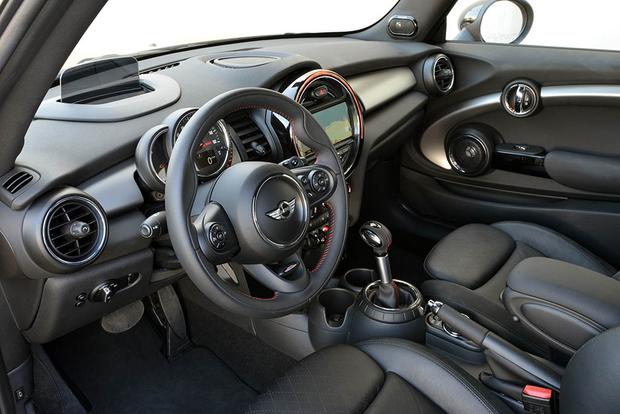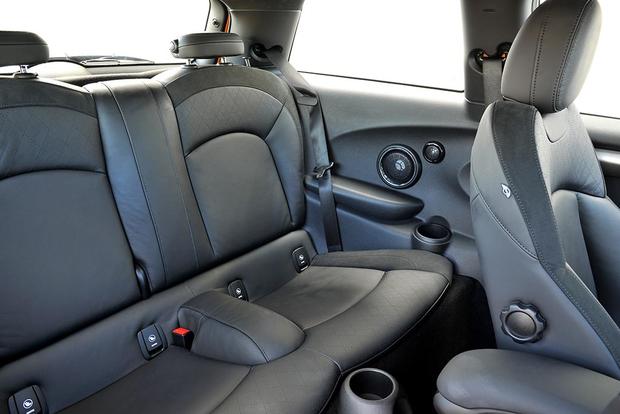 If you're looking for information on a newer Mini Cooper, we've published an updated review: 2018 Mini Cooper Review
At its core, the 2017 Mini Cooper is a 2- or 4-door hatchback with four seats that manages to offer both great gas mileage and a surprisingly large cargo area with the back seats folded down. But this small hatchback is also so much more than that.
For one thing, it's tremendously fun to drive. No, the Cooper isn't rear-wheel-drive, and it's not especially fast compared to purpose-built sports cars. But the folks at Mini have managed to tune the Cooper's suspension so it drives better than virtually any other similarly priced car, regardless of the drive wheels. It's even surprisingly quick thanks to its selection of energetic turbocharged engines.
The Mini Cooper also offers a retro-themed design and abundant customization that appeals to drivers interested in standing out. As such, it can sometimes be tough to quantify the Mini's appeal, since it will otherwise seem a bit overpriced for a vehicle of its size. However, when you consider all the unique things it does and the quality way in which it's engineered, that price begins to be a bit more acceptable.
What's New for 2017?
For 2017, the Mini Cooper gets an equipment shuffle. The previously optional Media package content, consisting of a 6.5-inch display, various smartphone apps and a front armrest, is now standard. Conversely, the base Cooper trim no longer comes standard with adjustable driving modes. See the 2017 Mini Cooper models for sale near you
What We Like
Unique style and driving character; sporty driving dynamics; energetic and efficient engines; surprisingly roomy front seats; quality cabin
What We Don't
Gets pricey with options; stiff ride, especially with the sport suspension and bigger wheels; clutch can be difficult to modulate; no collision-avoidance tech
How Much?
$21,000-$30,900
Fuel Economy
The Mini Cooper offers three engines. Base models (available in 2- or 4-door guise) use a 1.5-liter turbocharged 3-cylinder that makes 134 horsepower and 162 lb-ft of torque. With the standard 6-speed manual, that engine returns 28 miles per gallon in the city, 38 mpg on the highway and 32 mpg in combined driving. With the optional 6-speed automatic, it returns 27 mpg city/36 mpg hwy/30 mpg combined. You may get slightly better fuel economy with the 2-door Cooper.
Next up is the Cooper S, also offered as a 2- or 4-door, which uses a 2.0-liter 4-cylinder that makes 189 hp and 207 lb-ft of torque. Unlike the Cooper, getting the automatic on the S yields better fuel economy, at 25 mpg city/32 mpg hwy/28 mpg combined. With the manual, it's 23 mpg city/32 mpg hwy/26 mpg combined.
At the top of the range is the John Cooper Works variant, which only comes as a 2-door. It uses an upgraded version of the standard Cooper S engine, but touts 228 hp and 236 lb-ft of torque, along with fuel economy ratings of 25 mpg city/32 mpg hwy/28 mpg combined with the automatic and 23 mpg city/32 mpg hwy/26 mpg combined with the manual.
Standard Features & Options
The 2017 Mini Cooper Hardtop is offered in three trim levels: a base model dubbed Cooper, the even sportier Cooper S and the high-performance John Cooper Works variant.
The Cooper ($21,000 for the 2-door; $22,000 for the 4-door) boasts 15-in alloy wheels, automatic headlights and wipers, automatic climate control, height-adjustable front seats, split-folding rear seats, leatherette vinyl upholstery, a 6.5-in central display screen and console-mounted controller, Bluetooth, a USB port, an auxiliary audio jack, HD Radio and a 6-speaker sound system.
Step up to the Cooper S ($24,400 for the 2-door; $25,400 for the 4-door) and you'll get the more powerful 2.0-liter engine, along with 16-in wheels, run-flat tires, fog lights, adjustable driving modes and sport seats. Apart from the engine, these items can be had on the base Cooper.
The sporty John Cooper Works ($30,900) is available only as a 2-door. It adds even more power, 17-in wheels, upgraded brakes, a sport-tuned suspension (the standard suspension can be had as a no-cost option), LED headlights, special styling, sport seats, a sport steering wheel and special cloth upholstery.
You'll really be able to customize your Mini by taking advantage of the hatchback's options list. Available equipment is plentiful, much of which is available either as stand-alone items or bundled within packages. These include larger wheels, a backup camera, an automated parallel-parking system, a dual-pane sunroof, keyless entry and ignition, heated front seats, various upholstery upgrades (including leather), an 8.8-in display screen with various functional and feature content improvements, a navigation system, a head-up display, and a Harmon Kardon sound system. You can also choose from a multitude of exterior and interior trim customization options.
Safety
All 2017 Mini Cooper models include anti-lock disc brakes, front-side airbags, side-curtain airbags, traction control and knee airbags. While Mini doesn't offer as many cutting-edge safety features as some competitors (forward-collision warning or blind spot monitoring, for example), it does include a few safety-related options, such as park assist and a backup camera.
In crash tests carried out by the federal government's National Highway Traffic Safety Administration, the 2-door Mini Cooper earned four out of a possible five stars overall. The 2-door Cooper was also named a Top Safety Pick by the nonprofit Insurance Institute for Highway Safety for earning the highest possible rating of Good in all crash tests.
Behind the Wheel
Unlike with past Mini Coopers, don't be so quick in selecting one of the more powerful engines. Even though the base-level Cooper's has only three cylinders, we thought the little turbocharged engine was surprisingly eager to accelerate. If you'll be sticking to errands around suburbia, the base engine should offer more than enough power and fun. Of course, the 4-cylinder Cooper S and John Cooper Works models are zippier and more eager to go fast. They're the models to turn to if you're looking for your Mini to be more of a performance machine.
Inside, today's Cooper offers better materials as well as controls that have sacrificed some whimsy in favor of improved function. We approve. At the same time, there are still plenty of unique elements that make a Mini a Mini. There are still toggle switches, special upholstery and trim types, and our personal favorite feature: the circular center display, which boasts a novel ring of LED lights. They serve a number of different functions, acting as a tachometer, parking proximity display and even an alert for upcoming navigation system directions.
Other Cars to Consider
2017 Mini Clubman: If you have doubts that the Cooper hardtop has enough space, especially if you only have one car, the Clubman is most definitely worth a look. It's considerably larger than the Cooper, but it also manages to be a bit more comfortable and refined without losing its whimsical Mininess.
2017 Volkswagen Beetle -- The Beetle boasts unique styling, a wide range of engines and a larger interior than the MINI, but it doesn't offer the Mini's sports-car-like driving experience.
2017 Volkswagen GTI -- If an exciting driving experience is what you're looking for, you might want to consider the Volkswagen GTI. Based on the Golf, it offers a turbocharged engine and a choice between a slick-shifting manual or a dual-clutch automatic. It's also considerably cheaper than the Cooper S when comparably equipped.
Used BMW 1 Series -- Although the Mini Cooper offers a lot of pizzazz for the money, it can't quite top a rear-wheel-drive car like the 1 Series from Mini's parent company, BMW. Although the 1 Series is recently out of production, a used model will be in the Mini's price range.
Autotrader's Advice
Order your car. Don't get stuck paying for stuff you don't want or a color combination that's not exactly your cup of tea. In one to two months, you can have the exact Mini Cooper you like -- you should even be able to get a similar price to one that's just sitting on a dealer lot. And if we were ordering, we'd simply try to keep our Mini as close to $30,000 as possible. Whether that means prioritizing features, style or performance is up to you. Anything pricier seems a bit silly. Find a Mini Cooper for sale