Car Review
2018 Chevrolet Equinox: First Drive Review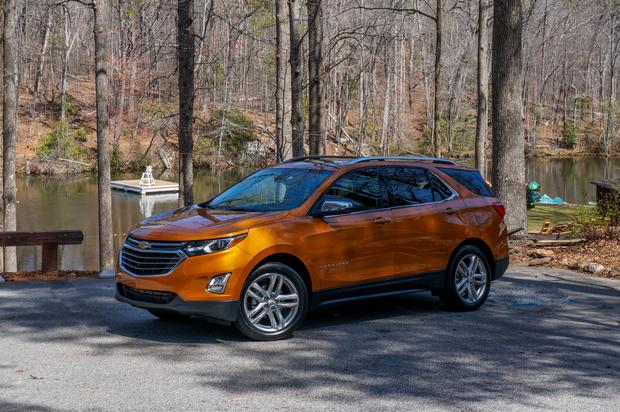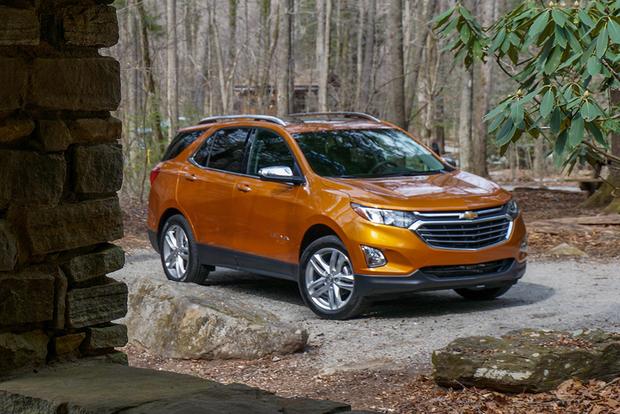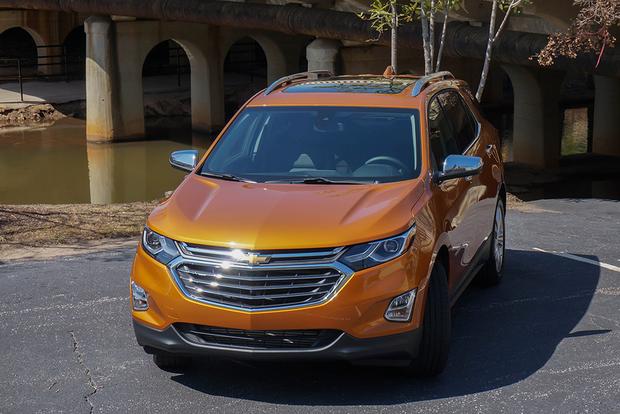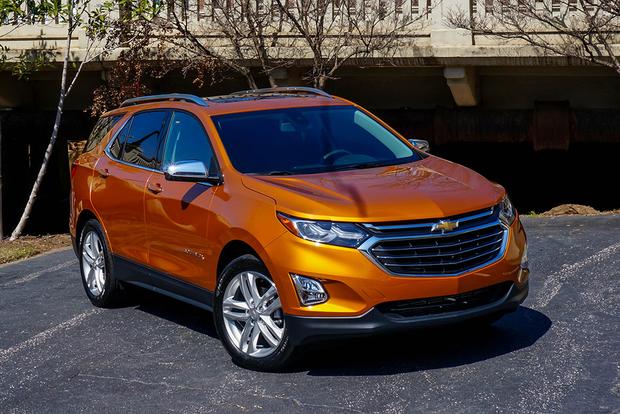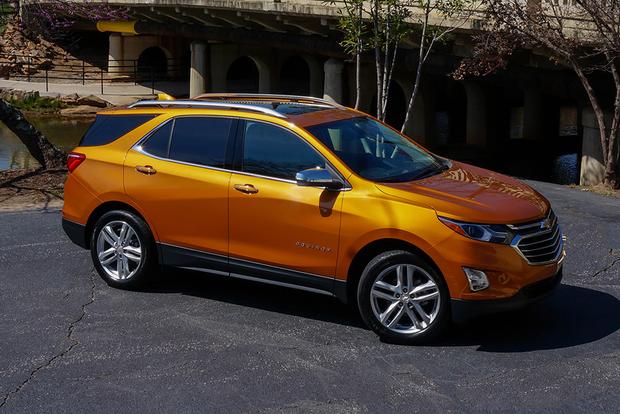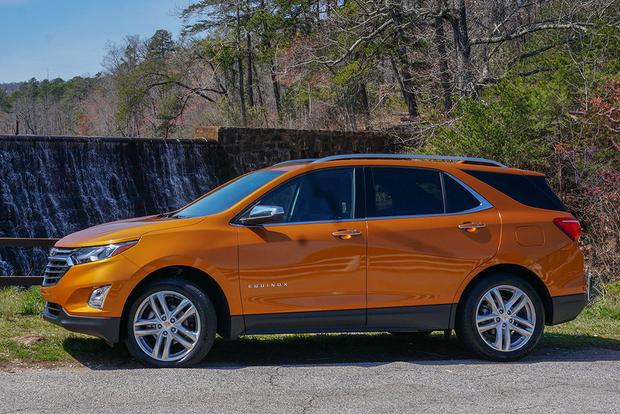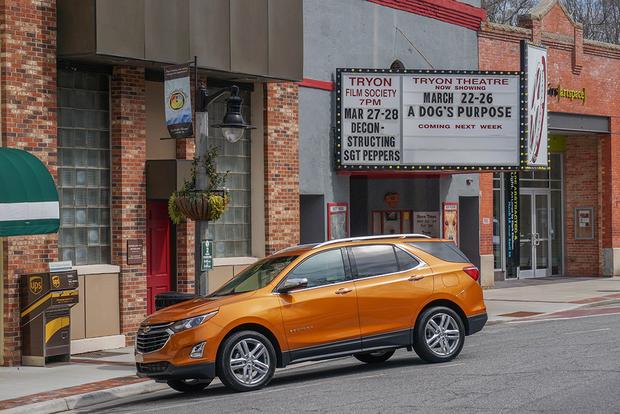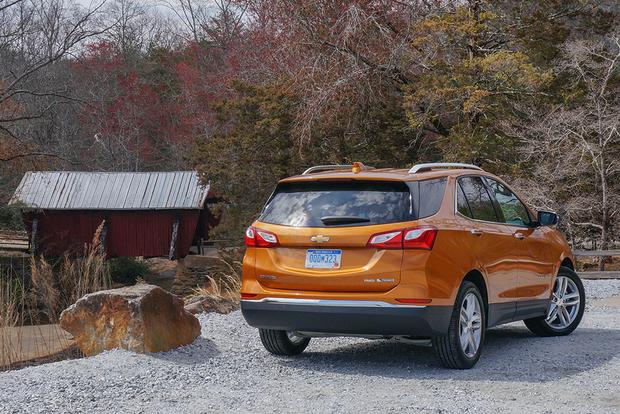 If you're looking for information on a newer Chevrolet Equinox, we've published an updated review: 2019 Chevrolet Equinox Review
As winter stubbornly recedes, the 2018 Chevrolet Equinox is just one of the three redesigned or all-new compact crossovers we've driven recently. The 2018 Toyota C-HR and the revamped 2017 Jeep Compass round out the trio. Hobbling all three are smaller-displacement 4-cylinder engines designed to deliver decent mileage and adequate acceleration for battling crowded urban streets. The respective engineering teams should be proud of their efforts, which, for the most part, succeeded in meeting these core criteria.
Conspiring with the smallish 4-bangers tasked with pulling the Toyota and Jeep around are transmissions that further enhance fuel economy rather than thrust: a 9-speed automatic for the Compass and a CVT for the C-HR. Well suited to downtown congestion, these fuel-efficient powertrains struggle to deliver the oomph required to pass slower traffic on 2-lane roads or hills.
Setting the Equinox apart from these competitors is the choice of three turbocharged power plants, as well as a traditional 6-speed automatic tranny mated to the base engine. Depending on your location, driving needs and habits, the Equinox offers a turbo targeting the task.
Find New Roads
In late March, Chevy brought media to South Carolina's Upstate to sample the completely redesigned Equinox ("sample" being the operative word). Only vehicles with the base 1.5-liter turbocharged 4-cylinder were available to transport pairs of journalists from Greenville, SC to Asheville, NC. Coincidentally, this is the guise in which the Equinox most closely compares with the C-HR and Compass.
Traveling a direct route between these two picturesque cities requires something well shy of 90 minutes. Given a wide range of options that included mostly hilly 2-lanes laden with curves, we managed to stretch our Equinox trip through the foothills of the Blue Ridge Mountains into roughly 4 hours of driving, including a few stops for snapping photos. See the 2018 Chevrolet Equinox models for sale near you
Git'er Done
Although we've only driven the base turbo, the two engine upgrades offer promise for some needed gusto, at least on paper. Generating 170 horsepower, the standard 1.5-liter turbo also makes 203 lb-ft of torque. A 6-speed automatic transmission transfers engine output to either the front or all four wheels. To date, this is the only one of the three engines for which the government has set fuel economy estimates: 26 miles per gallon in the city, 32 mpg on the highway and 28 mpg in combined driving. All-wheel drive is available with all three engines. With the 1.5L, AWD lowers mileage by 2 mpg across the board.
When the Equinox goes on sale later this spring, buyers will be able to better fuel economy with a 1.6-liter 4-cylinder turbodiesel that will produce 136 hp and 236 lb-ft of torque. It will also use a 6-speed automatic transmission. Chevy expects highway mileage to be about 40 mpg.
Consumers more interested in performance than mileage will be able to opt for a 252-hp 2.0-liter 4-cylinder turbo producing 260 lb-ft of torque. To help moderate the extra fuel required to feed this larger engine, a 9-speed automatic tranny distributes engine production. Chevy expects it to achieve an estimated 28 mpg on the highway.
Dressed to Kill
Chevy points to the Malibu as the inspiration for penning the lines of the latest Equinox. Sophisticated rather than fussy, the exterior is sculpted enough to be eye-catching, yet not so trendy as to be outdated in 5 years. Standard are 18-in aluminum wheels wrapped in all-weather rubber. Far from being a beauty pageant, the hotly contested compact-crossover segment is still more about utility than looks, but any edge in this cage match can make the difference. In the case of the Equinox, styling provides such an edge.
The stylists didn't stop with the exterior. Inside the shapes and lines meld, delivering an appealing passenger space. The available two-tone color scheme is particularly attractive. Anchoring the instrument panel at its center is a 7-in or available 8-in color touchscreen flanked by vertical HVAC vents. Although audio system controls are operated through the touchscreen or steering wheel, Chevy has housed an actual volume knob immediately below it.
Lurking behind the ample steering wheel, with its many buttons controlling the audio system, cruise control and trip computer, is a gauge cluster containing large, easy-to-see core system readouts as well as a driver's information screen.
High-Tech Trappings
High-tech features are highly sought after, carmakers tell us, particularly by younger buyers. For those consumers who are as interested in lording over a command center as they are in driving a vehicle, the 2018 Chevrolet Equinox should easily fulfill both requirements.
Also incorporated into the already mentioned touchscreen are a MyLink infotainment interface supporting Apple CarPlay and Android Auto, and OnStar, a gateway to a number of subscription-based services ranging from emergency and anti-theft features to turn-by-turn navigation. As do most GM vehicles, the Equinox offers a 4G LTE Wi-Fi hotspot with unlimited data for an extra $20 per month.
A long list of available safety technologies includes a birds-eye surround-vision camera system, forward-collision alert with a following-distance indicator, low-speed automatic braking, lane-departure warning with lane-keeping assist, blind spot monitoring and rear cross-traffic alert. With the Safety Alert Seat, warnings are transmitted to the driver's seat cushion in the form of vibrations.
From the Helm
Armed with the 1.5-liter engine, the Equinox delivers as expected in performance around town. Remarkably quiet, its ride is smooth and pleasant. Its higher seating height provides an excellent line of sight in all directions. On the state and country roads chocked full of twisties that comprised the bulk of our driving route (and that had us wishing we were piloting a Mazda Miata or FIAT 124 Spider), the Equinox was surefooted and stable when not pushed too hard. It is a crossover, after all. Steering was spot-on.
Providing plenty of leg and elbow room, the cabin is quite comfy, with supportive bucket seats up front and a split-bench second-row seat that folds flat with the cargo floor.
By the Numbers
As with other Chevy models, a number of trims and subtrims will provide a wide range of content and pricing. Expect Equinox trims to include the L, LS, LT and Premier. Chevy hasn't revealed the complete range of prices, but a FWD L will cash out at $23,580 before the $895 delivery charge.
Our Carolina test versions were both FWD and AWD Premier grades. Before $6,250 in options, including most of the available safety technologies, a panoramic sunroof, heated/ventilated seats, an upgraded Bose audio system, a navigation system and lots more, the Premier priced out at $30,790. With all the options and the delivery charge, the final total was $37,935.
Last Word
Compact crossovers are where the market is. The fastest-growing segment, it's a battle royale among a growing number of rivals. With its 2018 redesign, the Equinox is no wilting flower. It's a serious player worthy of serious consideration. Find a Chevrolet Equinox for sale
To gain access to this information, Autotrader attended an event sponsored by the vehicle's manufacturer.