Car News
1997 - 2003 Ford F-150 - Used Car Review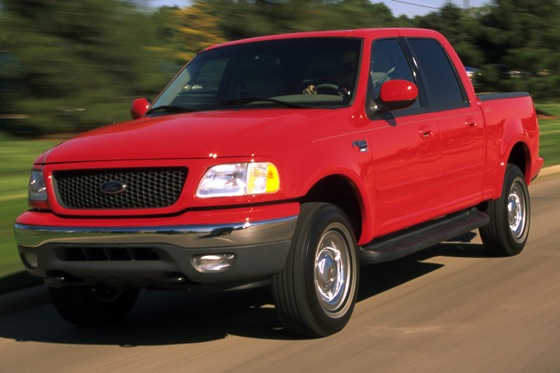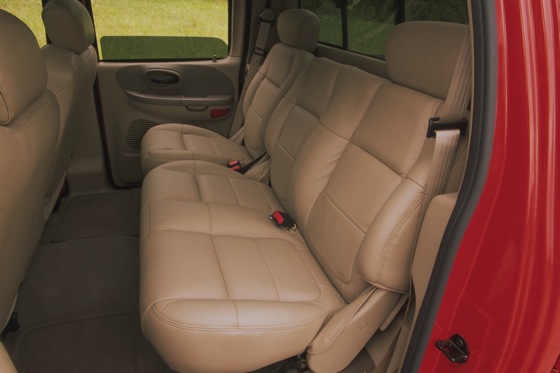 Ford's F-150 is the best-selling truck in America and has been for 35 years. Although each generation looks styled by a T-square, the 1997 model is less angular. It has rounded edges and even a rounded instrument cluster. The design was considered so controversial that Ford continued sales of the older version for a few months. This same strategy was used again in 2004, when a new model debuted and the 1997 to 2003 style was carried over as the F-150 Heritage. Among the tenth-generation F-150's less stellar achievements is one of the poorest crash test performances recorded by the Insurance Institute for Highway Safety (IIHS), and inclusion in one of the largest recalls in National Highway Traffic Safety Administration (NHTSA) history. This involved a defective cruise control module that led to numerous engine fires.
Why you want it
Many pickup customers don't rank safety as a primary factor. If photos of the offset crash test fail to deter buyers, there's a lot to like about the F-150. The truck comes in Regular, SuperCab and SuperCrew configurations, with standard or flared side styling, plus short (6.5 feet) or long (eight feet) beds; SuperCrew models have a 5.5-foot bed.
Besides being big and roomy, the F-150 is also a comfortable highway cruiser and can be downright opulent in Lariat or Harley-Davidson trim. The SVT Lightning model is even fast, while an FX4 off-roader is surprisingly adept at absorbing bumps, ruts and dips. Best of all, the F-150 is relatively affordable – but do the research, because many have been worked hard and pushed to the limit.
Notable features and options
Basic Regular Cab trucks feature a 4.2-liter V6; five-speed manual transmission; vinyl bench seat; tachometer; trailer tow wiring four-pin connector; front air bags and rear anti-lock brakes. The XLT SuperCab adds a chrome rear step bumper; power mirrors, windows and locks; a third door; color-keyed carpeting and illuminated entry.
The Harley-Davidson edition was introduced in 2001; the SVT Lightning arrived in 2002. Also available after 2002 is the FX4 with off-road suspension, extra skid plating, five-spoke 17-inch aluminum wheels and a 3.55 rear axle ratio.
Depending on the year and trim, the F-150 can have high-end features like a leather interior, CD player, electronic shift-on-the-fly two-speed transfer case (4x4 models), power-adjustable pedals, automatic air conditioning and a sliding rear window with defroster.
Model milestones
1999: A mild freshening plus new colors and wheel options. A SuperCab model with a reverse-opening passenger-side third door is introduced.
2000: Some new options and a reshuffling of packages. The Lariat now rides on larger 17-inch wheels, and includes power-adjustable pedals. A heavy duty payload package is offered for the first time.
2001: SuperCrew full-size four-door model is offered on half-ton models, a first for this segment. Power-adjustable pedals optional on XL and XLT; four-wheel anti-lock brakes are standard. The Harley-Davidson edition is introduced, featuring 20-inch wheels and leather interior.
2002: FX4 off-roading and performance SVT Lightning models introduced. Harley-Davidson editions receive a 340-hp supercharged V8.
2003: Some new options and two new trims: the youth-oriented STX and the 100th anniversary commemorative Heritage Edition XLT SuperCab.
2004: With the introduction of an all-new F-150, the old model remained on sale rebadged as the F-150 Heritage.
Engines and performance
The 1997 to 2003 F-150 offers three engine choices: a 4.2-liter V6, 4.8-liter V8 and 5.4-liter V8. With 202 horsepower and 255 pound-feet of torque, the V6 is no racer, but it will pull a fully loaded bed and tow up to about 3,600 pounds with the manual transmission, 5,800 pounds with the automatic.
The 4.6-liter V8 has 220 hp and 280 lb-ft of torque (231 hp and 293 lb-ft after 1999) and can tow up to 7,300 pounds.
The 5.4-liter V8 delivers 235 hp and 330 lb-ft (260 hp and 350 lb-ft after 1999) with a maximum towing capability of 8,800 pounds and a gross combined weight rating (GCWR) of 15,000 pounds.
The 2002 and newer Harley-Davidson editions feature a supercharged 5.4-liter V8 good for 340 hp. The Lightning sports the same engine tuned to 360 hp (1999 to 2000) and 380 hp (2000 to 2003).
There are also bi-fuel (E85) and natural gas (CNG) versions of the 5.4-liter V8, although not many were produced. Neither of the V6 and V8 engines are as powerful as their counterparts from Chevrolet and Dodge. And combined city/highway fuel consumption with the V8s barely breaks 16 mpg.
Recalls, safety ratings and warranties
The National Highway Traffic Safety Administration (NHTSA) has issued the following recalls for the 1997 to 2003 Ford F-150:
1997 to 2003: A defective cruise control switch could overheat and lead to an engine fire even after the vehicle is shut off.
1997: A possible defect in the steering shaft yoke could break and cause steering loss; a missing master cylinder pushrod retainer clip; missing or misaligned seat belt anchor attachments; a faulty transmission cable bracket that could fail, resulting in an inability to place the vehicle into Park.
1997 to 1998: Lug nuts might loosen, resulting in stud fatigue and wheel separation; V6 models have a defect in the throttle that permits ice to form, preventing the engine from returning to idle; the main battery cable can come into contact with the body, resulting in a short circuit.
1999: Possible defect in the speed control cable pulley, preventing the vehicle from returning to idle; damaged fuel pressure regulator O-ring may create a vapor leak.
2000 to 2001: Possible defect in the wiper motor gearbox, causing it to overheat and possibly catch fire; possible defect preventing driver and passenger seat belts from buckling properly; some owner's manuals are without child seat restraint instructions.
For more information about the Ford F-150's recall history, visit the government's recall website at www.safercar.gov. Enter the year, make and model for a complete list of recalls, plus technical service bulletins (TSB). Recall repairs are required by law even if the vehicle is out of warranty. A dealer can check to see if the repairs were performed and, if not, will fix the car at no charge to you.
Safety-wise, the 1997 to 2003 Ford F-150 earns mixed marks. In the government's front-end crash test, the truck gets five stars for the driver and four for the passenger; no side-impact test was performed. However, in the Insurance Institute for Highway Safety's (IIHS) offset frontal crash test, the F-150 receives poor marks, with the airbag deploying late and the test dummy suffering serious damage. The actual crash test can be seen here: http://www.youtube.com/user/iihs#p/u/1/6Wb66PzljP8.
In fairness, the 1998 to 2001 Dodge Ram doesn't score much better and the 1999 to 2006 Chevrolet Silverado earns a slightly higher rating of Marginal (as opposed to Poor).
Word on the web
We've checked consumer and enthusiast sites, including Consumer Reports, Fordforum.org, F150online.com and F150forums.com. Despite the recalls and much-publicized engine fire debacles, most have never experienced such problems, despite hundreds of thousands being on the road. F-150 owners are a loyal bunch who swear by their trucks and most seem happy with their purchase. We unearthed one oddity that did not show up in the recall or TSB area, a common complaint on early 5.4-liter V8s. Around 100,000 miles, the spark plugs start blowing out from their seats. Some speculate bad threads, others have heard from dealers that the plugs themselves were defective. In either case, the owner was stuck with the repair bill, reported to be around $400 per plug.
AutoTrader recommendations
The SuperCrew trucks offer plenty of interior room and come well equipped when ordered in Lariat or XLT trim. With 20-inch rims, custom interior and supercharged engine, the Harley-Davidson edition is the coolest of the lineup, but its limited production makes finding one for a good price a chore. Off-roaders will gravitate toward the FX4. However, due to the chances of extensive abuse, get a third-party mechanic to give this model a thorough going-over.
Competitive set
Chevrolet Silverado 1500
GMC Sierra 1500
Dodge Ram 1500
Toyota Tundra