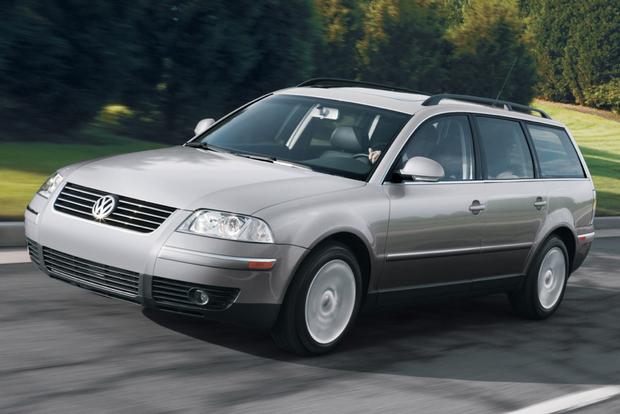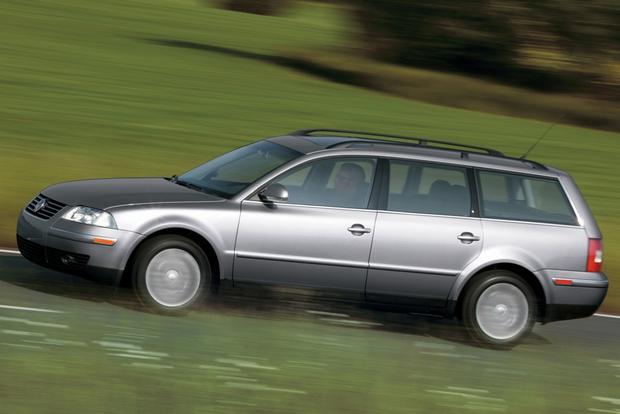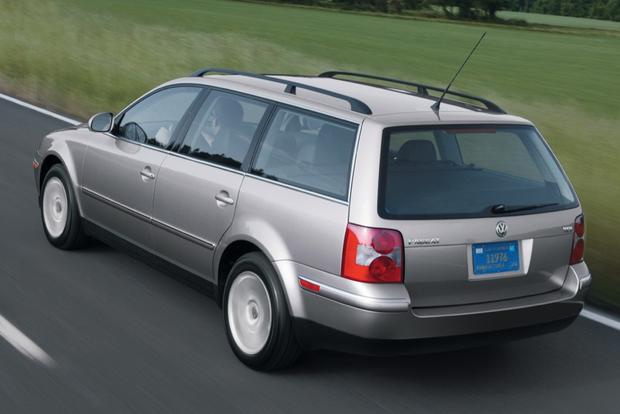 The 1998-2005 Volkswagen Passat is 2.6-inches longer, one inch wider and (thanks to a 3-in wheelbase stretch) roomier than the 1997 model. Both sedan and wagon versions are offered. This Volkswagen shares its underpinnings with the entry-luxury Audi A4, benefitting from the upscale A4's more advanced 4-link front suspension and solid body structure.
Why You Want It
The Passat is a driver's car, yet it's practical with firm, supportive seats, plenty of headroom, good rear legroom. With the optional 2.8-liter V6, it feels like a bargain-priced Audi A4. From 1998 to 2005, it's the least-expensive Volkswagen sedan still assembled in Germany. Handling, braking and steering response are crisp, and the ride is firmer than Japanese sedans, but not as firm as a BMW.
Notable Features and Options
The base GLS offers a lengthy list of standard items, including a 1.8-liter turbo 4-cylinder, 195/65R15 tires on steel wheels, velour seat trim, A/C, a premium 8-speaker AM/FM/cassette stereo, tilt/telescope steering wheel, central locking with remote keyless entry, fog lamps, power heated outside mirrors, power windows with express up/down, anti-theft alarm, 60/40 split fold-down rear seat, cruise control, a trip computer, dual front airbags, dual front-seat side-impact airbags, ABS and traction control.
Moving up to the GLS V6 model nets the 190-horsepower 2.8-liter V6 and wood grain interior trim.
The top-line GLX model includes the V6; alloy wheels; larger 205/55R16 tires; rear window blind; a sunroof; leather seats, shifter and steering wheel; 8-way power front seats; memory driver's seat; automatic A/C; and, from 2000-on, rain-sensing wipers.
A 5-speed automatic transmission is optional on most models, but it's required beginning in 2000 with the optional 4Motion all-wheel-drive system. With the AWD system, a multilink independent rear suspension supersedes the base front-drive car's torsion-beam rear axle, and the split fold-down rear seat is replaced with a fixed seatback with ski-door pass-through into the trunk.
Model Milestones
1999: New options are a rear spoiler, trunk-mounted CD changer and wood console insert.
2000: 4Motion all-wheel drive is introduced, available only on V6 models. 200-watt Monsoon audio system is introduced. Dealer-installed CD player is available. Traction control now works at all speeds. Brake wear indicator is standard. V6 becomes available in GLS wagon.
2001: New grille, tail lamps and added chrome accents around side windows. Side curtain airbags are standard. The 1.8-liter turbo power is upped to 170 hp. Garage door opener and steering-wheel audio controls become standard on GLX.
2002: Combination CD/cassette player is standard. New W8 model debuts with 270-hp 4.0-liter W8 engine, quad exhaust tips, Tiptronic 5-speed automatic transmission, 4Motion all-wheel drive, 215/55R16 tires, HID headlamps, stability control and brake assist.
2003: New base GL trim level gets most of the GLS standard features, and the GLS moves upscale with a standard moon roof and alloy wheels. W8 is available with optional 225/45R17 tires and a 6-speed manual transmission. Stability control is optional on GL, GLS and GLX.
2004: 4Motion AWD now available with 1.8-liter 4-cylinder turbo and 5-speed automatic. New 134-hp 2.0-liter 4-cylinder turbo diesel with 5-speed Tiptronic gearbox debuts in GL and GLS. Turn-signal repeaters are added to side mirrors. New optional emergency communications system.
2005: W8 engine dropped. Leatherette trimmed seats replace cloth in the GL and GLS. Heated front seats are standard in the GLS.
Engines and Performance
Engines are longitudinally mounted for better weight distribution. The base model engine is a 1.8-liter turbo 4-cylinder making 150 hp on 1990-2001 Passats, changing to 170 from 2001 on. Optional in GLS and standard on GLX is a 190-hp 2.8-liter V6 with strong acceleration. The Audi-derived V6 is quiet and smooth in normal operation but sounds coarse when working hard, such as merging onto freeways or passing on two-lane highways.
Both engines are teamed with a standard 5-speed manual transmission. A 5-speed automatic is optional but required with 4Motion AWD. The automatic is available with Tiptronic sequential tap shifting that provides for precise manual control of gear selection.
Road & Track magazine tested a 2000-model 1.8-liter GLS with manual transmission and netted an 8.2-second 0-to-60 mph time. From 2002 to 2004, the top engine offering is a 270-hp 8-cylinder dubbed the W8. The innovative W8 engine fails to catch on and is dropped for 2005. All Passat gasoline engines require premium unleaded fuel.
Like other German automakers, Volkswagen also offered diesel in the Passat from 2004 onward. The 2.0-liter 4-cylinder turbo diesel makes just 134 hp, but delivers an impressive 247 lb-ft of torque at 1,900 rpm, over 10 percent more grunt than Passat's 2.8-liter gas V6. This gives the little turbo diesel great around-town hustle with little effort, and allows it to rack up impressive fuel economy, an EPA-rated 27 mpg city and 38 mpg highway.
Recalls, Safety Ratings and Warranties
The National Highway Traffic Safety Administration (NHTSA) has announced the following safety recalls for the 1998-2005 VW Passat:
1998: Engine backfire during a cold start might cause particles to lodge in air intake and prevent throttle from returning to idle position.
1998-99: At cold temperatures of minus 4-degrees F or below, brake booster might not provide sufficient power assist.
1998-99: Defective tie-rod seals might allow entry of dirt and moisture, causing accelerated wear.
1998-2003: Flat tire can abrade fuel filler neck, creating a leak and fire risk.
1999-2005: Possible vehicle fires due to automatic transmission heat shield touching exhaust pipe or leaks from 1.8L Turbo fuel line or 4Motion fuel tank ventilation valve.
2000-01: Fuel-tank level sensors might be damaged by poor quality fuel, causing fuel gauge to be inaccurate.
2003: On 1.8L 4-cylinder or 2.8L V6 cars, fuel pump might stop working, stalling engine.
2003-05: Stoplight switch might have been installed incorrectly, remaining on after brakes are released or not lighting when pedal is applied.
2004-05: Diesel fuel pump can leak, causing a fire.
NHTSA gave the 2000-02 and 2004-05 Passat a 5-star rating for the driver and front passenger in frontal impacts, and 4-star rating for driver's and passenger's side impacts. NHTSA did not test the 1998-99 or 2003 model Passats.
The Insurance Institute for Highway Safety (IIHS) rated the 1998-2005 Passat as good for frontal offset collisions but did not test for side impacts.
The 1998-2001 Passat comes with 2-year/24,000-mile bumper-to-bumper warranty and a 10-year/100,000-mile powertrain warranty. Starting with 2002 models, basic warranty coverage increases to four years and 50,000 miles, but powertrain coverage dips to six years and 60,000 miles, whichever occurs first. Corrosion perforation coverage remained at 12 years and unlimited mileage for all 1998-2005 models.
Volkswagen used cars with more than 75,000 miles or more than five years of age are not eligible for the Certified Pre-Owned program. Therefore, 1998-2005 Passats are not in the program. Newer Volkswagens that pass the mileage and age tests get a 112-point inspection and are sold with a 2-year/24,000-mile limited warranty with VW roadside assistance.
Word on the Web
ConsumerReports.org reviewed 2002, 2003 and 2004 models and predicted average reliability, above average owner satisfaction and above average resale value. It praised the Passat as delivering a solid, luxurious feel; comfortable, quiet ride; capable handling and with advanced safety features; and an interior that exudes quality. It called the 1.8-liter turbo lively but with some low-speed hesitation, and lauded the 2.8-liter V6 for being quiet and strong. Consumer Reports gave the 2.0-liter turbo diesel points for fuel economy and cruising range, but knocked it for its less-potent highway acceleration and engine noise.
Competitive Set
Toyota Camry: It's pretty hard to top the Camry for reliability and resale value, and the midsize Toyota has more passenger space and trunk room than the Passat, but the Camry can't match the VW's autobahn-bred road manners or exquisitely detailed cabin. The Camry isn't available in wagon form or with all-wheel drive.
Honda Accord: Among popular-selling Japanese-brand midsize sedans, the Accord comes closest to Passat in terms of driving enjoyment and overall handling capability. Like the Camry, Accord doesn't offer a wagon version or the poor-weather confidence of all-wheel drive.
Subaru Legacy: The Subaru brand is known for its standard 4-wheel drive traction, and wagon versions of the Legacy are among its best sellers. In both Consumer Reports and J.D. Power rankings, the Legacy enjoys good quality and reliability ratings.
AutoTrader Recommends
There might be more practical choices in the segment with higher J.D. Power or Consumer Reports ratings, but the Volkswagen Passat is for buyers who love to drive and prefer an autobahn-bred car with European DNA. The Passat wagon, with its cavernous 56.5 cu-ft of cargo capacity (with rear seats folded), standard roof rack, slick .30 coefficient of drag and optional 4Motion all-wheel drive is a sensible alternative to larger, heavier SUVs and crossovers. With the wagon or handsome sedan, it's hard to go wrong with the Audi-based 2.8-liter V6, which isn't working as hard as the 1.8-liter turbo 4-cylinder.
Due to their deep well of available torque on the highway, as well as top-notch fuel economy, there's rising interest in diesels. But the 2.0-liter turbo diesel, available in 2004-2005, was not sold in states with extra-strict diesel emissions regulations, such as California. Bringing in a used one from another state might present registration challenges.
Technically interesting as it was, stay away from the limited-production W8. Always choose lower-mileage examples if possible and get a vehicle history report to make sure the Passat's safety recalls and product updates have been completed.
The 1998-2005 VW Passat offers the driving dynamics, safety technology and fit and finish of much more expensive German sedans and wagons.