Car Review
2000-2006 Honda Insight: Used Car Review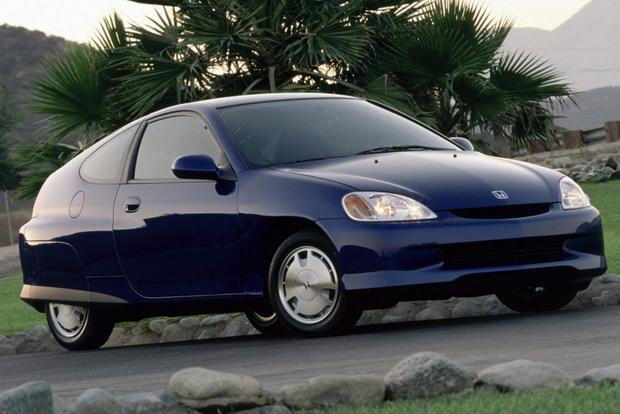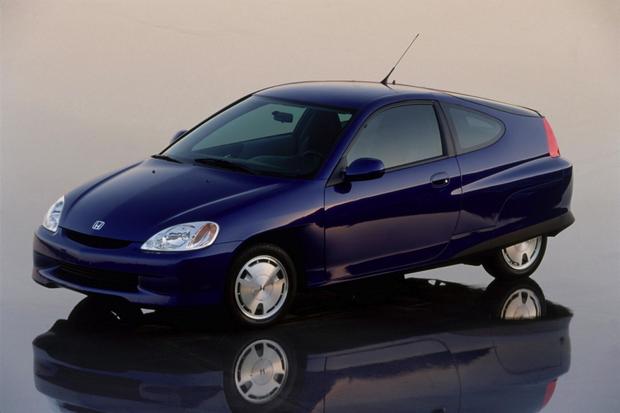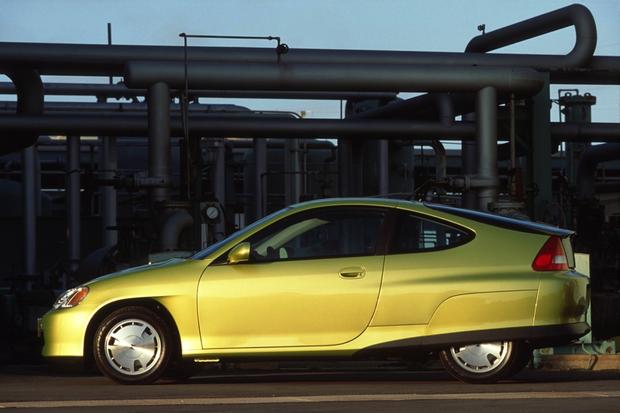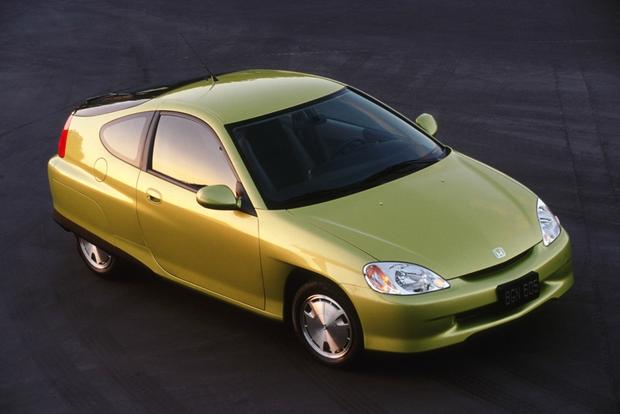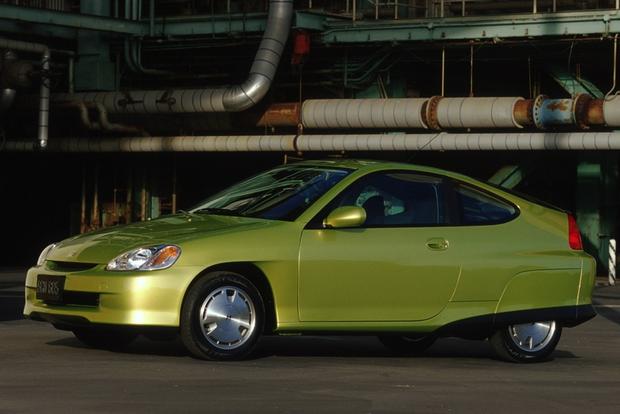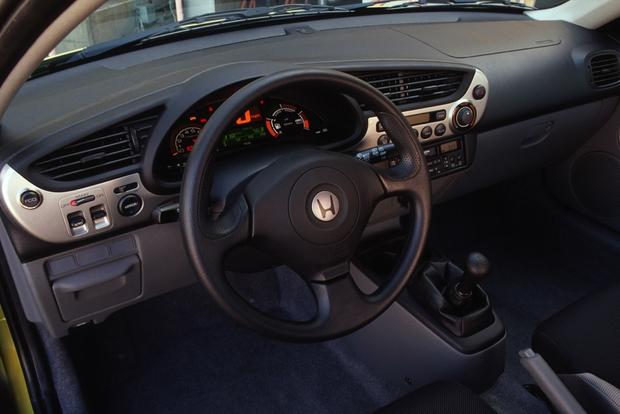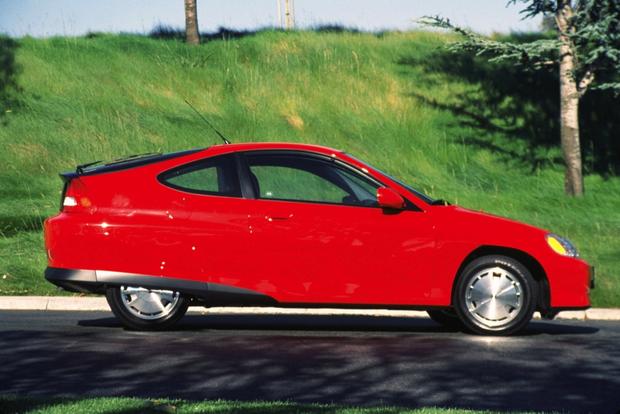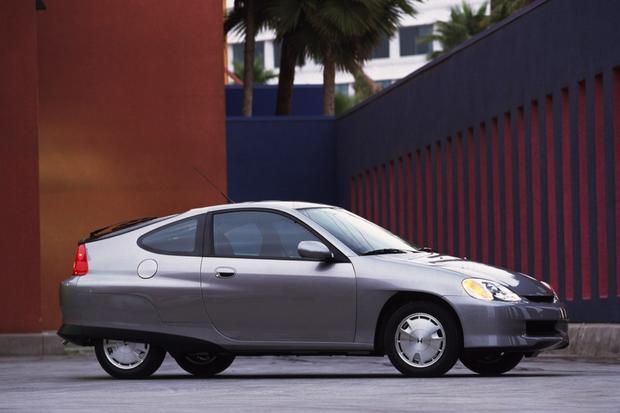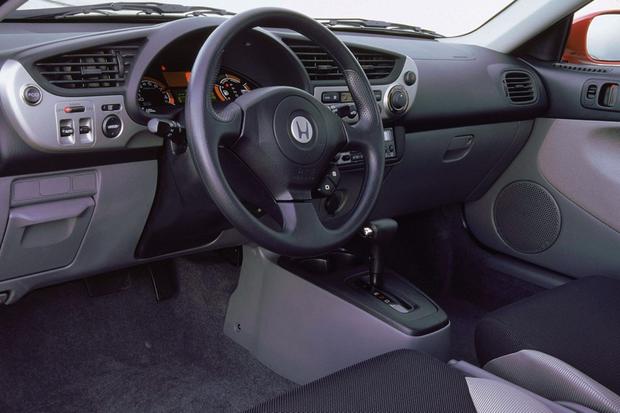 In 1999, both Honda and Toyota raced to be the first automaker with a hybrid car on the market. Honda won the battle, as the Insight launched several months before the Toyota Prius. It was, however, a tiny 2-seater with minimal storage space, compared to the Prius that could seat four and carry their cargo. Still, the Insight was the car of choice for hypermilers everywhere, thanks to its slippery shape, small engine and fuel economy ratings that topped every other new model.
Why You Want It
The 2000-2006 Honda Insight is appealing for two reasons. The first is obvious: gas mileage. At launch, the Insight was rated at an almost unbelievable 61 miles per gallon in the city and 70 mpg on the highway -- figures that have never been trumped, except by plug-in hybrids. Even with those lofty ratings, many fuel-economy-obsessed drivers did even better. Some got up to 80 mpg by learning to drive the Insight in the most efficient way possible. The other reason to consider an Insight is that it's such a unique car. Not only does it offer a distinctive shape, but the cover over the rear wheels gave it a bold style and surprising presence considering its small size. Compared to its rival, the 2001-2003 Prius, the Insight is simply a different take on the hybrid car. Honda chose not to seek out practicality, aiming instead for drivers who wanted high efficiency and unique styling. They succeeded, as the Insight certainly combines both. For some drivers, it's hampered by only two seats and a lack of cargo room. But, if you can get past those issues, the Insight will be hard to beat.
Notable Features & Options
By all accounts, the Insight was rather sparsely equipped. The best proof is that the 2-seater never included air conditioning as standard equipment. Instead, it was always relegated to the options list, so that hypermiling drivers didn't have to carry around the extra weight if that was their preference. When the Insight debuted in 1999, a 5-speed manual was the only available transmission. A continuously variable automatic debuted the following model year, though its fuel economy ratings -- 57 mpg city/56 mpg highway -- were much lower than the stick shift's. Both transmissions were offered until the Insight's cancellation in 2006. Standard features included remote keyless entry, anti-lock brakes, 14-inch alloy wheels, power mirrors, power windows and power locks. A cassette player was standard at launch, though a CD player was added by 2004. Aside from air conditioning, the Insight offered no options beyond its exterior color.
Model Milestones
2001: The 2001 model year brought the biggest changes to the Insight, with the availability of a continuously variable automatic transmission. The CVT returned 57 mpg city/56 mpg highway, which was far below the 5-speed manual's 61 mpg city/70 mpg highway.
2002: While the Insight was unchanged for 2002, it gained a hybrid-powered sibling in the Civic Hybrid. The more practical Civic Hybrid had four doors and five seats, though fuel economy ratings were a much lower 39 mpg city/43 mpg highway.
2003: The Insight was unchanged for 2003.
2004: Two minor changes marked the 2004 model year. The first was a newly standard CD player. It replaced the cassette player standard on 2000-2003 models. Also, Honda changed the Insight's only available interior to beige from the prior year's gray.
2005: The Insight wasn't changed in 2005.
2006: Once again, the Insight was unchanged in what would be its final model year.
Engines and Performance
Only one engine was ever available in the first-generation Honda Insight: a 1.0-liter 3-cylinder gas-electric hybrid. The engine produced 73 horsepower and 91 lb-ft in stick-shift form, or a slightly lower 71 hp and 90 lb-ft when mated to a CVT automatic. All Insight models use a system Honda called "idle stop." Once the Insight has warmed up, idle stop can shut off the engine when the car is idling (at a red light, for example). Idle stop's benefit is improved gas mileage. Like the Prius, the Insight never needs to be plugged in to recharge its electric motor. Instead, the motor recharges braking. This process is called regenerative braking, since it uses energy from the brakes to provide power to the battery.
As you might expect, the Insight is sluggish in nearly any situation and slow when climbing hills. Worse, because of the small tires and weight-saving minimalist construction, the Insight's cabin is noisy and bumps are felt harshly. Nonetheless, many drivers are willing to put up with these flaws -- and even embrace them -- for its unbeatable gas mileage.
Recalls, Safety Ratings and Warranties
The federal government's National Highway Traffic Safety Administraton (NHTSA) has issued the following recalls for the 2000-2006 Honda Insight.
2000-02: A recall was issued to correct a problem with an overheating headlight wire harness, which could cause the headlights to fail. To fix the problem, dealers replaced the headlight switch and other related components.
2001: A recall was issued because the passenger airbag module was not properly welded in some Insight models. Dealers fixed the problem by replacing the passenger airbag module.
The NHTSA gave the Insight good marks. The coupe scored four out of five stars in the NHTSA's frontal impact crash test for both the driver and passenger. The Insight also earned 4-star side impact ratings for the driver and a 4-star rollover rating. All marks are out of a possible five stars.
The first-generation Honda Insight had a 3-year/36,000-mile bumper-to-bumper warranty and a 5-year/60,000-mile powertrain warranty. Initially, it had an 8-year/80,000-mile warranty for hybrid components. However, that warranty was later extended to 10 years and 150,000 miles. Although that extension was initially only for drivers in seven states, it eventually expanded to cover Insight models across the country.
Word on the Web
Owners of the first-generation Honda Insight are some of the most loyal -- and vocal -- car owners. As such, there's a long list of information about the car and its trouble spots on the web. The biggest cautionary tale from websites such as InsightCentral.net is, of course, the Insight's IMA hybrid battery. For drivers whose batteries are no longer under warranty, the replacement cost is a staggering $3,500 at a dealership. Other options include purchase of either a used battery or a refurbished one.
Several other problems are known about the first-generation Insight. Failure of the catalytic converter is common and expensive to fix. Worn gear synchros on the manual transmission can be an issue too, particularly with second gear. The Insight's bottom-center engine mount is prone to cracking, though a fix is cheap. And a shudder in the CVT could mean an expensive transmission fluid flush. Despite all these issues -- many of which will be apparent right away on a test drive -- the Insight seems fairly reliable. What's more, many proud owners have taken good care of them, meaning several problems will likely have been addressed.
Competitive Set
Because of the Insight's unusual nature, it's hard to establish a true competitive set. That's especially true since no automaker has tried to build a car similar to the Insight since its debut. The closest car may actually be Honda's sporty CR-Z hybrid, which borrows the Insight's styling cues and is a similar size.
For shoppers who just want a high-mileage hybrid without spending a fortune, the Insight's top competitors include the 2001-2003 Toyota Prius and Honda's own 2002-2005 Civic Hybrid. Like the Insight, both the Prius and the Civic will eventually suffer from a hybrid battery failure. That means shoppers should look for one that's had the battery replaced, or plan accordingly. Both the Prius and Civic Hybrid offer four doors and five seats, making them more practical than the Insight. But neither car comes close to the Insight's fuel economy ratings.
AutoTrader Recommends
It's hard to recommend the Insight considering its small size, bumpy, rough ride and noisy cabin. But drivers who want the best mileage and a unique design likely won't settle for anything less, especially if their budgets don't allow for a brand-new plug-in hybrid or EV. For those drivers, we say: Go for it. Former owners wax nostalgic about their first-generation Insight, and many are still with their original owner -- a testament to how much they're revered. Our only suggestions are to get a manual transmission for optimal fuel economy, and to make sure the IMA hybrid battery has been replaced. If it hasn't, negotiate a good deal to account for its upcoming replacement.