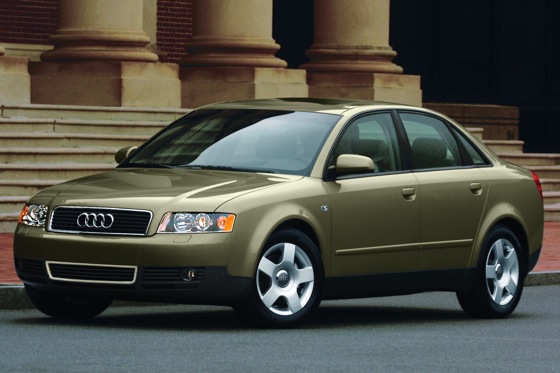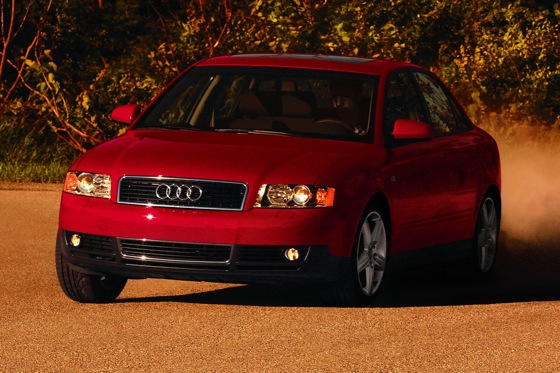 Everything Audi does appears to strike just the right chord with consumers. Take the A4, or in this case, the second generation A4 sedan and wagon (referred to as the Avant). Small enough to be considered an entry-level car, yet upscale enough to satisfy even the most fastidious luxury car owners, the A4 combines smart styling, impressive handling, strong performance and really good gas mileage into a single package that is both functional and highly desirable. The car also holds its value well, meaning it could be a costly used car prospect versus something a bit less high-end and with a larger back seat, such as the Honda Accord or Nissan Maxima. About the only two drawbacks to owning a used Audi are its so-so reputation for reliability (especially with the CVT transmission) and the pricey cost of repairs when things do go wrong.
Why You Want It
Although many will argue its exterior design is not as elegant as the original A4 (1996-2001) the 2002-2005 A4 is nevertheless distinctly Audi. From its excellent fit and finish to its lovely interior complete with red backlit gauges, elegant door panels and supremely comfortable seats, the A4 makes its owner and occupants feel special. The A4's broad portfolio includes a sedan, wagon and convertible, with either front-wheel drive or quattro all-wheel drive, a choice of turbocharged four-cylinder or V6 engines and three transmission choices: Manual, Continuously Variable Transmission (CVT) Multitroinc automatic (front-wheel drive models) or Tiptronic five-speed automatic (quattro sedan and wagon models). The A4's multiple configuration allows it to satisfy a huge number of differing car tastes, a real bonus for quibbling couples who can only afford one car. She wants space for the kids and dog, but he wants a sporty fun-to-drive touring car? Get the A4 Avant wagon with quattro all-wheel drive. She loves the fun of shifting for herself, but he never learned to drive a manual? Get the Tiptronic automatic and have the best of both worlds.
Notable Features and Options
The A4 1.8T features a turbocharged four-cylinder engine teamed to a five-speed manual transmission; an optional CVT automatic is available, as is quattro all-wheel drive teamed to either a six-speed manual or five-speed automatic. The base car comes nicely equipped with dual zone automatic climate control, 10-speaker AM/FM stereo with six-disc CD changer, manually-height adjustable cloth seats with lumbar support, power windows and door locks, remote keyless entry, tilt/telescopic steering wheel, cruise control and heated power mirrors. The 3.0 V6 model adds a 12-way power driver's seat, leather upholstery, larger wheels and tires, and a driver's information system. All A4's feature front, front side-impact and side curtain airbags, as well as anti-lock brakes, traction control and Electronic Stability Program (ESP) stability control. Options for the A4 vary depending on trim and include rear side-impact airbags, DVD navigation, a power passenger seat, heated front and rear seats, power glass moonroof, a sport suspension, GM's OnStar telematics (yes, GM briefly leased the system to Audi), Bose audio, and Bi-xenon self-leveling adaptive headlights.
Model Milestones
2003: GM's OnStar is made available, while 1.8T models could be equipped with a power driver's seat and leather upholstery.
2004: Quattro all-wheel drive is made standard on wagon (Avant) models. A new six-speed manual transmission replaces the five-speed manual on cars equipped with quattro.
2005: Bi-xenon headlights replace standard xenon headlights, while the redesigned 2006 A4 debuts midway through the 2005 model year.
Engines and Performance
The A4 displays two distinct personalities. In 1.8T guise, the A4 is a spirited sedan that returns impressive fuel economy (20 mpg city/29 mpg highway with the manual transmission). The five-speed manual engages easily, but does feel a bit rubbery between gear shifts. When equipped with the CVT automatic, the A4 demonstrates good acceleration and permits the driver to manually select between six preset simulated gear ratios. Front-wheel drive cars handle fairly well, but exhibit noticeable understeer when pushed hard, an attribute its nearest competitor, the rear-drive BMW 3 Series, does not possess. The A4's steering feel is also a bit more assisted and somewhat more vague than the setup found in the BMW 3 Series and Infiniti G35.
The A4's personality completely matures when equipped with the 3.0-liter V6 and quattro all-wheel-drive. In this form, the A4 tackles the toughest curves as though it were glued to the road, and quickly dismisses wet or slippery road conditions as mere blips. Even deep snow is no threat, as the A4's quattro all-wheel drive setup is capable of sending power to which ever wheels have the best grip. With 220-horsepower and 221 pounds-feet of torque on hand, the A4 3.0 has no problem climbing, passing and merging, although its fuel economy is noticeably less impressive than with the 170-horsepower 1.8T. If a manual transmission is high on your priority list, it should be noted that the quattro's six-speed manual is far superior to the front-drive model's five-speed.
Recalls, Safety Ratings and Warranties
The National Highway Traffic Safety Administration, or NHTSA, has issued the following recalls for the 2002-2005 Audi A4:
2003: Recall for possible defective fuel pump on 1.8 and 3.0-liter engines.
Recall repairs are required by law even if the vehicle is out of warranty. Your dealer can check to see if the repairs where performed and if not, will fix the car at no charge to you.
As for safety, the A4 receives good marks from NHTSA, earning four out of five stars in the frontal collision test for the driver and front seat passenger, as well as four out of five stars for the rear seat passenger's side impact test. The A4 earned five out of five stars for the driver in a side-impact collision. The Insurance Institute for Highway Safety (IIHS) gives the A4 its highest rating of 'Good' in all crash test categories, including the offset crash test.
The 2002-2005 Audi A4 offers a 4-year/50,000 miles basic warranty and 4-year/50,000-mile drivetrain warranty. If you purchase your A4 from a Certified Pre-Owned Audi dealer after the original warranty expires, coverage is extended by 2 years or 50,000 miles, which ever comes first. Audi also offers a number of extended service plans ranging from Silver to Platinum that cover items not in the standard warranty.
Word on the Web
You've read what the experts say, but isn't it just as important to hear from the people who bought and lived with the A4? We think so, so we've scoured the internet, reading through posts on such sites as CarComplaints.com, AudiForums.com, VWVortex.com and ConsumerReports.com to see what complaints don't show up on the recall list. The A4 has its fair share, mostly centering on dissatisfaction with the quality and reliability of the car's electronics, not to mention the expensive repairs that seem to pile up after the original 4-year/50,000-mile warranty expires. The most common complaint centers on the early CVT automatic transmissions, which appear to be rather problematic for some customers and very costly to replace or repair when out of warranty. It also seems that after 2006 the CVT's kinks were exorcised, as the number of complaints drop off. While most of these complaints are anecdotal, they seem to be backed up by Consumer Reports, which gives the 2002-2005 A4 poor to worse marks in the areas of engine, transmission and drive system.
Competitive Set
The A4's closest competitor is the BMW 3 Series. Like the A4, the 3 Series is a high-end German luxury car with an emphasis on performance. The 3 Series is powered by its rear wheels, which is the preferred layout of enthusiasts because it frees the front wheels to do one thing and one thing only: steer. Along with the sedan and wagon, the 3 Series also offers a coupe and convertible, as well as all-wheel drive on some models. The Mercedes C-Class is also a rear wheel drive sedan, but it costs more than A4 yet offers fewer premium features. The Infiniti G35 makes an excellent alternative to the A4, with performance more inline with the BMW 3 Series, a luxurious and technologically advanced options list, and a superior repair and reliability history. Not to be forgotten is the Cadillac CTS, which offers a uniquely American angle on luxury, performance and value. But the CTS doesn't hold its value as well as the A4, and its interior materials fall far short of the standards set by the little Audi.
AutoTrader Recommendation
We think there is much to like with the 2002-2005 A4, but like all premium European sedans, parts and service can be expensive. To avoid the possibility of problems down the road, we suggest you steer clear of the front wheel drive models with the CVT automatic transmission. This means you should either look for a car with a manual transmission or the quattro all-wheel drive system, which uses a conventional five-speed automatic. If fuel economy is important, we think you'll find the 1.8T's turbocharged engine to be highly efficient and generally fun to drive. The 3.0 V6 is the car for those who like instant passing power as well as quick acceleration.