Editor's note: You may want to read more of Autotrader's model vs. model comparison car reviews as well as Buying a Used Honda Pilot: Everything You Need to Know and Buying a Used Toyota Highlander: Everything You Need to Know.
If you're in the market for an affordable midsize SUV that can transport you and your family safely from point A to point B (and to every soccer game, school event and recital in between), you might be interested in the 2003-2008 Honda Pilot and the 2001-2007 Toyota Highlander. Both SUVs offer reasonable pricing, roomy interiors and a good reputation for dependability. But which one is better? And which one should you buy? To help you find out, we've created a close comparison of both models. But first, let's cover the basics.
2003-2008 Honda Pilot
The 2003-2008 Pilot is a popular midsize SUV that offered 3-row seating for up to eight passengers. The original Pilot was late to the midsize SUV party — because it was only offered with a standard V6 — but it was an excellent contender when it finally arrived.
2001-2007 Toyota Highlander
The 2001-2007 Toyota Highlander is a competent midsize SUV based on the brand's popular Camry sedan. Originally offered with only 2-row seating, the Highlander gained an optional third row in 2004 — likely as a response to the arrival of the Pilot. Though the Highlander is smaller than the Pilot, it also touts an efficient 4-cylinder engine option. It even offered a fuel-efficient hybrid version beginning in 2005.
Reliability
Given that the first-generation Highlander and Pilot can be up to 15 years old, reliability can largely depend on how previous owners have maintained the specific cars you find for sale. With that being said, both the Pilot and the Highlander have strong reviews on Kelley Blue Book's website (the Pilot is averaging a 9.3 out of 10; the Highlander a 9.2) from mostly satisfied customers with generally positive things to say about dependability.
As for ownership costs, neither of these models are known for specific failures — though it's worth noting that both models use timing belts, rather than more durable timing chains. While timing belts don't pose an inherent problem, they require pricey replacement at specific intervals — so it's worth obtaining service records, if possible, to find out when the last timing belt replacement was performed.
Fuel Economy
The 2003-2008 Honda Pilot offered only one engine: a 3.5-liter V6 that made 240 horsepower in 2003 and 2004, and 255 horses from 2005 to 2008. All 2003-2005 Pilot models were all-wheel drive, while drivers could choose between front- or all-wheel drive beginning in 2006. All Pilot models featured a standard 5-speed automatic transmission. Fuel economy was rated at 17 miles per gallon in the city and 22 mpg on the highway.
The Highlander's story was a lot more complicated. Base-level models used a 155-hp 2.4-liter 4-cylinder, which was rated at up to 19 mpg city and 24 mpg hwy. Early (2001-2003) models used a 220-hp 3.0-liter V6, which returned up to 18 mpg city and 22 mpg hwy, while later models touted a 230-hp 3.3-liter V6 that boasted 18 mpg city and 24 mpg hwy. Topping the range for fuel economy and power was the Highlander Hybrid (introduced in 2005), which boasted a 270-hp 3.3-liter hybrid V6 and up to 28 mpg city and 25 mpg hwy. Overall, most Highlander models were a little more efficient than the rival Pilot models — though they're about the same when you factor in the Pilot's larger size and standard all-wheel drive. Fuel economy will only really stand out if you get a Highlander Hybrid.
Safety
The Pilot and the Highlander earned identical, excellent scores in National Highway Traffic Safety Administration crash-testing, receiving five stars in the frontal crash test, five stars in the side-impact test and four stars in the rollover assessment.
As for safety features, early Pilot and Highlander models only offered the basics. Both SUVs came standard with front airbags (as required by law) and anti-lock brakes, and both offered front-side airbags as an option. But neither model began to offer side-curtain airbags, which cover all rows of seats, until later: The Highlander began offering them in 2004, while the Pilot added them in 2005. Side-curtain airbags were optional in the Pilot, though they became standard in the Highlander for the 2007 model year.
Of course, you shouldn't expect any fancy, high-tech safety gadgets here: Neither the 2003-2009 Pilot nor the 2001-2007 Highlander offered even a backup camera as an available feature, let alone new items such as lane-departure warning or a blind spot monitor.
This category is, therefore, a tie, as both models tout strong crash-test ratings but basic safety features and little more. If you're especially interested in safety, we suggest searching for a 2004-2007 Highlander or a 2005-2008 Pilot and ensuring that they include available side-curtain airbags.
Technology
Although neither the Highlander nor the Pilot would be considered high-tech by today's standards, both SUVs offered a wide range of technology features and gadgets for their time. For instance, both the Pilot and the Highlander could be ordered with a rear-seat DVD player or a navigation system (although, inexplicably, you couldn't get both together in the Pilot). Both SUVs also offered automatic climate control and power seats.
With that said, there were a few options you couldn't get in one model, and vice versa. For instance, only the Highlander offered automatic headlights and a JBL sound system, while only the Pilot touted satellite radio and heated seats.
While most technology was similar, drivers with major preferences about certain features should check out a couple examples of both SUVs to ensure that the cars include the items that they're most interested in.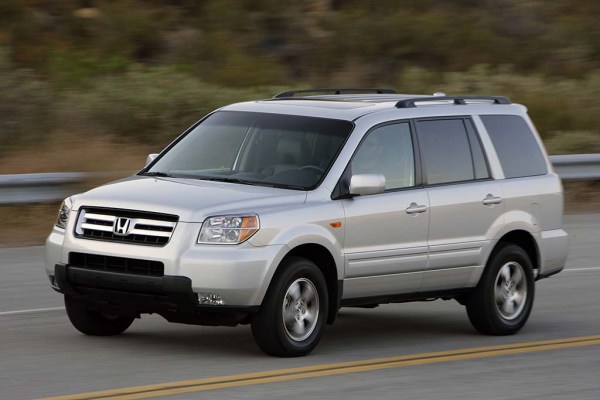 Value
There are currently around 1,900 different 2003-2008 Pilot models listed on Autotrader with an average price of around $9,800. Meanwhile, there are currently around 2,300 different 2001-2007 Highlander models listed on Autotrader with an average price of around $9,600. This suggests to us that the Highlander has held its value a little better than the Pilot, since the average 2001-2007 Highlander is a little older than the average 2003-2008 Pilot.
So which is the better value? In this case, we think it's the Pilot. One reason is that many Highlander models don't include 3-row seating, while it's standard in the Honda. Another reason is that the Pilot offers more power than the Highlander without sacrificing gas mileage. Finally, the Pilot is roomier than the Highlander, even when the Toyota is equipped with its optional third-row seat.
Autotrader's Advice
Although we find both the Pilot and the Highlander highly compelling, we'd spend our money on the Pilot. For about the same price as a used Highlander, it touts more space, more power, similar gas mileage and more seats — and we think the design looks a little more modern, too. The only model that might cause us to change our minds is a low-mileage Highlander Hybrid, which boasts truly excellent fuel economy — and surprisingly reasonable used pricing.
Find a Used Honda Pilot for sale