Car News
2004 - 2010 Chevrolet Colorado - Used Car Review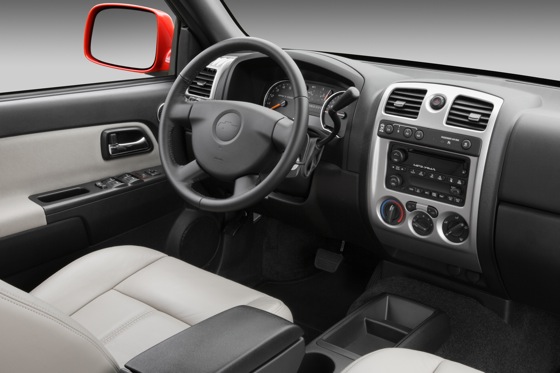 In the world of compact pickup trucks, the number of true representatives has shrunk to an army of one: the Ford Ranger. All other makes, including Chevrolet, have grown their contenders to mid-size proportions. Not that this is a bad thing. More people are using their pickups as daily drivers and so the added space is welcome.
Chevrolet's Colorado is one example – blurring the distinctions between compact and full-size truck, retaining the best attributes of both. Introduced in 2004 to replace the aging S-10, the Colorado is a joint venture between General Motors and Isuzu. Not as stylish or upscale as the Toyota Tacoma or Nissan Frontier, the Colorado is nevertheless a competent and comfortable pickup that can get the job done.
Why you want it
The Chevrolet Colorado is desirable for a number of reasons. Beyond its manageable dimensions, good fuel economy and available four-wheel drive, the Colorado bests its competition on a number of fronts. Unlike the Nissan Frontier, for example, the Colorado still offers a Regular Cab model, and unlike the big Dodge Dakota, the Colorado can be equipped with an economical four-cylinder engine. Also, the Colorado's middle-of-the-road resale values mean it can be had for much less than a similar used Toyota or Nissan truck.
Despite its average history of service and reliability, the Colorado is still a good, no-frills basic truck for work or play. Available in three body styles – Regular, Extended and Crew Cab – and with a choice of four- or five-cylinder engines, the Colorado (and its GMC twin, the Canyon) has something to offer even the most picky pickup buyer.
Notable features and options
Regular Cab models feature a 2.8-liter four-cylinder engine (this changes to 2.9 liters in 2007), five-speed manual transmission, chrome bumpers, air conditioning, anti-lock brakes, 15-inch steel wheels, and an AM/FM stereo. Stepping into the Extended Cab brings a set of forward-facing jump seats and more standard equipment. Regular and Extended Cab models have a six-foot bed, while the Crew Cab features a five-foot bed. All models include a two-position tailgate that can be locked at a 55-degree angle, aligning the tailgate's top edge with the rear wheel wells.
Available features vary according to cab configuration and trim, but include four-wheel drive with a two-speed shift-on-the-fly transfer case, four-speed automatic transmission, Z71 off-road package (2007 and earlier models), heated leather seats, limited-slip rear differential, traction control, and side-impact airbags. The Power package adds power windows, door locks and mirrors. The Sun and Sound package includes a power glass sunroof and a six-disc CD changer. Also available are a tow package, skid plate protection and an upgraded wheel-and-tire combination.
Model milestones
2005: Xtreme trim is offered for the first time, featuring exclusive 18-inch wheels, body side molding and a revised front end.
2007: Revised front end and some interior upgrades. Two new, more powerful engines (a 2.9-liter and a 3.7-liter) replace the previous 2.8-liter and 3.5-liter units.
2008: OnStar with the Safe and Sound package is made standard.
2009: A 300-horsepower 5.3-liter V8 is offered on Extended and Crew Cab models, while StabiliTrak stability control is made standard across the line. LT trims receive more standard equipment along with new alloy wheel designs.
2010: Side curtain airbags are made standard on all models and the 5.3-liter V8 gains variable valve timing for improved fuel economy and power.
Engines and performance
Pre-2007 Colorados are powered by either a 2.8-liter four-cylinder or a 3.5-liter in-line five-cylinder engine. While not terribly powerful, they provide enough torque to allow the Colorado to do its job, and fuel economy figures are also near the top of the class. After 2007, a more powerful 2.9-liter rated at 185 horsepower and a 3.7-liter rated at 242 hp provide better acceleration and passing power with no penalty in fuel economy.
As for ride and handling, the Colorado holds no surprises. A stiff chassis and rigid frame allow the truck to traverse rough or off-road conditions with little flexing, squeaks or rattles. Although the turning radius is one of the largest in the class, its steering response and cornering ability are superior to the Ford Ranger and almost on par with the class-leading Toyota Tacoma. Regular Cab models are tow-rated up to 4,000 pounds, while the Extended and Crew Cabs are rated at 6,000 pounds.
Recalls, safety ratings and warranties
The National Highway Traffic Safety Administration (NHTSA) has issued the following recalls for the 2004 to 2010 Chevrolet Colorado.
2004/09: Possible defective brake lamp switch.
2004/2010: A recall was issued for some models with the 60/40 split bench front seat. The top tether for the child seat restraint system is not accessible and the owner's manual does not address how to use the top tether.
2006/07: Improperly labeled tire and load information stickers listing inaccurate vehicle capacity weight.
2009: Possible defective fuel system control module seal that could allow water to enter the module, resulting in a short circuit and ultimate failure.
Recall repairs are required by law even if the vehicle is out of warranty. Your dealer can check to see if the repairs were performed and, if not, will fix the car at no charge to you.
Safety-wise, the Colorado earns only passing grades. In its front and side-impact crash tests, the NHTSA gives the Regular and Extended Cab versions four out of five stars, and the Crew Cab gets five out of five for all but the side driver impact test, which earns four. However, the Insurance Institute for Highway Safety (IIHS) is less kind, giving the Crew Cab only an Acceptable rating in the frontal offset crash test and a Poor in the side impact test with and without side airbags. Oddly, the Extended Cab model earns a Good rating in the same frontal offset crash test.
The 2004 to 2006 Colorado has a thee-year/36,000-mile powertrain and basic warranty. In 2007, coverage changed to three years/36,000 miles for the basic warranty and five years/100,000 miles for the powertrain. Chevrolet also offers extended coverage through GM's Certified Pre-Owned program. GM CPO cars come with a 12-month/12,000-mile bumper-to-bumper warranty and a five-year/100,000-mile powertrain warranty from the car's original in-service date.
Word on the web
We've pored over several consumer and enthusiast websites such as Consumer Reports, CarComplaints.com and Coloradofans.com. In general, Colorado owners seem pleased with their vehicles, although pre-2007 models seem to generate some complaints regarding the lack of horsepower on four-cylinder models and weak brakes. Consumer Reports gives the 2004 to 2006 models low scores in the areas of engine and fuel systems, climate control, brakes, and audio systems. After 2007, these seem to improve, but are nowhere near as good as the marks for the Toyota Tacoma and Nissan Frontier. We also observed numerous complaints about early models' electrical glitches related to the blower motor, ABS sensor modules and build quality (paint and trim problems).
Auto Trader recommendations
Unless the additional space provided by the Crew Cab is an absolute must, we recommend a late model Extended Cab – either rear-wheel- or four-wheel-drive – for a number of reasons. First, the Extended Cab fares much better in its off-set crash test than the Crew Cab. And the Extended Cab rides on the same wheelbase as the Crew Cab, but has a six-foot bed as opposed to a five-footer. The V8 engine is overkill in this vehicle unless there is towing to be done; the 3.7-liter V6 is more than adequate for most pickup truck duties.
Competitive set
Toyota Tacoma
Ford Ranger
Nissan Frontier
Dodge Dakota