Editor's note: You may want to read more of Autotrader's model vs. model comparison car reviews as well as the 2005-2010 Honda Odyssey used car review and 6 Great Used Minivans for Under $10,000, which both models were named to.
If you're interested in getting an excellent used minivan to haul your family and their gear, you're probably considering the 2005-2010 Honda Odyssey and the 2004-2010 Toyota Sienna, as both are dependable, well-priced vans with lots of impressive equipment and features. But which one is better? And which one should you get? To find out, we've created a close comparison of both the Odyssey and the Sienna, but first let's check out the basics of both vans.
2005-2010 Honda Odyssey: The Basics
The third-generation Odyssey debuted in 2005 with more equipment, more features and more interior room than ever before. All versions of the van were front-wheel drive, and all were powered by a 244-horsepower 3.5-liter V6. The 2005-2010 Odyssey could seat seven or eight passengers depending on configuration, and offered four basic trim levels: LX, EX, EX-L and Touring.
2004-2010 Toyota Sienna: The Basics
The second-generation Toyota Sienna came out in 2004. Like the Odyssey, the Sienna offered 7- or 8-passenger seating; unlike the Odyssey, the Sienna was available with front- or all-wheel drive. Four trim levels were available — from the base-level CE to the upscale XLE Limited — while all Sienna models used a standard V6. That engine was a 215-hp 3.3-liter from 2004 to 2006 and a muscular 266-hp 3.5-liter from 2007 to 2010.
Reliability
According to the experts at Consumer Reports, reliability for both the 2005-2010 Odyssey and 2004-2010 Sienna ranged from average to above average depending on the exact model year, with neither model having a significant advantage over the other one.
Meanwhile, J.D. Power shows a discrepancy, giving the Sienna a best-in-class rating for reliability compared to the Odyssey's average score. As a result, we'd give the Sienna a slight victory in this category, though we suspect both vans will offer roughly the same overall dependability.
Fuel Economy
From 2005 to 2010, the Odyssey used only one engine: a 244-hp 3.5-liter V6. Mated solely to front-wheel drive and a 5-speed automatic transmission, it returned 17 miles per gallon in the city and 25 mpg on the highway.
From 2004 to 2010, the Sienna offered two engines. From 2004 to 2006, the van came standard with a 3.3-liter V6 that was originally rated at 230 hp and later dropped to 215 hp. That engine returned an impressive 19 mpg city/27 mpg hwy with front-wheel drive or 18 mpg city/24 mpg hwy with optional all-wheel drive. In 2007, the Sienna added more power with a new 266-hp 3.5-liter V6 — a muscular engine that saw gas mileage of 17 mpg city/24 mpg hwy with front-wheel drive and fall slightly to 16 mpg city/21 mpg hwy with all-wheel drive.
The result: The Sienna offers better gas mileage than the Odyssey with front-wheel drive, and it holds its own even with all-wheel drive.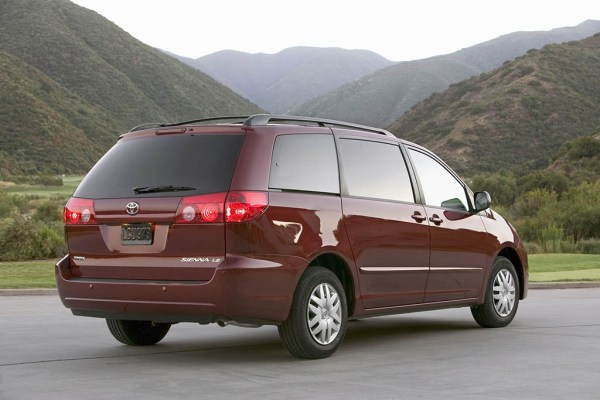 Safety
In government crash testing, both the Odyssey and Sienna earned excellent marks. The Odyssey earned 5-star front- and side-impact scores, along with a 4-star rollover score. Meanwhile, the Sienna earned a 5-star side-impact score, a 4-star rollover score, a 5-star front-impact score for the passenger side and a 4-star front-impact score on the driver's side.
As for safety features, the Sienna and Odyssey were about identical: Both came standard with side-curtain airbags, anti-lock brakes and stability and traction control. Both also offered a backup camera in upper-level trims. Given that these Sienna and Odyssey models are 5 to 10 years old, don't expect any modern safety features such as forward-collision warning or automatic braking.
Technology
Given their age — and the fact that they're minivans, not high-end luxury cars — the Sienna and Odyssey don't offer all of the latest gadgets and equipment. In fact, these model years didn't even offer all the latest gadgets and equipment when they debuted in the mid-2000s, since minivan shoppers usually aren't looking for cutting-edge technology.
Still, the Odyssey and Sienna offered many comfort and convenience features, including power-sliding doors, a power lift gate, a power sunroof, tri-zone automatic climate control, parking sensors and more. Technology offerings included a navigation system and a rear-seat DVD entertainment system. Neither model offers any especially unique technology features, and shoppers especially interested in technology would be wise to expand their budget and look for a newer van or SUV.
Value
There are currently about 2,200 different 2004-2010 Sienna models on Autotrader with an average price of $9,600. Of those, 342 feature useful all-wheel drive (though opting for the feature boosts the average asking price to $10,600). Meanwhile, there are currently around 2,600 different 2005-2010 Odyssey models on Autotrader with an average price of just over $10,000.
The result: Given the Sienna's extra model year, it's likely these vans cost about the same used, and neither one offers a dramatic advantage over the other. As such, this category is a draw, unless you want all-wheel drive — then the Sienna is the only game in town.
Autotrader's Advice
Choosing between these two vans was difficult when they were new, and it's even harder now that they're used and priced almost exactly the same. With that said, we have a slight inclination to go with the Sienna — especially later 2007-2010 models with the big 3.5-liter V6. Not only do they offer slightly better reliability than the Odyssey, they also deliver more power, better gas mileage and available all-wheel drive. Still, it's hard to go wrong with a used example of either of these two vans.
Find a Used Honda Odyssey for sale
This story has been updated since its original publish date.