Car Review
2005-2010 Toyota Tacoma: Used Car Review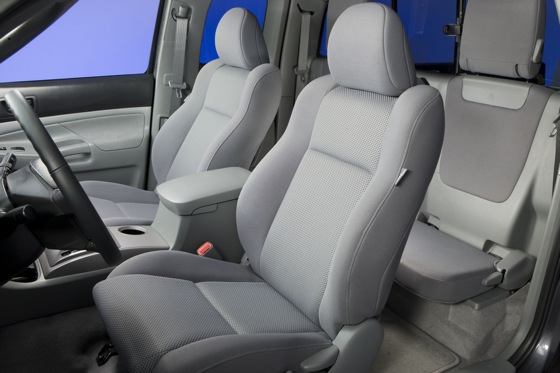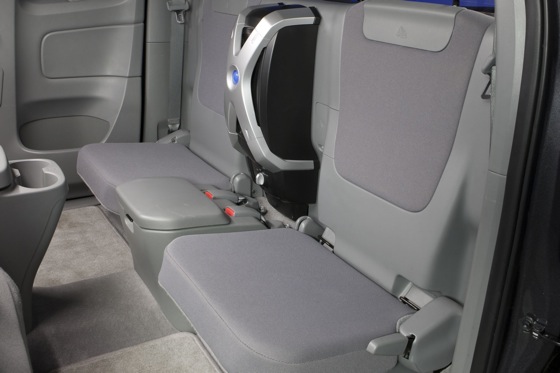 More than 40 years ago, Toyota helped pioneer the compact pickup market in the US with sturdy, no-nonsense trucks like the Stout and Hi-Lux. Certainly more muscular and well-appointed than those first, very basic trucks, the Tacoma continues its role of packing a lot of capability into a smaller (than full-size) package.
With the introduction of the 2nd Generation Tacoma for 2005, Toyota rechristens its bigger, bolder "small" pickup as a mid-size. The front and rear tracks are wider by as much as four inches, netting increased hip and shoulder room for passengers. Wheelbases are longer, and the frame has been stiffened and strengthened. A flush front bumper and cab glass smooth airflow around the truck.
Available in five- or six-foot lengths, an industry-first rust- and dent-proof SMC composite inner bed features four adjustable tie-down cleats and covered in-bed storage compartments, plus a removable tailgate. Engines are upsized for the job as well with a 2.7-liter DOHC 4-cylinder replacing the previous version's 2.4-liter, and the 4.0-liter DOHC V6 from the full-size Tundra pickup taking the reins from the old 3.4-liter. Motor Trend magazine was so impressed that it named the 2005 Toyota Tacoma its Truck of the Year.
Why You Want It
Simply put, the Tacoma is the default choice for compact/midsize pickup truck buyers. No other truck comes close to offering Tacoma's rock-solid durability, top-rated resale value or depth and breadth of equipment combinations (18 model variations in all). This isn't a purchase you'll have to explain to your friends or family.
A couple of special models add heat to the lineup. The X-Runner is the mean streets sport truck - a lowered 2WD Access Cab with a 4.0-liter V6 and six-speed manual powertrain, Bilstein shocks, meaty 255/45R18 Bridgestone summer-only tires, limited-slip differential, big-diameter brakes, a hood scoop and monochromatic body trim. The PreRunner is another 2WD-only model that's available with both four-cylinder and V6 engines and all three cab styles. PreRunner merges the ride height and tough off-road looks of the 4WD models with the mechanical simplicity, lighter weight and lower cost of a 2WD drivetrain.
Notable Features & Options
Tacoma is available in three basic configurations: a 2-door Regular Cab, a 4-door Access Cab with jump seats in back and rear-hinged "suicide" rear doors and a 4-door Double Cab with a full-width back seat and four conventional doors. All are available with 2WD or 4WD.
The base Regular Cab is pretty Spartan, lacking A/C and a sliding rear window, but it does come with four-wheel ABS, full carpeting, a tilt/telescope steering wheel, cloth bench seat, an AM/FM/CD radio, dual 12-volt outlets and three cup holders.
Moving up to Access Cab nets A/C; power door locks and windows (2009-2010 models); an overhead console; cloth front bucket seats and floor console; and rear jump seats. Double Cab models add an adjustable lumbar driver's seat, 60/40 split rear bench with under-seat storage, rear bulkhead storage, power mirrors, fender flares and skid plates.
Available only on V6 models, the TRD Off-Road Package and TRD Sport Package have the highest level of equipment with items such as sport bucket seats; TRD body graphics; a multi-function overhead console; leather-wrapped steering wheel and automatic shifter; fog lamps and a 115-volt/400-watt bed-mounted power point. In addition, the TRD Off-Road adds a locking rear differential; 265/70R16 mud and snow tires; alloy wheels; and an off-road suspension with Hill Start Assist and Downhill Assist control. TRD Sport adds a sport-tuned chassis with Bilstein shocks, limited-slip differential and 265/65R17 all-season tires on alloy wheels.
Model Milestones
2006: A standard tire-pressure monitor was added. Advanced front airbags were made standard on bench seat models.
2007: The Tacoma's interior got larger front seats, a freshened two-tone instrument panel and new radios. On the Access Cab, the rear seats folded flat.
2009: Significant safety updates included adoption of the Toyota Star Safety System as standard equipment. Key elements were front seat side-impact airbags, roof curtain airbags, anti-whiplash active front headrests, VSC stability control and traction control. On the infotainment front, an auxiliary input jack became standard, satellite radio was optional, and Bluetooth connectivity was a component of the premium audio system. The Access Cab got standard power door locks and windows. Automatic limited-slip differential replaced the previous manual LSD system. An optional backup monitor was made available on Access and Double Cabs. Also the TRD Off-Road, TRD Sport and XRunner models gained smoked headlamp trim.
Engines & Performance
Toyota built its tough little truck reputation over the years around a thrifty four-cylinder engine that got the job done, and the base 2.7-liter engine is no exception. A 159-horsepower four-cylinder engine with 180 ft-lbs of torque, teamed to either a five-speed manual or four-speed automatic transmission, is the only powertrain available in the Regular Cab. EPA estimates range about 19-20 mpg city and 25-26 mpg highway. The 4.0-liter V6 is optional in the Access Cab and standard in the Double Cab; its 236 hp and 266 ft-lbs of torque are the keys to making the heavier versions of Tacoma feel responsive.
Transmission choices include a 6-speed manual and 5-speed automatic. In Motor Trend testing of their long-term 2005 Access Cab PreRunner V6 automatic, the truck netted a 6.8-second 0-60 mph time and achieved 17.7 mpg averaged over 20,000 miles. Consumer Reports also tested a 2005 V6 automatic in a Double Cab, sprinting 0-60 mph in 7.6 seconds and observing 17 mpg overall. This mirrors EPA estimates for the V6, which range about 14-17 mpg city and 19-21 mpg highway, depending on model year, drive system and transmission type. Keep in mind that the 2005-2008 4.0L V6 engines require premium unleaded fuel.
Ever important in pickup trucks, the tow rating for the Regular Cab, Access Cab and X-Runner is 3,500 lbs. With the Access or Double Cab equipped with the V6 and tow package, the rating climbs to 6,500 lbs.
Consumer Reports readers report above-average reliability for just about all systems with the singular exception of a much-below-average rating on 2009-2010 audio systems.
Recalls, Safety Ratings & Warranties
The National Highway Traffic Safety Administration (NHTSA) has announced the following safety recalls on the 2005-2010 Toyota Tacoma:
2005: Possible driver's side airbag malfunction due to seat position/seatbelt sensor not being installed correctly.
2005-2010: Potential interference from all-weather floor mats could cause the gas pedal to stick in the wide-open position, leading to loss of control. The fix involves shortening the gas pedal and/or replacing the floor mats with a newer design. Toyota also installed a throttle/brake override system to prevent the engine from revving at higher-than-idle speed when the brake pedal is applied.
2005-2010: Load-carrying label in doorjamb might not account for the weight of some Toyota-installed accessories, thereby overstating the safe load-carrying capacity. The fix is for the dealer to install a revised label.
2008-2010: Tire pressure monitor wasn't calibrated for TRD accessory wheels. The fix is for the dealer to recalibrate TPS monitor.
2010: The driveshaft is cracked on some 4WD models. After inspection, faulty driveshafts are replaced.
NHTSA rated the 2005-2010 Tacoma five stars for the driver and front passenger in frontal impacts. For side impacts, the agency gave Tacoma its top five-star rating for the driver. Front passenger rating for side-impact protection on four-door Tacomas was also five stars, but other Tacoma cab styles were not rated. NHTSA awarded both 2WD and 4WD Tacomas four stars for rollover resistance. The Insurance Institute for Highway Safety (IIHS) gave the 2005-2010 Tacoma a good rating for both frontal offset and side-impact collisions, but only a marginal score for roof strength.
The Tacoma's warranty coverage consisted of 3-year/36,000-mile basic and 5-year/60,000-mile powertrain policies. Roadside assistance was not included.
Word on the Web
A sticky gas pedal and unintended acceleration were the most frequent complaints reported on 2005-2009 models. Also notable according to CarComplaints.com were a V6 ticking sound on 2008-2010 models; engine speed flaring or not dropping between shifts on 2006-2009 manual transmission V6 models; excessive wind noise on 2009-2010s; plus interior rain leaks and intermittent radio operation on 2009s.
Consumer Reports gave the 2005-2010 Tacoma good marks for V6 performance; automatic transmission shifts; braking response; secure handling; interior gauges and controls; and composite bed, but cited it for vague steering, low seating, high step-in and stiff ride.
Competitive Set
The closest competitor is the rugged and capable Nissan Frontier, which matches Tacoma on most fronts. The Honda Ridgeline takes pickup truck ride, handling and creature comforts to new heights, but lacks traditional truck ruggedness. The Chevrolet Colorado/GMC Canyon are a bit long in the tooth, but still offer V8 power for towing. The Dodge Dakota is nearly full-size and can pull 7,250-lb trailers, but its interior lacks pizzazz. The Ford Ranger was last updated more than a dozen years ago, but it still offers the best fuel economy of any midsize truck.
AutoTrader Recommendation
If you want something that's built to go the distance, it's hard to go wrong with any Toyota truck, especially one as sensible as the Tacoma. Opting for a manual transmission will up the fun factor and, if you're a good driver, reward you with better fuel economy, too. Toyota's manual transmission is one of the best. Look for something at least with SR5 trim because base four-cylinder trucks don't even come with air conditioning let alone a keyless remote or power windows and door locks.
As if gas isn't expensive enough these days, keep in mind that the 2005 to 2008 Tacoma V6s require premium unleaded fuel. Cheating by using regular unleaded will reduce performance and fuel economy, and it will result in engine "pinging," which isn't a good long-term strategy. The 2009-2010 V6 and all years of the base 2.7-liter run on regular unleaded.
As for special models, remember that you'll pay for all the extra performance capability of the X-Runner with a ride that's hard, stiff and bouncy.
A good choice for desert inhabitants is the PreRunner, which offers the 4WD look without the extra weight or expense.
And finally, whatever Tacoma you select, make sure it's had the accelerator pedal and floor mat recall attended to already.
We saw prices ranging from around $7,800 for a high-miles 2005 2WD 4-cylinder Regular Cab to north of $30,000 for a Toyota Certified 20105 4WD Double Cab with low miles.