Car News
2007 - 2010 Infiniti G35/G37 Sedan - Used Car Review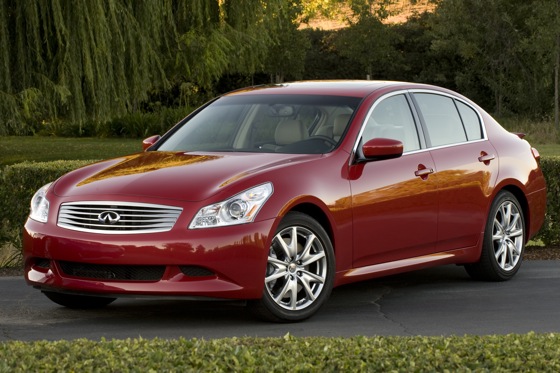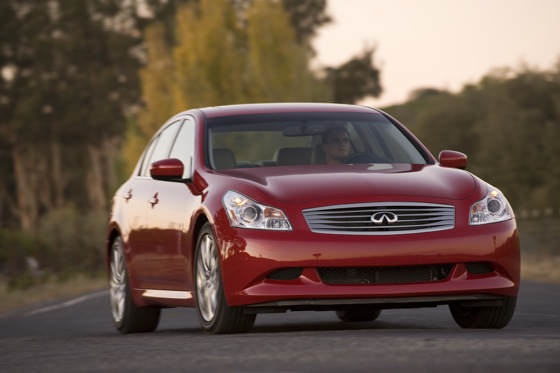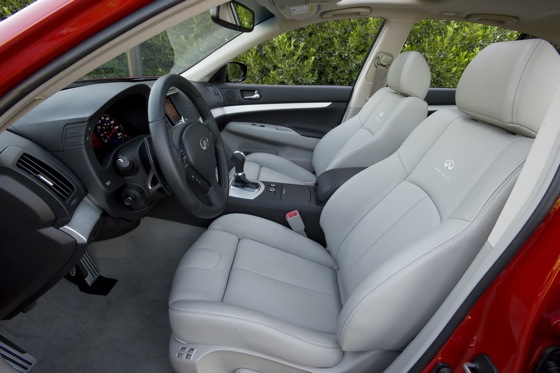 When enthusiasts think of compact performance sedans, BMW, Audi and Mercedes-Benz are often the first marques that come to mind. Although the Japanese Lexus and Acura cars are strong, they often lack the razor-sharp handling and overall exhilaration of their European counterparts. The Infiniti G sedan is the exception.
Launched in 2003, the G35 was the first Japanese car that could truly challenge the BMW 3 Series and Audi A4, equaling them at the track (in some cases, besting them), while offering a lower entry price and a far superior repair and reliability record. With the second generation's debut in 2007, the G35 became slightly bigger, but also more elegant and fluid. Thankfully, the original car's athletic abilities were left intact and, in 2009, were enhanced with the addition of new 3.7-liter V6 and a new name: the G37.
Why you want it
The G compact executive sedan has all the room of a family runabout, all the luxury found in automobiles costing thousands more and all the fun most people will ever want behind the wheel of a car. The styling is handsome, the ride supremely comfortable and the options resemble a tech geek's ultimate wish list.
Driving purists will gravitate toward examples with the Sport Package that provides a re-tuned suspension, 18-inch wheels and a six-speed manual transmission. Audiophiles will seek out pre-owned versions with the amazing Bose sound system.
Short of offering the versatility of a wagon, the G sedan can do many things well. It can bolster one's status, shuttle the family without complaint, please the inner race car driver on weekends and, with all-wheel drive, tackle inhospitable weather.
Notable features and options
The most basic model will still pamper with leather trim, an eight-way power driver's seat and four-way power passenger seat, tilt/telescopic steering wheel with integrated audio and cruise control buttons, Intelligent Key with push-button start, HID headlamps, automatic climate control, and fog lights. Standard safety features include front side-impact airbags, side curtain airbags, electronic traction and stability control, and four-wheel anti-lock disc brakes.
The Journey trim adds even more equipment and opens the door to more exciting options such as four-wheel active steering (2007 to 2009 models), 10-speaker Bose audio system, iPod interface (2008 and newer), heated seats, power moonroof, power tilt/telescopic steering wheel, adaptive headlamps, intelligent cruise control, rear back-up camera, voice-activated navigation with XM NavTraffic, Lane Guidance, and a 9.3-gigabyte hard-drive music box.
Model milestones
2007: An all-new G35 debuts with more fluid lines, more standard features and a more lavish interior.
2008: The all-wheel-drive G35x is offered for the first time with a Sport Package and XM radio becomes standard equipment. New features include an 18-inch wheel and tire upgrade, plus an integrated iPod interface.
2009: A more powerful 3.7-liter V6 replaces the previous 3.5-liter engine, prompting a name change from G35 to G37. Along with the new engine comes a seven-speed automatic transmission with manual shift mode, new wheels and a specially formulated self-repairing clear coat paint that can actually heal small scratches over time.
2010: Four-wheel active steering is no longer offered, but an eight-way power passenger seat becomes standard equipment. The G37 receives a slight refresh including a new grille and new wheels.
Engines and performance
The G35's 3.5-liter V6 is a highly regarded powerplant, delivering excellent performance, impressive fuel economy and smooth, trouble-free operation. With 306 horsepower and 268 pound-feet of torque, the G35 has no problem passing or merging. An upgrade in 2009 brings a larger 3.7-liter engine making 328 hp and 269 lb-ft.
City/highway fuel economy for the G35 is rated around 17/24, while the G37 actually does a bit better at 19/27; all-wheel-drive models are rated at 18/25, while the manual remains consistent at 17/25.
The suspension is tuned for performance driving, carving up corners with utter composure, yet never delivering a harsh or jarring ride. When equipped with active steering, the G's rear wheels actually turn slightly in the direction of the front wheels, adding another level of stability in high-speed maneuvers. True enthusiasts, however, will want a version with the Sport Package. This brings an aggressive sport-tuned suspension, a slick-shifting six-speed manual, a limited-slip differential, upgraded brakes and 18-inch performance tires.
Recalls, safety ratings and warranties
The National Highway Traffic Safety Administration (NHTSA) has issued the following recall for the 2007 to 2010 Infiniti G35 and G37 sedan.
2007 to 2008: Possible malfunction sensor in the front passenger seat that could send intermittent signals to the front airbag, causing it to suppress deployment in the event of a crash.
Recall repairs are required by law even if the vehicle is out of warranty. A dealer can check to see if the repairs were performed and, if not, will fix the car at no charge to you.
Safety-wise, the G35 and G37 receive good marks in the NHTSA's front and side-impact crash tests, earning the agency's highest rating of five stars for all but the front passenger, who receives a four-star rating in the front-end crash test. The G35 and G37 also receive five stars in the rollover roof strength test. The Insurance Institute for Highway Safety (IIHS) gives the G35 and G37 sedan its highest ranking of Good in both the offset and side-impact crash tests.
The Infiniti G35 and G37 come with a four-year/60,000-mile basic warranty and a six-year/70,000-mile powertrain warranty. Be sure to check with an Infiniti dealer to see if an extended warranty was added by the original owner. Infiniti's warranties are transferable and can run as long as eight years/120,000 miles.
Another option is to buy an authorized Certified Pre-Owned model through an Infiniti dealer. When buying a CPO car, it is possible to purchase an extended warranty of up to six years or 100,000 miles (whichever comes first) from the vehicle's original in-service date.
Word on the web
We have scoured sites such as ConsumerReports.org, CarTalk.com, and CarComplaints.com, as well as enthusiast websites like G35club.com and G35driver.com. Overall, both the G35 and G37 earn strong praise from Consumer Reports, with excellent marks in all but one area: some minor problems with the 2009 model's seven-speed automatic transmission. Apparently, early versions suffered from bucking and shuddering, a problem that was resolved with a software upgrade after a TSB (technical service bulletin). Most postings were positive, with owners loving the performance, styling and features, as well as the dealer experience.
Auto Trader recommendations
It's impossible to make a bad choice with the G35 and G37 sedan. The base model is already well equipped and will satisfy most consumers. But few examples come without options. For performance nuts, nothing less than the six-speed manual and tweaked suspension of the Sport Package will do. However, for those live in the snowbelt, we recommend the G35x and G37x. Despite the all-wheel drive system's extra weight, these models suffer no loss in the areas of handling or acceleration and only shave a mile or two off the EPA's fuel economy estimates.
Competitive set
Audi A4
BMW 3 Series
Acura TL/TSX
Mercedes-Benz C-Class
Lexus IS 350