Car News
2007 - 2010 Toyota Camry - Used Car Review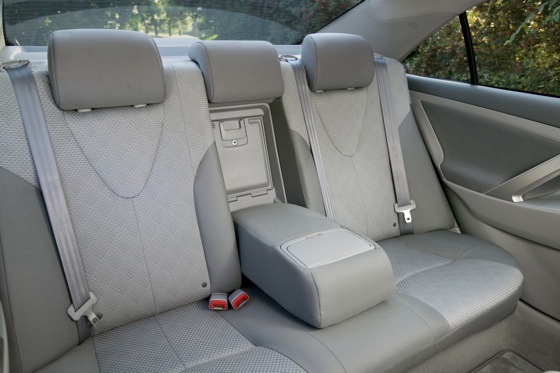 It has only been the most popular car in the United States for several years. The current generation of Toyota Camry (its sixth, factory code XV40) started with the 2007 model year and immediately became Motor Trend magazine's Car of the Year. The buff book had worked out that, on average, every day of every week, 1,200 Americans would buy one. Of course, this was before Toyota's whole recall unpleasantness in 2010. Even so, the Camry was still one of the top-selling vehicles that year.
This generation was designed and built in the United States (in Toyota's Kentucky plant). Anti-lock ABS brakes are standard throughout the range, and the driver and front passenger airbags are joined by side curtain airbags plus one for the driver's knees. This is also the first generation to offer a hybrid version, making a total of 187 horsepower, yet returning up to 34 miles per gallon.
Why you want it
No issues. No odd design or weird "coupe-like" roof lines. No teeth-jarring "driver-oriented" suspension setup. Just straightforward, comfortable, personal transportation that can accommodate adults in the back, stow plenty of luggage in the trunk, and be well suited to 95 percent of most modern driving situations.
The cabin is tranquil, the handling is safe and predictable, and there's a classiness about the car that serves to keep its driver and passengers unflustered. After three years of driving, the car feels exactly the same as after the first three miles. Anyone who prefers "look at me" styling should stay away, but those who find a little peace in anonymity will be thankful for the Camry's ubiquity.
There are four trim levels: base/CE, LE, SE and XLE. The base is powered solely by a four-cylinder engine; in the other trims, there's the option of a 3.5-liter V6.
Notable features and options
Of the many thousands of XV40 Camry models sold, the trim level found in most garages and driveways is the LE. It features power windows/locks/mirrors /driver's seat as standard equipment, along with air conditioning and an AM/FM/CD stereo with an auxiliary mini-jack.
The SE trim has more of a sport-tuned suspension, but no version of the Camry is considered an enthusiast's machine.
The XLE is the range-topper, featuring a 440-watt JBL sound system (with in-dash CD changer and satellite radio), Bluetooth, dual-zone climate control (with a Plasmacluster air filter), reclining rear seats, moonroof, wood trim and leather seating in the V6 model. Neither the SE nor the XLE offers the folding rear seat, though each has a center pass-through.
Also sporting a fixed rear seat, because the battery pack goes behind it, is the hybrid model. Trunk volume shrinks from a commodious 15 square feet to a still-decent 10.6. This car also has keyless entry and an engine start/stop button, as well as the Plasmacluster cabin air filter.
Model milestones
2008: The base Camry loses its CE designation.
2010: The entire range gets a subtle styling refresh; the hybrid gains a custom grille; a 2.5-liter four replaces the 2.4-liter engine. Vehicle Stability Control (VCS) with traction control (TRAC) become standard on every Camry.
Engines and performance
Nestled in the engine bay of lesser models is a 2.4-liter, four-cylinder that develops 158 horsepower and 161 pound-feet of torque, enough punch to accelerate up to highway speeds and stay there without a murmur. It returns 21 mpg in the city, 31 mpg on the highway and hardly ever comes to a driver's notice – they can think of other things instead. This engine is linked to either a five-speed manual or five-speed auto transmission.
For 2010, a new 2.5-liter four comes into service. The relevant numbers are 169 hp, 167 lb-ft, 22 mpg city, 33 mpg highway, and the transmission is also upgraded with one more ratio each for the manual and auto gearboxes.
If the smooth and muscular power delivery of a V6 is non-negotiable, Toyota obliges with its 3.5-liter unit. It serves up 268 hp and 248 lb-ft of torque, purring away as if nothing could overtax it. Quite often, this is too much engine for a chassis normally tuned for comfort than composure, though the SE makes the most of that extra power. Using a six-speed automatic transmission as standard, the V6 achieves 19 and 28 mpg, city and highway respectively.
Drivers seeking to improve on those fuel figures should look at the Camry Hybrid, which uses a version of Toyota's famed Synergy Drive system. This involves a 147-hp, 2.4-liter four-cylinder engine, an electric motor, nickel metal hydride batteries and a continuously variable transmission (CVT) to make 33 and 34 mpg, city/highway. The car's eco-friendly credentials are not as immediately apparent as in a Prius, but as a spacious sedan that's light on gas, the Camry Hybrid works well enough.
Recalls, safety ratings and warranties
The National Highway Traffic Safety Administration (NHTSA) has issued the following recalls for the 2007 to 2010 Toyota Camry.
2007 to 2010: Possible sticky accelerator problem. Floor mat labels.
2007: Possible airbag problem – insufficient inflation.
Recall repairs are required by law even if the vehicle is out of warranty. A dealer can check to see if the repairs were performed and, if not, will fix the car at no charge to you.
Safety-wise, the National Highway Safety Traffic Safety Administration (NHTSA) gave this generation of Camry five stars under its previous testing regime (the administration upgraded its criteria in 2010). The Insurance Institute for Highway Safety (IIHS) awards the Camry its highest score (Good) in its offset and side-impact crash tests, as well as its roof strength test.
The 2007 to 2010 Toyota Camry has a 36-month/36,000-mile bumper-to-bumper warranty. Additional 60-month warranties cover the powertrain for 60,000 miles and corrosion perforation with no mileage limit.
The Camry Hybrid also has an eight-year/100,000-mile warranty that covers the hybrid-related components, including the HV battery, battery control module, hybrid control module, and inverter with converter.
All the above warranties are fully transferable.
A Certified Pre-Owned (CPO) Camry offers a 160-point inspection (174 for the hybrid) and a three-month/3,000-mile comprehensive warranty. The powertrain warranty is extended to seven years/100,000 miles from the first date of purchase, and 24/7 roadside assistance is also applicable for seven years/100-miles from the original day of purchase when new.
Word on the web
We searched sites such as Consumer Reports, as well as enthusiast sites like 6thCamry.com, ToyotaNation.com, CamryForums.com, CarComplaints.com and ToyotaProblems.com. Except for Consumer Reports, it was hard to find any big issues, except that the initial 2007 models seemed to get an unusual number of complaints about the transmission being jerky. One guy also had a leaky water pump in his '08 LE and a couple of people were less than impressed by the paintwork, but most forum members had only good things to say about their cars.
Unlike Consumer Reports, the publication that noticed a disproportionate amount of unintended acceleration complaints, although no one seems to know whether these came about because of a floor mat problem, a sticky accelerator pedal or some issue with the electronic drive-by-wire throttle system. All 2007 to 2010 Camrys (and many other Toyota models) have been recalled and remedies applied. Consumer Reports eventually conceded that these occurrences were "rare."
Auto Trader recommendations
Now is the time to buy a used Camry, since resale values have taken a bit of a hit after the recall debacle. That makes the upper trim levels more accessible; the XLE is almost Lexus-like in its amenities. But if money is tight, there should still be plenty of LE models around.
Competitive set
Honda Accord
Chevrolet Malibu
Nissan Altima
Ford Fusion