Editor's note: You may want to read more of Autotrader's model vs. model comparison car reviews as well as the 2007-2012 Hyundai Santa Fe used car review, the 2013 Toyota Highlander review and Buying a Used Toyota Highlander: Everything You Need to Know.
If you're looking for a used family SUV with an affordable price tag, the 2007-2012 Hyundai Santa Fe and 2008-2013 Toyota Highlander are undoubtedly on your shopping list. After all, both models offer 3-row seating, reasonable pricing, decent fuel economy and desirable equipment. But which one is better? And which one deserves your money? In order to find out, we've created a close comparison of both SUVs, along with a conclusion after taking a look at all the facts.
2007-2012 Hyundai Santa Fe: The Basics
Although the prior Hyundai Santa Fe had been a compact SUV, the 2007 model brought the Santa Fe squarely into midsize territory as it offered 3-row seating and V6 power — and added 7 inches to its overall length. The third-row seating wasn't standard, though it was offered with the available Touring Package from 2007 to 2009 before being dropped for the 2010 model year. The Santa Fe came standard with front-side airbags, side curtain airbags and anti-lock brakes. Power initially came from one of two different V6 engines, but the lineup was revised in 2010 to offer a 4-cylinder or a V6 engine.
2008-2013 Toyota Highlander: The Basics
The third-generation Toyota Highlander debuted for 2008. Although it was larger than the Santa Fe, the Highlander also did not have standard 3-row seating — the third row remained optional until the next-generation Highlander debuted for 2014. With that said, most Highlander models offer the third-row seat. Initially, two engines were offered — a V6 and a hybrid V6 for better gas mileage — but a 4-cylinder came out for the 2009 model year as a price leader. Like the Santa Fe, the Highlander came standard with front-side airbags, side-curtain airbags and anti-lock brakes.
Reliability
According to reliability experts at J.D. Power, the 2008-2013 Toyota Highlander earned a perfect rating for reliability, attaining five out of five. Certain years of the 2007-2012 Santa Fe also earned a perfect rating, though some years were a little lower, suggesting that the Santa Fe likely doesn't quite offer the same impressive reliability as the Highlander — though it comes close. Meanwhile, in hundreds of reviews from real owners on Kelley Blue Book, the Highlander earned a 9 out of 10, while the Santa Fe earned an 8.9 out 10. That suggests both models rank very highly in terms of customer satisfaction, which is typically heavily based on reliability. We think the Highlander may have a slight edge here, but not a huge advantage.
Fuel Economy
The Highlander offered three powertrains. Base models used a 185-horsepower 2.7-liter 4-cylinder, which returned 20 miles per gallon in the city and 27 mpg highway. Drivers could also opt for a 270-hp V6, which returned 17 mpg city and 23 mpg hwy, or a hybrid V6, which offered around 275 hp and returned 27 mpg city and 25 mpg hwy from 2008 to 2010 and 28 mpg city and 28 mpg hwy from 2011 to 2013.
From 2007 to 2009, base-level Santa Fe models used a 185-hp 2.7-liter V6 that returned up to 17 mpg city and 23 mpg highway. Drivers looking for more power could opt for a 242-hp 3.3-liter V6, which touted 17 mpg city and 24 mpg highway — better mileage than the base engine.
Beginning in 2010, the Santa Fe switched to a standard 4-cylinder and an optional V6. The 4-cylinder was a 175-hp 2.4-liter, and it returned 20 mpg city and 28 mpg hwy. The 276-hp 3.5-liter V6 returned 19 mpg city and 27 mpg hwy.
The overall theme here: The 2010-2012 Santa Fe offered the best gas mileage in either 4-cylinder or V6 guise, while fuel economy was stronger in the Highlander before 2010. Either way, drivers who especially prioritize fuel economy will want to choose a Highlander Hybrid, as it offers the best gas mileage of all.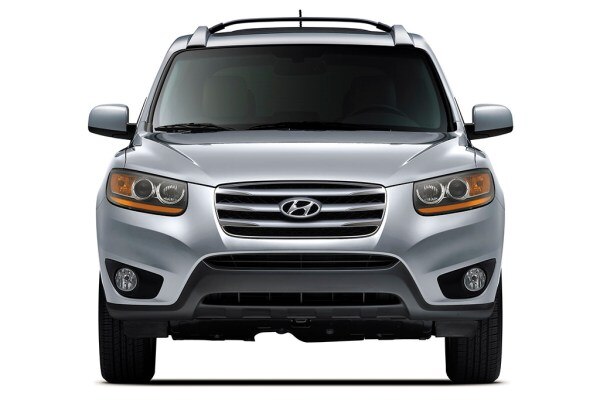 Safety
In terms of safety equipment, both the Highlander and the Santa Fe offered all the right features: Standard front-side airbags, standard side-curtain airbags and standard anti-lock brakes. However, in terms of crash-test ratings, the Highlander had an advantage over its Hyundai rival. The Santa Fe earned an overall 3-star rating from the federal government's National Highway Traffic Safety Administration, composed of a 4-star frontal crash score, a 4-star rollover score and a troubling 2-star side impact score. Meanwhile, the Highlander earned a 4-star overall score, receiving four stars for the frontal crash-test rating, four stars for the rollover rating and five stars for the side impact rating. As a result, this category easily goes to the Highlander.
Technology
As you might expect, neither the Highlander or the Santa Fe offer especially impressive technology given their ages. For example: neither model even added a backup camera until the 2010 model year, and even then it was optional for both cars. Both models also offered a navigation system, though it wasn't available in the Santa Fe until 2008. The 2013 Highlander received a much-improved unit with a more responsive touchscreen and Toyota's latest Entune infotainment software, but as it came out in 2013, it was offered for just one year. This category is generally a draw, though one model may have an advantage over the other if there's a specific feature you're looking for.

Value
This generation of Santa Fe and Highlander were only sold together from 2008 to 2012, so it only makes sense to compare those years. With that in mind, the average asking price of a 2008-2012 Santa Fe is just under $10,700, in just under 2,000 listings on Autotrader, while the average asking price for a 2008-2012 Highlander is $15,800 in just over 2,100 listings. Even when filtering pricey hybrid models out of the Highlander's search results, the average asking price doesn't drop below $15,500.
While it may seem like the Santa Fe is a better value, keep in mind it has lower safety ratings, a smaller interior, less engine power and slightly lower reliability scores — and it didn't even offer a third-row seat after the 2010 model year. Still, for a discount of nearly $5,000, many shoppers can (and should) look past those issues.
Autotrader's Advice
To us, there's little doubt that the 2008-2013 Toyota Highlander is a better car than the 2007-2012 Hyundai Santa Fe. After all, it offers more interior room (especially considering the Santa Fe only offered 3-row seating from 2007 to 2009), better safety ratings and slightly better reliability. It also offered more engine power and better gas mileage than early Santa Fe models. And the available Highlander Hybrid also offers excellent fuel economy that few midsize SUVs can match.
However, the Santa Fe's lower asking price is highly appealing. If you don't necessarily need more interior space and you don't consider safety ratings a high priority — or if you're simply on a tight budget — the Santa Fe is a good choice. If you can afford to spend more for a better vehicle, go with the Highlander.
Find a Used Hyundai Santa Fe for sale