Editor's note: You may want to read more of Autotrader's model vs. model comparison car reviews as well as the 2007-2012 Nissan Altima used car review, the 2012 Honda Accord review and Buying a Used Honda Accord: Everything You Need to Know.
If you're interested in a reliable, roomy used sedan that won't break the bank, we suspect you have the 2007-2012 Nissan Altima and the 2008-2012 Honda Accord on your shopping list. Both cars offer good dependability, roomy interiors and a wide array of models to choose from — from basic, entry-level versions to upscale, luxurious trims.
But which one is better? In order to find out, we've created a thorough comparison that pits the 2007-2012 Altima against the 2008-2012 Accord. But before we get started, let's take a look at the basics of both models.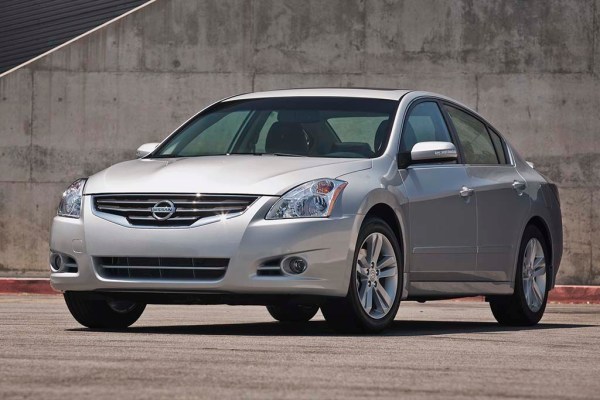 2007-2012 Nissan Altima: The Basics
The 2007-2012 Nissan Altima is a popular midsize sedan that offers 4-cylinder, V6 or hybrid variants, along with sedan or coupe body styles. All sedan models use a continuously variable automatic transmission, while the coupe introduces the option of a 6-speed manual. Front-wheel drive is mandatory, while all Altima models produced during these years come with keyless access, push-button starting, a CD player with an auxiliary port, side-curtain airbags, anti-lock brakes and full power accessories.
2008-2012 Honda Accord: The Basics
Similar to the Altima, 2008-2012 Honda Accord models offer a choice between 4-cylinder or V6 engines and sedan or coupe body styles. The 4-cylinder is available with a 5-speed manual or 5-speed automatic in both coupe or sedan versions, while the V6 is automatic-only except on the Accord Coupe, which offers a 6-speed manual transmission. Standard features include air conditioning, keyless entry, cruise control, anti-lock brakes and side-curtain airbags.
Reliability
According to experts at Consumer Reports, both the 2007-2012 Nissan Altima and the 2008-2012 Honda Accord earned better-than-average reliability ratings throughout their entire runs, though the Accord just barely edged out the Altima with slightly better overall ratings.
If you're interested in buying a certified pre-owned (CPO) model with a warranty — only available on newer 2011 or 2012 models — you'll find that Honda's CPO program is a little more comprehensive than Nissan's, as it offers additional bumper-to-bumper warranty coverage (not offered by Nissan) in addition to powertrain protection.
As a result, the Accord just clinches the win over the Altima in this category, though we strongly suspect shoppers interested in dependability will appreciate both models.
Fuel Economy
You'll find 2008-2012 Accords offered with one of two engine types. Base models use a 2.4-liter 4-cylinder that makes 177 or 190 horsepower depending on the trim level. Fuel economy for this engine is rated at up to 23 miles per gallon in the city and 34 mpg on the highway. Drivers looking for more power should look for the Accord's 271-hp 3.5-liter V6, which offers up to 20 mpg city/30 mpg hwy.
Meanwhile, there are three engines available on 2007-2012 Altimas. Like the Accord, base models use a 4-cylinder — in this case, a 175-hp 2.5-liter unit that returns up to 23 mpg city/32 mpg hwy. The next step up is a 270-hp 3.5-liter V6 that gets 20 mpg city/27 mpg hwy. While those numbers don't beat out the Accord's figures, the Altima's trump card is a hybrid version that was produced from 2007 to 2012 and called simply the Altima Hybrid. It offers a 198-hp 2.5-liter hybrid 4-cylinder that's capable of an impressive 35 mpg city/33 mpg hwy.
If you get a conventional gas powertrain, the Accord edges out the Altima. Opt for a hybrid, however, and the Altima is your only choice among these two — and that gives it the overall advantage for fuel economy.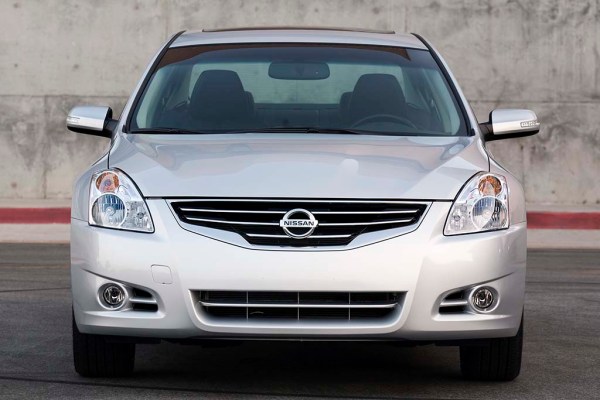 Safety
In crash testing carried out by the National Highway Traffic Safety Administration (NHTSA), the 2008-2012 Accord earned a perfect 5-star overall rating, while the 2007-2011 Altima earned only four stars. Both the Accord and Altima received strong scores from the nonprofit Insurance Institute for Highway Safety, though neither model submitted to enough crash tests to qualify for the firm's Top Safety Pick rating.
As for safety features, the Altima and Accord are virtually identical. They have the essential equipment — side-curtain airbags, anti-lock brakes and optional backup cameras, as well as traction and stability control — but are too early to include the latest high-tech advancements such as forward-collision warning, lane-departure warning or a blind spot monitoring system.
The result: This category is very close, though it goes ever so slightly to the Accord for its higher NHTSA crash-test ratings.
Technology
By modern standards, neither the Accord nor the Altima is especially advanced, as both models lack today's safety features, conveniences and infotainment technology with app capabilities.
With that said, both vehicles offer a lot of features for their time period. More recent models of the Altima come equipped with Bluetooth audio and xenon headlights, while the Accord offers a voice-activated navigation system. Both tout heated leather upholstery, a backup camera, upgraded sound systems and dual power front seats.
Still, neither the Altima nor the Accord is dramatically better than the other in terms of technology, so we're calling this category a draw.
Value
There are currently around 8,000 different 2008-2012 Altima models listed on Autotrader (excluding 2007 models that don't overlap in year with the Accord), with an average asking price of around $11,300. Meanwhile, there are around 8,200 different 2008-2012 Accord models available on Autotrader with an average price tag of $12,900.
Is the Accord worth a $1,600 premium over the Altima? Not to us. While the Accord may tout the coveted Honda badge many used-car shoppers want, the truth is that these two cars are surprisingly similar in terms of safety features, equipment, fuel economy and reliability. Yes, the Accord edges out the Altima in a few categories, but just barely. As a result, the Altima is a better value.
Autotrader's Advice
Although the 2007-2012 Nissan Altima and the 2008-2012 Honda Accord are both excellent midsize cars, we think the Altima is the better choice on the used market. It's cheaper to buy, it offers a highly efficient hybrid version, and it's otherwise roughly identical to the Accord, including in reliability ratings from Consumer Reports.
With that said, we know many used-car shoppers have a hard time resisting the allure of the Honda badge, so the good news is that regardless of which one you pick, you'll end up with a great car.
Find a Used Nissan Altima for sale