Car Review
2007-2013 Cadillac Escalade: Used Car Review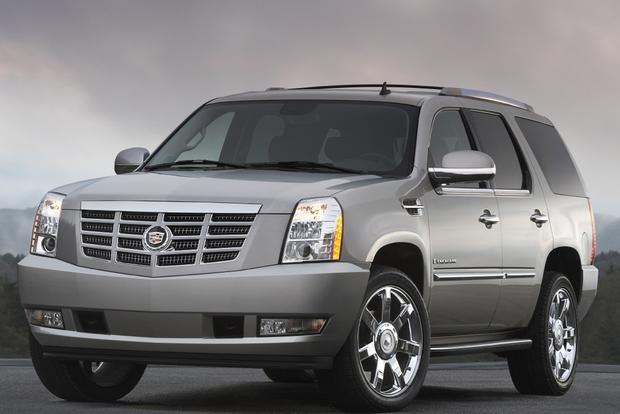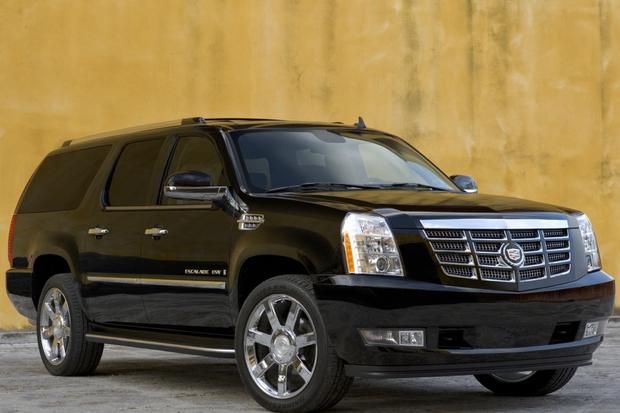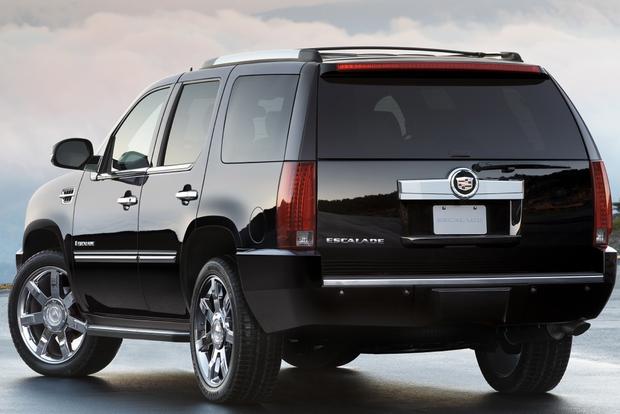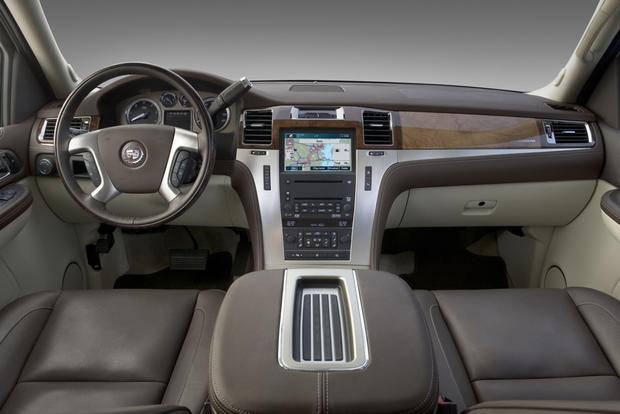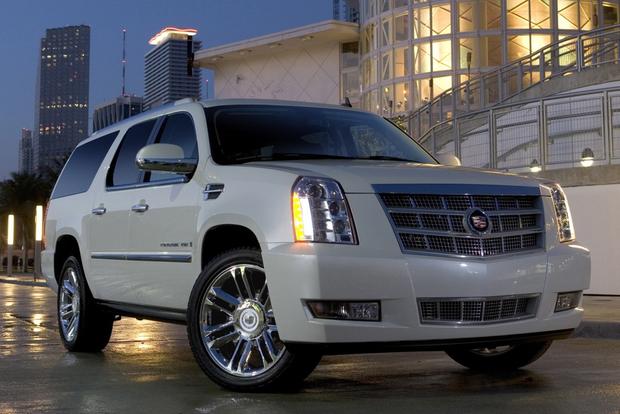 For a time, the Cadillac brand was synonymous with aging seniors and mafia hit men. It seemed doomed to fade into automotive history. But one vehicle came along to change all of that: the Escalade. Sharing its platform with the Chevrolet Tahoe/Suburban, the second generation 2007-2013 Cadillac Escalade helped to make the brand cool. Be they rich or of modest means, urban or rural, hopeful hipsters or hip replacement hopefuls, drivers share a common love for this giant luxury SUV. In truth, the Escalade is much more than an overly chromed Chevy. It employs a more powerful engine, unique suspension and a number of luxury features that put it on par with the world's best luxury SUVs. With room for up to eight people, the versatile Escalade serves a purpose beyond just impressing the neighbors.
Why You Want It
If you need a big vehicle to haul your family, and perhaps the family boat too, any V8-powered SUV will do. But if you're looking for something that says as much about your success in life as your ability to move small mountains, the Cadillac Escalade holds strong appeal. For one, it's bigger than any Lexus, Mercedes or Land Rover, rivaled only by the Lincoln Navigator and Infiniti QX56. The Escalade isn't quaint or demure either. If you want to make an entrance, this is the vehicle in which to do it. The Escalade's 6.2-liter V8 engine is a dynamo yet returns fairly good highway fuel economy, considering what it's tasked with moving. Cadillac loads the Escalade with all manner of luxury trappings, so you'll never feel like you're not keeping up with the Joneses. There are even a number of Escalade variations, including an elongated model (ESV), a crew-cab-like pickup with a folding partition (EXT) and an environmentally friendly hybrid model. The Escalade is not the king of every hill, however. Its third-row seat, for example, sits rather low and doesn't offer much legroom for adults. It also must be manually removed, unlike the Navigator's seat, which is power operated and folds flush into the floor.
Notable Features & Options
The Escalade comes pretty nicely equipped. If you could find one that has no options, it still would include a power rear lift gate, Bose 5.1 surround sound audio, heated side mirrors, power adjustable pedals, automatic temperature control, rear audio controls, leather upholstery, heated front seats and Cadillac's Auto Ride adjustable suspension. The Platinum trim adds many features optional on the base Escalade, such as a heated steering wheel, navigation, a power moonroof, HID headlights, rear-seat DVD entertainment system and genuine wood inserts on the dash and door panels. Some popular options include heated rear seats, power extendable running boards, rear park assist, all-wheel drive (AWD) and power fold and tumble second-row seating. A few noticeable omissions from the Escalade's equipment list are some high tech features commonly found on other luxury brands, such as a heads-up display, radar guided cruise control and power folding third-row seats.
Model Milestones
2008: Some minor visual enhancements round out the changes for 2008.
2009: The Escalade Hybrid joins the line. New features on all Escalade trims include power tilt/telescoping steering column, Side Blind Zone Alert and an OnStar navigation upgrade. The Platinum trim gains HID headlights.
2010: Active Fuel Management cylinder deactivation is added to the Escalade's V8 engine. Other new features include a console mounted USB port and front-seat mounted side thorax airbags.
2011: Cadillac's Premium Care Maintenance program is added as a no-charge extra and the ninth generation OnStar system is updated to include flexible speech recognition software.
2012: Some new colors and navigation enhancements are all that's new for 2012.
2013: The Escalade's brakes are enhanced for improved stopping ability.
Engines and Performance
The Escalade is powered by a 6.2-liter V8 engine producing 403 horsepower and 417 lb-ft of torque. The 2010 and later models include Active Fuel Management, which will deactivate four of the eight cylinders in cruising mode, thus reducing fuel consumption. Environmental Protection Agency (EPA) fuel economy estimates for this engine are 14 miles per gallon city/18 mpg highway with 2WD, and 13/18 mpg with AWD. Escalades without AFM earn slightly lower estimates of 12/19 and 12/18 mpg respectively. The Escalade is also E85 compatible, but fuel economy drops to around 10 mpg city and 14 mpg highway. The Escalade Hybrid uses a slightly smaller 6.0-liter engine paired with a two-mode hybrid transmission. Horsepower figures for the hybrid are 332 and torque is 367 lb-ft. Fuel economy figures are a respectable 20 mpg city and 23 mpg highway.
The Escalade's massive V8 pulls with all the authority of a classic 1960s era muscle car. You'll never feel hesitant to overtake slower traffic in this big beauty. Once up to speed, the Escalade hushes all outside noise from its lush cabin, its V8 barely breaking the 1,500-rpm mark when cruising at 65 mph. On the open road, the Escalade sails like a great liner, unfazed by high winds or choppy roads. A host of electronic traction, stability and shock dampening systems helps the Escalade conquer curves that would have lesser SUVs wallowing and rolling with alarming frequency. Still, all the modern marvels in the world don't make it any easier to park or maneuver Cadillac's flagship in tight spaces. Tow ratings vary throughout the model years, from a low of 7,800 before 2010 to 8,300 pounds on 2011 and newer rear-drive models (8,100 for AWD). The hybrid model is limited to 5,800 pounds.
Recalls, Safety Ratings and Warranties
The National Highway Traffic Safety Administration (NHTSA) has issued the following recalls for the 2007-2013 Cadillac Escalade:
2007-09: A recall was issued regarding the heating module for the heated wiper fluid system. Due to a risk of fire, dealers will disable the system. A previous recall for the same issue required an inline fuse to be placed in the wiring harness, but this failed to solve the problem. There is no fix.
2009: A recall was issued for a possible defect in the fuel system control module. A leak could cause a short that resulted in difficulty starting or stalling while in motion.
2011: Recalls were issued for a possible problem with loose bolts in the intermediate steering shaft, which could lead to loss of driver control, and for improperly heat-treated rear axle cross pins. The pins could fracture and become displaced within the rear axle.
2013: A recall was issued regarding a possibly fractured park lock cable or a malformed steering column lock actuator gear in the lock module assembly. As a result, the vehicle may shift out of park with the ignition key off or removed.
Recall repairs are required by law even if the vehicle is out of warranty. Your dealer can check to see if the repairs were performed. If not, your dealer will fix the car at no charge to you.
As for safety, NHTSA gives the 2007-2013 Cadillac Escalade good marks, scoring four out of five stars for the driver and five stars for the passenger in the front-end crash test. The Escalade earns five stars in the side impact test, but only three stars in the rollover test. The independent Insurance Institute for Highway Safety (IIHS) has not tested the Escalade.
The 2007-2013 Cadillac Escalade has a 4-year/50,000-mile basic warranty and a 5-years/100,000-mile powertrain warranty. If you buy your previously owned Escalade from a Certified Pre-Owned Cadillac dealer, you'll get a 6-year/70,000-mile basic warranty that starts from the original sale date, not the used car purchase date. This means if your used Escalade is still under its factory warranty, the CPO warranty will extend it by two years or 20,000 miles. Other benefits of the program include a 172-point inspection, 24-hour roadside assistance and courtesy transportation and attractive finance rates.
Word on the Web
The Escalade has been around for a long time and it outsells most of its competitors by a wide margin. As such, there are many mixed opinions about the reliability of various models and years. On sites like Cadillacowners.com, we found lots of complaints about the Escalade's electrical system related to drained batteries, sudden downshifts or stalling and numerous indicator lights going on and off.
Oddly, many of the problems encountered were resolved by replacing the battery or cables. It seems the electrical system in the Escalade is quite sensitive to low or weak battery output. Early 2007-09 models also seem to have more than their fair share of threads regarding the transmission, paint and overall build quality. Owners do love the way the Escalade drives, its handling, towing prowess and ability to deal with snow and poor road conditions (AWD models). Most who experienced problems seemed to find the dealerships to be helpful in resolving issues while the vehicle was under warranty, and some even after the warranty expired.
However, Consumer Reports gives early 2007-08 models poor scores for engine, powertrain, paint, body rattles, electrical and audio. The 2011 and newer Escalades seem to fare far better but still pull in low marks for paint, body hardware and audio/navigation systems.
Competitive Set
Lincoln Navigator: The Navigator's V8 isn't as powerful as the Escalade, but it does have a roomier interior, a flush folding third-row seat and can tow up to 9,000 pounds. The Navigator's resale, however, lags behind that of the Escalade.
Infiniti QX56: The QX56 holds up better than the Escalade, at least according to Consumer Reports. The ride is a bit more truck-like, and the QX56 doesn't have the same level of suspension sophistication. It also has less horsepower and delivers worse fuel economy.
Land Rover Range Rover: The Range Rover is more luxurious than the Escalade, with superior interior fittings and more high tech electronic features. It's also a better driving SUV. However, the Range Rover doesn't have a third-row seat, nor can it match Cadillac's extensive dealer network
AutoTrader Recommendations
If you can swing the additional price, we would recommend going with a 2011 or newer Escalade. They seem to have fewer quirks and may still be under the factory warranty. AWD seems a logical desire if you live where it snows often. Those concerned less with towing and more with fuel economy should look to the Escalade Hybrid.