Car News
2008 - 2010 Ford Escape - New Car Review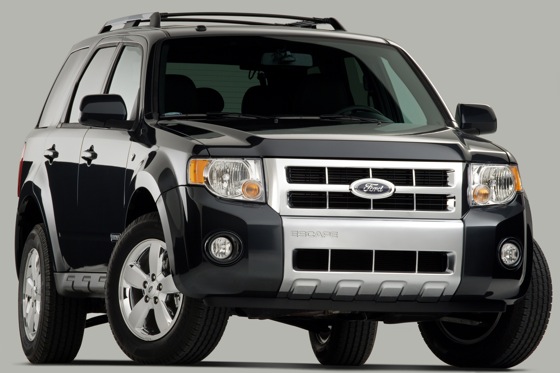 The 2008 to 2010 Ford Escape is the Blue Oval's answer to foreign and domestic compact crossover SUVs such as the Honda CR-V, Toyota RAV4, Hyundai Tucson and Jeep Liberty. Although it lacks an available third-row seat, the Escape offers generous accommodation for five, plentiful cargo space, an available V6 engine and some of the coolest high-tech gadgetry in its class.
Ford has equipped this little road warrior with the award-winning Sync infotainment system, a radar-guided parallel parking option (2010 model) and the MyKey programmable key fob that allows control over top speed and radio volume. For parents with newly licensed teens, this option is worth every penny.
Why you want it
Why pick an Escape over the class-leading Honda Civic CR-V or Toyota RAV4? There are many good reasons, starting with money. Although the CR-V, RAV4 and Escape carried similar prices when new, the Ford doesn't hold its value as well, so it's possible get one for a lot less than a comparable import. Interior space is another strong selling point, with the boxy Escape's taller roof offering more headroom than the CR-V. Then there is power. The CR-V doesn't offer a V6; the RAV4 does. And so does the Escape.
Perhaps the best reason to seek out the Escape is its array of electronic features, such as the Sync system. It connects cell phones and portable MP3 players to the audio system, and controls them via voice commands. Just push a button on the steering wheel and give the order to play one of the songs in the music library. Or push the Bluetooth button, say: "Call (name of contact)" and the dialing is done. The system also features traffic alerts, personalized daily info and vehicle health reports.
Notable features and options
The 2008 Ford Escape features an all-new exterior, interior and electric power steering. But beneath its fancy new gear resides the old 2007 Escape's mechanicals. Trim levels include the base XLS, XLT and Limited. There is also a hybrid model (reviewed separately).
The 2009 model has a new 2.5-liter engine; six-speed automatic transmission on all but the base XLS (a five-speed manual is the standard transmission there); power windows, locks and mirrors; a rear window defroster; 60/40 split folding rear seat; cruise control, and remote keyless entry. Standard safety equipment includes AdvanceTrac traction control with roll stability control, four-wheel ABS brakes, front seat side-impact airbags, plus front and rear side curtain airbags.
Options vary by trim and include leather seating, heated front seats, a power moonroof, 320-watt premium audio system, navigation, and the Reverse Sensing System. The 2009 model offers Sync and a 10-gigabyte music storage system, while the 2010 model offers blind-spot-eliminating side mirrors, MyKey programmable key, a rear-view camera, and Active Park Assist parallel parking aid.
Model milestones
2008: Major exterior and interior makeover, but mechanical underpinnings from the previous year remain.
2009: An all-new 2.5-liter four-cylinder engine, an updated 3.0-liter V6 and a new six-speed automatic transmission are available; suspension, steering gear and brakes are upgraded.
2010: Available features now include Active Park Assist (voice guidance tells the driver when to shift and apply the gas and brakes – the system does all the steering), MyKey programmable key, rear-view camera, remote start, and an updated Sync system with traffic, directions and information.
Engines and performance
While a competent performer, changes made to the suspension and steering make the 2009 model the one to shoot for. Steering response is meaty and quick, and the firmer suspension minimizes body roll, negating that tipping feeling exhibited by vehicles with a high center of gravity.
Overall, the driving dynamics are not as car-like as some of its competitors, but superior ground clearance (8.4 inches) plus big tires and wheels allow it to go places many car-based SUVs don't dare. Inside, the V6-powered model is pleasantly quiet, thanks to significant added insulation, laminated side glass and heavier-gauge steel in key areas.
The 2008 Escape is powered by a 2.3-liter four-cylinder engine with only 153 horsepower. Teamed to a standard five-speed manual, this drivetrain achieves an EPA economy rating of 22 mpg city and 28 mpg highway.
The available 3.0-liter V6 bumps power to 200 horses and earns an EPA city/highway rating of 18/24.
The 2009/10 Escapes have a much more robust engine lineup, with a 171-hp 2.5-liter engine and an available six-speed automatic good for a city/highway fuel rating of 22/28 with front-wheel drive, 20/26 with all-wheel drive. The 3.0-liter V6 gains 40 more horsepower and a one mile per gallon improvement in both city and highway estimates.
Recalls, safety ratings and warranties
The National Highway Traffic Safety Administration (NHTSA) has issued the following recall for the 2008 to 2010 Ford Escape.
2010: Possible defect in the automatic transmission that could allow the vehicle to move even after being placed in Park.
Recall repairs are required by law even if the vehicle is out of warranty. A dealer can check to see if the repairs were performed and, if not, will fix the car at no charge to you.
Safety-wise, the 2008 to 2010 Ford Escape earns good marks, netting five stars (NHTSA's highest rating) for the driver and passengers in the front and side-impact crash tests (2008 models earn four stars for the driver). However, the Escape gets only three stars in the roll-over roof strength test.
The Insurance Institute for Highway Safety (IIHS) gives the 2009/10 Escape its highest rating of Good in the offset and side-impact crash test, although the 2008 model scores a slight lower Acceptable in the offset crash test. The IIHS also found the Escape's roof strength to be only marginal.
The 2008 to 2010 Ford Escape has a three-year/36,000-mile bumper-to-bumper warranty, and five-year/60,000-mile powertrain coverage. Some vehicles may have had extra coverage bought by the original owner, so be sure to check with a Ford dealership as Ford's extended warranties are transferable.
Also look into buying a Certified Pre-Owned Escape from a Ford dealer. These cars receive a thorough mechanical inspection and come with a three-month/3,000-mile basic warranty plus a six-year/100,000-mile powertrain warranty starting from the vehicle's original in-service date. Additional extended coverage may also be purchased through Ford dealers.
Word on the web
We've looked at consumer advocate sites as well as enthusiast sites such as Fordforums.com. Consumer Reports gives the Escape only average scores, rating it poorly in areas of transmission, interior squeaks and rattles, and power equipment. The 2010 model does better, earning higher marks across the board.
Consumers have a common complaint on 2009 and 2010 Escapes, regarding a strange "hoot" sound coming from the rear end. Ford has a technical service bulletin (TSB) addressing the issue, but says the noise is normal and recommends dealers replace the transaxle drive chain.
There also seems to be a number of gripes about exhaust noise from the 2009 2.5-liter four-cylinder engine. Ford's fix for the noisy exhaust involves replacing the muffler and heat shield.
Auto Trader recommendations
Of the three model years covered by this review, look at either the 2009 or 2010 Escape with the V6 engine. While the 2.5-liter four has plenty of pep, the V6 has the power needed to move a fully-loaded vehicle and is particularly useful when exploiting the all-wheel-drive model's off-road abilities. Those looking for maximum toy content should focus on the 2010 Limited, which will probably have extras like navigation and Active Park Assist.
Competitive set
Honda CR-V
Toyota RAV4
Jeep Liberty
Hyundai Tucson