Editor's note: You may want to read more of Autotrader's model vs. model comparison car reviews as well as the 2012 Honda Accord review, the 2007-2011 Toyota Camry used car review, Buying a Used Honda Accord: Everything You Need to Know and Buying a Used Toyota Camry: Everything You Need to Know.
If you're looking for an excellent used midsize sedan for family duties or reliable commuting, your shopping list probably includes the 2008-2012 Honda Accord and the 2007-2011 Toyota Camry, two of the most popular models on the market. But which one is better? And which one should you get? To help you decide, we've created a close comparison of both the Accord and the Camry, but first let's check out the basics of both midsize models.
2008-2012 Honda Accord: The Basics
The eighth-generation Accord was offered in sedan or coupe form, though we're primarily covering the sedan since the Camry didn't offer a competitor to the Accord Coupe. Two engines were offered — a 2.4-liter 4-cylinder and a 3.5-liter V6 — while all Accord models came standard with side-curtain airbags, anti-lock brakes and traction control with stability control. The Accord was originally offered in LX, EX and EX-L trims, though the lineup later expanded to include an SE model.
2007-2011 Toyota Camry: The Basics
The 2007-2011 Camry came only as a 4-door sedan. Other than that, however, the Camry's lineup was quite similar to the Accord's, right down to the 2.4-liter 4-cylinder (later upped to a 2.5-liter), the available 3.5-liter V6 and the standard side-curtain airbags, traction control and anti-lock brakes. With that said, the Camry has an ace up its sleeve: an available hybrid model, which wasn't offered in the Accord until the following generation. The Camry trim-level lineup featured the base-level CE, the midlevel LE, the sporty SE and the upscale XLE.
Reliability
Both the Camry and the Accord earn excellent marks from the experts at Consumer Reports, who note that reliability for both models ranges from above average to well above average. It's the same story with reliability experts at J.D. Power, who note that both models offer above-average dependability.
The result: If you're interested in a dependable midsize car, there's no doubt the Accord and the Camry offer what you're looking for, and we suspect neither one will offer a major advantage over the other.
Fuel Economy
The Accord comes standard with a 177-horsepower 2.4-liter 4-cylinder engine, which returns up to 23 miles per gallon in the city and 34 mpg on the highway. Optional is a 271-hp 3.5-liter V6, which offers 20 mpg city/30 mpg hwy.
Meanwhile, the Camry comes standard with a 158-hp 2.4-liter 4-cylinder from 2007 to 2009. Rated at 21 mpg city/31 mpg hwy, this powertrain was replaced by a 169-hp 2.5-liter 4-cylinder in 2010. The 2.5-liter engine returns 22 mpg city/33 mpg hwy.
Unlike the Accord, the Camry offers two optional engines. Drivers looking for more power could choose a 270-hp 3.5-liter V6, which offers up to 19 mpg city/28 mpg hwy. Drivers looking for better gas mileage can choose the Camry Hybrid, which offers either a 2.4-liter hybrid 4-cylinder. Camry Hybrid fuel economy is an impressive 33 mpg city/34 mpg hwy.
Our conclusion: If you get a gas-powered engine, the Accord offers better fuel economy than its Toyota rival. But if fuel economy is a major priority, the Camry Hybrid's numbers are untouched by anything in the Accord family.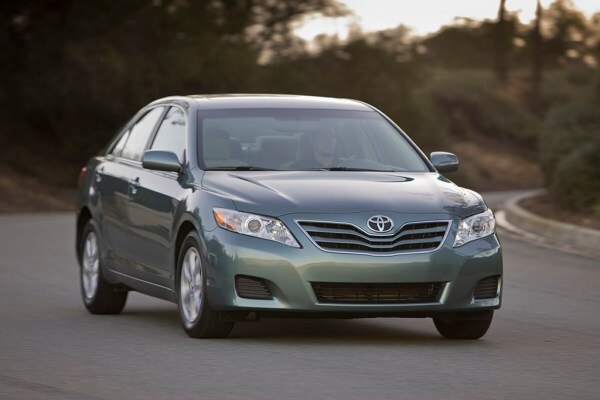 Safety
In crash testing performed by the National Highway Traffic Safety Administration, the 2007-2011 Camry earned a 4-star overall score out of a possible five stars. That rating included a 4-star side-impact and rollover score, along with a mediocre 3-star frontal-crash score. The Accord, however, earned a perfect 5-star overall rating, earning 5-star scores in each category.
As for safety features, the Accord and Camry are largely identical in these model years, with each one offering side-curtain airbags, traction control, stability control and anti-lock brakes. Though the Camry never offered an available backup camera, the Accord EX-L included the feature in 2011 and 2012.
As a result, we think the Accord has a leg up on the Camry in terms of safety. Not only does it offer far better crash-test ratings, but the available backup camera in later models is an important offering for many shoppers.
Technology
Although the 2007-2011 Camry and 2008-2012 Accord are only a few years out of production, they're already far behind modern midsize sedans in terms of technology. In other words, don't expect Apple CarPlay, Android Auto or modern safety features such as automatic forward-collision braking, lane-departure warning or a blind spot monitoring system.
Still, these two sedans offer a lot of features, including (in higher trim levels) a USB port for music, Bluetooth, a navigation system, dual-zone automatic climate control, leather upholstery with heated front seats and upgraded sound systems. With only a few small differences, however, they're largely similar in terms of technology, so unless you have a very specific need for some very specific items, you'll probably find what you're looking for in either model.
Value
Since the Camry and Accord only overlap from 2008 to 2011, we've compared the pricing of those models to find out which offers the better value.
Right now, there are around 5,000 different 2008-2011 Camry models listed on Autotrader, with an average asking price of $10,900. Meanwhile, there are roughly 4,600 Accord sedan models from the same era, with an average asking price of $11,600.
Does that make the Camry a better value? To us, the answer is yes — an average price difference of $700 is no small amount for vehicles priced around $11,000. But drivers with an eye on safety might find $700 an acceptable premium to get the Accord's stronger crash-test ratings.
Autotrader's Advice
The 2007-2011 Toyota Camry and the 2008-2012 Honda Accord are excellent cars, though each offer different benefits. For safety-conscious drivers interested in a midsize sedan, we recommend the Accord — its higher crash-test ratings and available backup camera are major benefits. Shoppers who prioritize fuel economy over crash-test scores, however, would be wise to opt for the Camry Hybrid, which easily beats out the Accord in terms of gas mileage. Regardless of your choice, both the Camry and Accord will likely offer reliable, affordable transportation for years to come.
Find a Used Honda Accord for sale