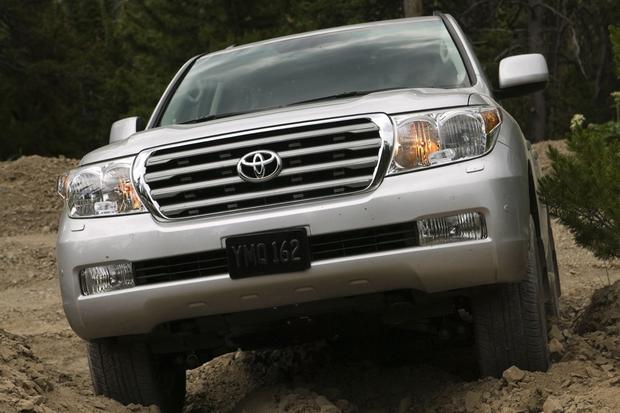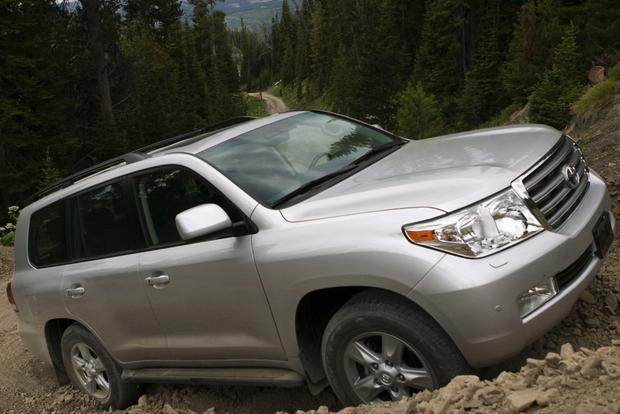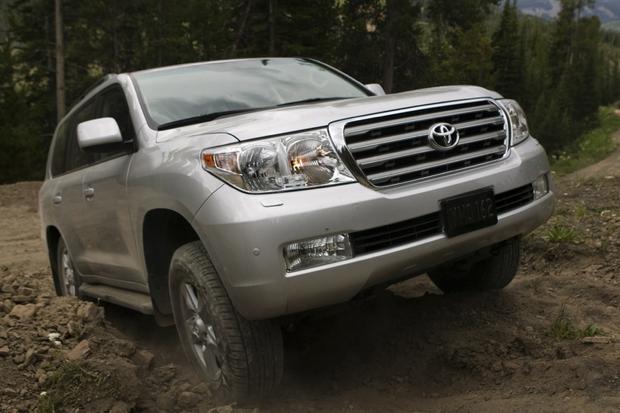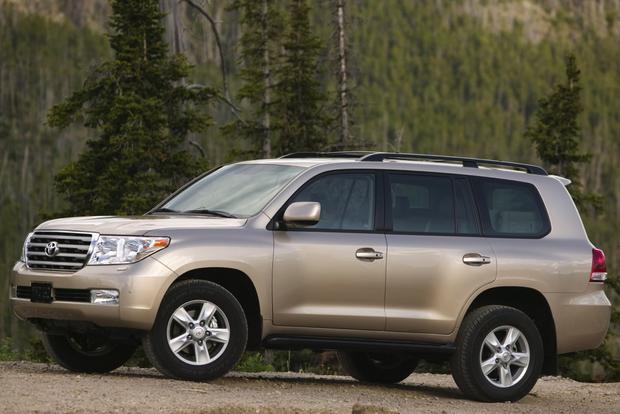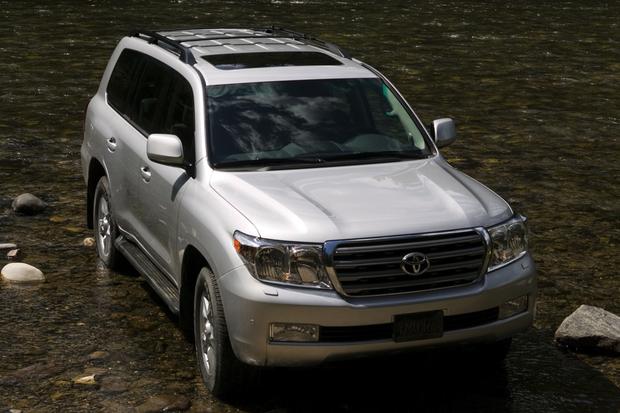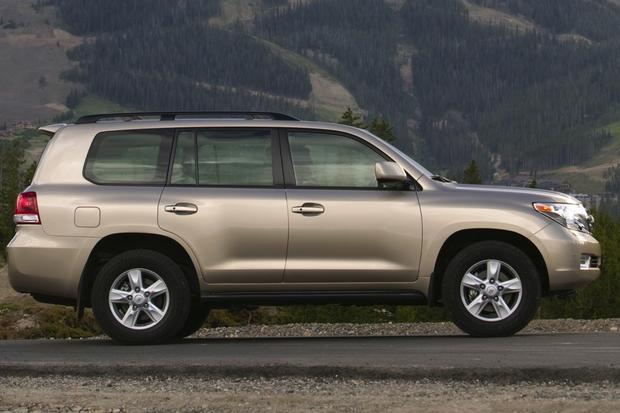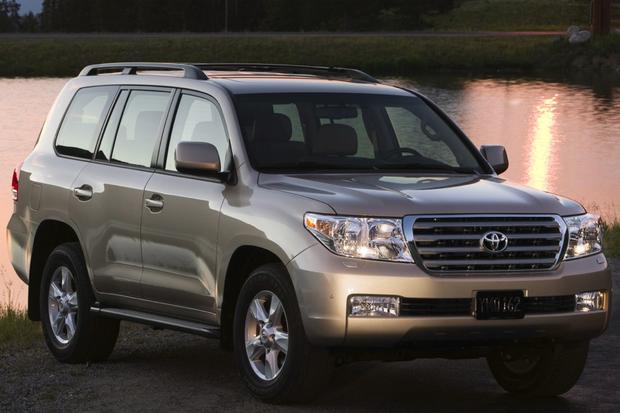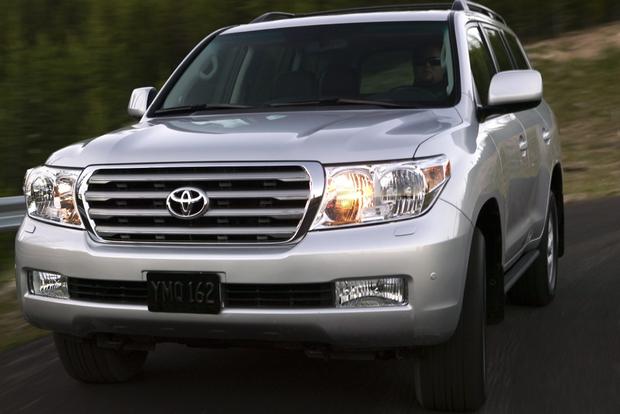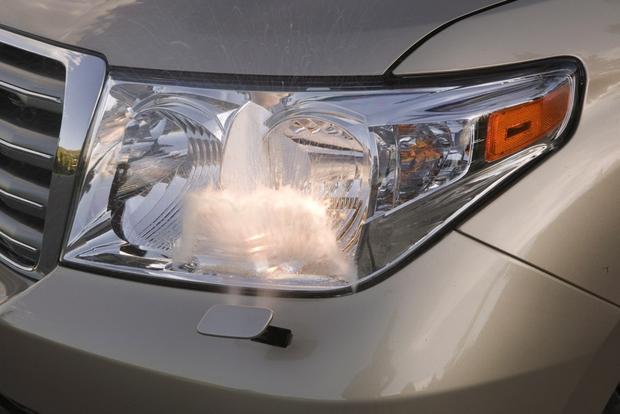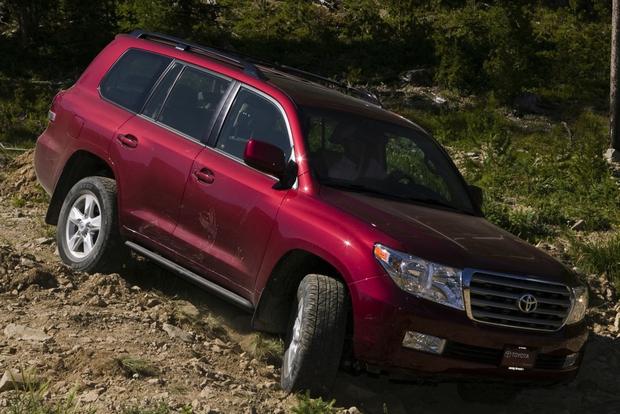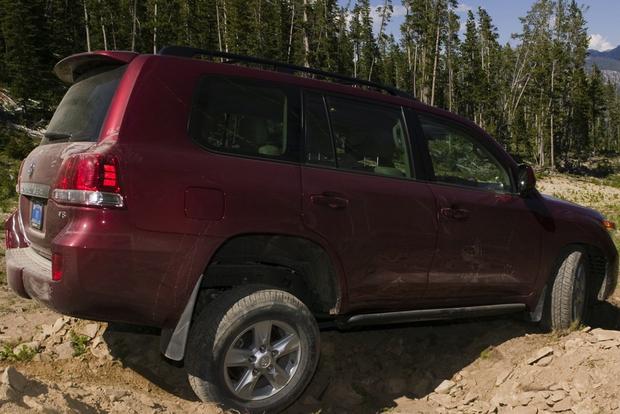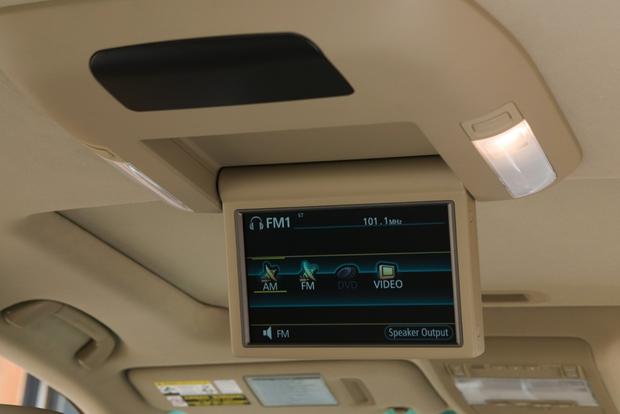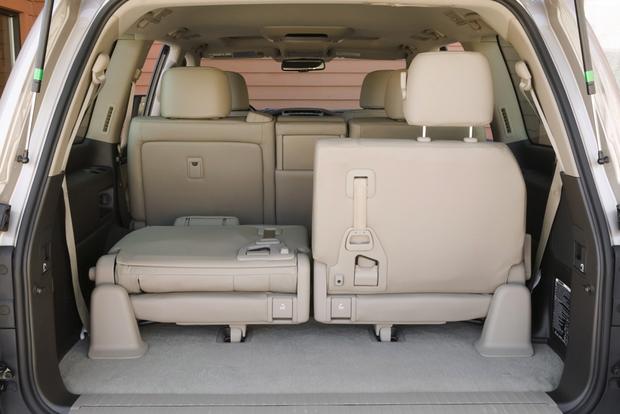 The 2008-2013 Toyota Land Cruiser is the latest in a long line of rugged SUVs to carry the storied Land Cruiser name. Although it started as a rather basic rough and tumble off-road vehicle, the Land Cruiser has morphed into something more commonly seen at the country club than in the back country. Regardless of its newly acquired luxury status, the Land Cruiser's off-road credentials are all in order. And, even though its sticker price might deter most owners from pushing it through boulder strewn paths and mud soaked fields, it's nice to know that if asked, Toyota's flagship SUV can easily answer the call. Not as roomy as the larger Sequoia, the Land Cruiser can nevertheless haul eight people in a pinch, tow up to 8,500 pounds and make an impression wherever it goes.
Why You Want It
The Land Cruiser is more than just another large, family-hauling wagon. If that's all you need, then the Toyota Sequoia or even a Chevy Suburban makes a better choice. The Land Cruiser was designed to take its cargo and crew far off the beaten path and return them safely without breaking a sweat. Its full-time 4-wheel drive system and Kinetic Driving Suspension System (KDSS), which helps keep the tires in contact with the ground under almost any situation, put the Land Cruiser in the same off-road category as the much more expensive Land Rover Range Rover and the much smaller Jeep Grand Cherokee. There's also a bit of a cult following for this vehicle, which inspires the same kind of bond Jeep Wrangler owners have with one another.
For the record, the Land Cruiser can tow up to 8,500 pounds and its V8 engine never struggles to overtake slower traffic or mow down unplowed roads. But, be prepared for some exorbitant fuel bills because that same V8 engine never met a filling station it didn't want to stop and meet.
Notable Features & Options
Toyota loads the Land Cruiser with just about every imaginable creature comfort one could want. Standard issue equipment includes full-time 4-wheel drive, 10 airbags including full-length side curtain airbags, 4-zone automatic climate control, cruise control, a power glass moonroof, leather seating with heated 10-way power driver's seat and 8-way power passenger seat, power tilt/telescopic steering wheel and after 2010, a 14-speaker JBL audio system. Also standard is keyless entry and push-button start, a rear sonar backup assist and CRAWL control with Downhill Assist Control. Options for the Land Cruiser include navigation, rear seat DVD entertainment, wood and leather steering wheel, a rear spoiler, cool box console cooler, heated rear seats, rain-sensing wipers and headlight washers.
Model Milestones
2008 - The Land Cruiser is all new for 2008, touting larger dimensions both inside and out, a new 5.7-liter V8 engine, new front and rear suspension and a host of modern electronic gadgets to help keep passengers comfortable and safe.
2009 - The Land Cruiser receives standard privacy glass.
2010 - A new telematics system called Safety Connect is added to the Land Cruiser, providing 911 assistance when it detects airbag deployment or if the vehicle is stolen. A USB port is added to the audio system and Bluetooth is now standard.
2011 - There were no major changes for 2011.
2012 - There were no major changes for 2012.
2013 - The Land Cruiser receives a modest makeover including new HID headlights with LED running lights. Inside, new perforated leather seats are added, as well as a new multi-media navigation system with Entune music and app streaming capability. Features once optional are made standard, including a rear seat DVD entertainment system, rain-sensing wipers, center console cooling box, headlight washers and a multi-information display.
Engines and Performance
The Land Cruiser is powered by a 5.7-liter V8 engine that is good for 381 horsepower and 401 lb-ft of torque and runs on regular gas (87 octane). Fuel economy estimates for the Land Cruiser are a dismal 13 miles per gallon city and 18 mpg highway. Power is routed through a 6-speed automatic transmission and then to a Torsen limited-slip locking differential that transfers power in a 60/40 front-to-rear split. The Land Cruiser's full-time 4-wheel drive can be shifted into one of three low-speed modes. In low gear the system engages a number of electronic hill descent and crawl features designed to keep control of the 5,700 pound Toyota when off-roading or descending steep terrain. The Land Cruiser is tow-rated up to 8,500 pounds.
On the road, you'll definitely feel the Land Cruiser's size and heft. Cornering at high speeds produces noticeable body sway, although later models equipped with KDSS perform noticeably better. KDSS, which controls sway resistance at the front and rear stabilizer bars, can reduce body roll and lean by as much as 50 percent.
Recalls, Safety Ratings and Warranties
The National Highway Traffic Safety Administration (NHTSA) has issued the following recalls for the 2008-2013 Toyota Land Cruiser.
2008-11 - Recalls were issued to replace a possibly defective accelerator pedal, for possible problems with the tire pressure monitoring system (TPMS) not being recalibrated when Toyota certified aftermarket wheels were added at the dealerships and for improperly labeled tire load capacity stickers.
2009 - A recall was issued for vehicles equipped with aftermarket ceiling-mounted AIRV units for a possible defective heating unit that could overheat, resulting in a fire.
Recall repairs are required by law even if the vehicle is out of warranty. Your dealer can check to see if the repairs were performed and if not, will fix the car at no charge to you.
We should note that the 2008-11 Toyota Land Cruiser was included in the recall related to uncontrolled acceleration in Toyota vehicles. While there was much media coverage and Toyota recalled nearly 8 million cars, an exhaustive study by both NASA engineers and the NHTSA could find no flaws with the electronics in Toyota vehicles.
As for safety, the 2008-2013 Toyota Land Cruiser was not tested by either the NHTSA or the independent Insurance Institute for Highway Safety (IIHS). However, the Land Cruiser is equipped with a full compliment of airbags, whiplash protection features and electronic traction and stability assists.
The 2008-2013 Toyota Land Cruiser has a 3-year/36,000 mile basic warranty and a 5-year/60,000 mile powertrain warranty. Extended warranties purchased when the car was new are transferable, so be sure to inquire if the vehicle you are buying has an extended plan. Toyota also offers a line of Certified Pre-Owned (CPO) vehicles through its dealerships. If you purchase a Certified Pre-Owned Land Cruiser, the warranty coverage for the powertrain is extended to 7-years/100,000 miles from the vehicle's original in service date. CPO cars also come with a 12-month/12,000 mile comprehensive warranty, one year of roadside assistance and a free CARFAX report. Best of all, Certified customers are eligible for standard new car financing rates. Vehicles that qualify for the CPO program cannot be older than six years or have more than 85,000 miles on the odometer. To learn more about the Toyota CPO program, visit their website at www.toyotacertified.com.
Word on the Web
Although Consumer Reports has no data on the Land Cruiser, we did find a number of off-road and adventure sites, such as Expedition Portal.com, that rank the Land Cruiser as a number one pick, regardless of model year. Owners rave about the Land Cruiser's rugged off-road abilities and family friendly interior, but they bemoan the poor fuel economy, somewhat truck-like ride and handling and wide turning radius. Later models hold their value well and can be pricey when compared to the competition (remember that a new Land Cruiser costs between $60,000 and $80,000, depending on year and options). Also, there are a lot of moving parts to the Land Cruiser's AWD system and proper maintenance, though sometimes costly, is a must to ensure proper operation and longevity.
Competitive Set
Land Rover LR3/LR4: The Land Rover LR3 (2008-2010) and LR4 (2010 up) offer a more prestigious name with the same off-road ability as the Land Cruiser, but fall far short of the Toyota SUV's reputation for reliability and resale.
Chevrolet Tahoe: The Tahoe takes up about the same space as the Land Cruiser and can be quipped to carry eight passengers. But, the big Chevy isn't as adept at off-roading nor does it offer the Land Cruiser's numerous luxury amenities. And while the Tahoe gets better fuel economy, its V8 can't match the Land Cruiser for horsepower or towing ability.
Jeep Grand Cherokee: The Grand Cherokee is a true off-road warrior and can be had with either a V8 or V6 engine. But, it is nowhere near as large as the Land Cruiser, can only seat five and has a somewhat spotty reliability and repair history.
Autotrader Recommendations
Most Land Cruisers are going to come loaded, so the only choice you have to make is what equipment you want. We say go for a 2010 or newer model, primarily for the Kinetic Driving Suspension System and upgraded audio and Bluetooth features.