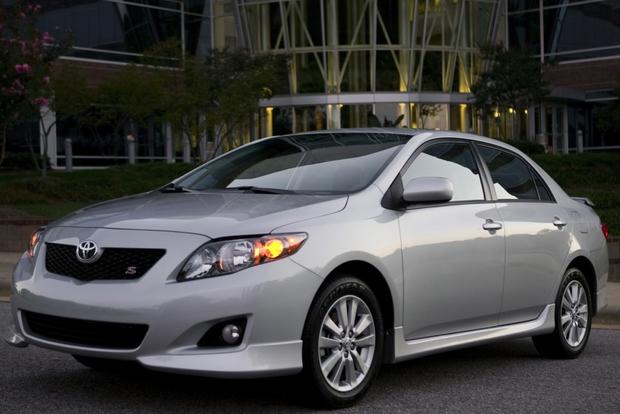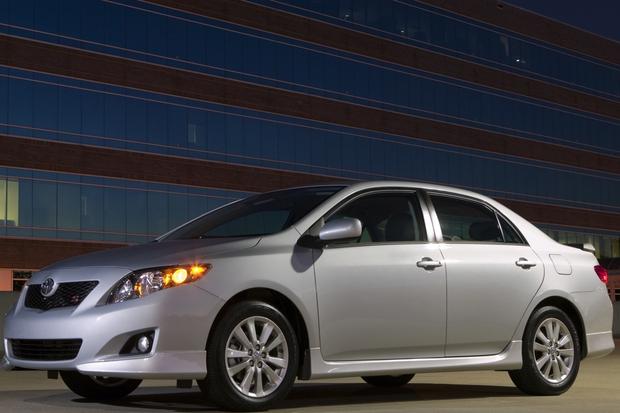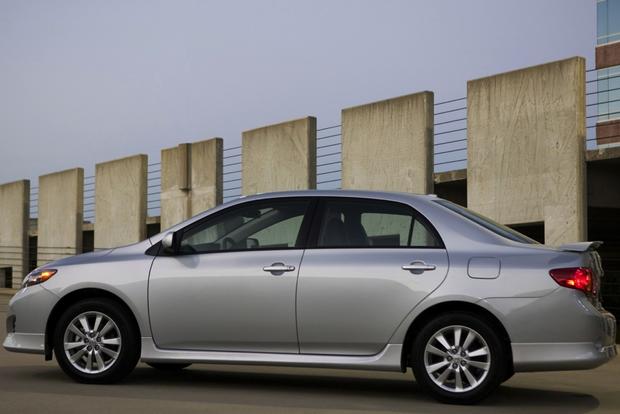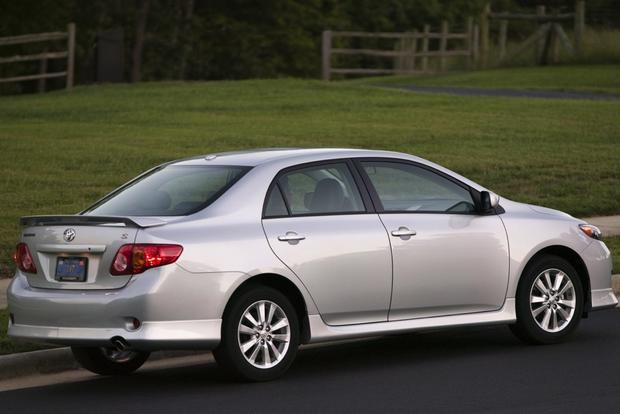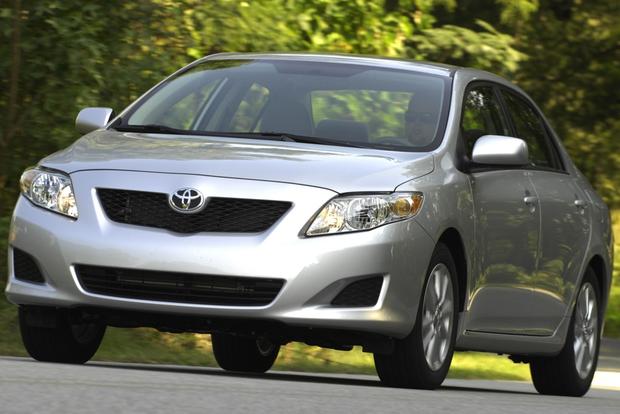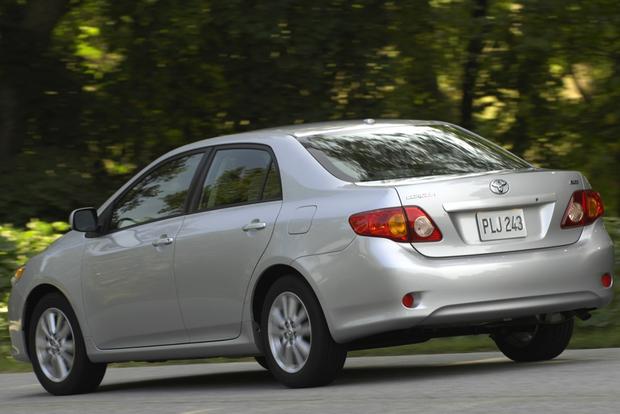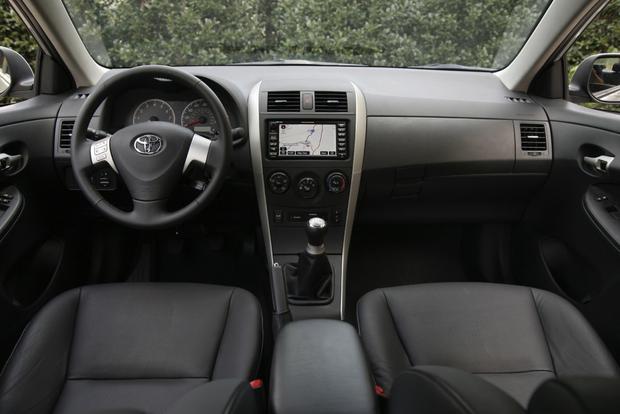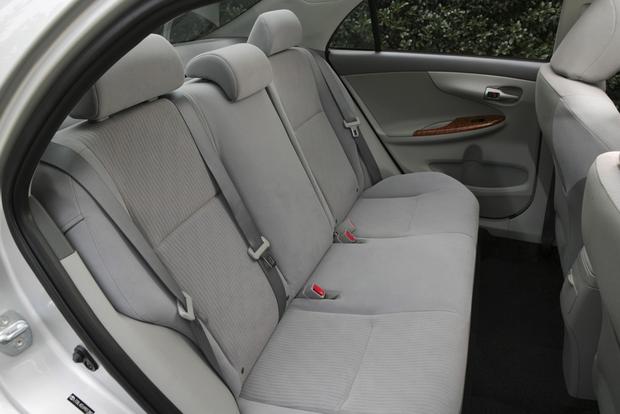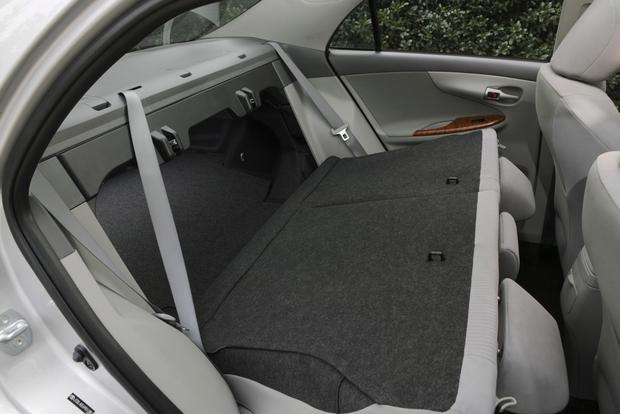 In the world of used economy sedans, the 2009-2013 Toyota Corolla is considered one of the best values, hands down. The tenth generation of Toyota's most affordable economy sedan has grown larger than its predecessors, providing more room for rear seat passengers as well as a bigger trunk and more headroom. The Corolla's newfound size doesn't dilute its core strengths, however, leaving it near the top of its class in resale, fuel economy, safety and reliability. With the exception of the short lived XRS trim, the Corolla isn't a particularly exciting vehicle, which leads us to conclude that it has strong appeal with those whose buying decisions are driven by reason and practicality rather than emotion and a passion for driving.
Why You Want It
The first thing buyers usually look for in a used car is reliability, followed by price, safety, fuel economy and resale value. The Corolla ranks high in all of these categories, which is probably why so many buyers flock to it. Early Corolla models offer basic audio and infotainment systems, there are no turbocharged or high-performance variants -- although the short-lived XRS with its larger 2.4-liter engine and sport suspension comes close -- and it comes in only one body style: a 4-door sedan. There are certainly sportier drives to be had, such as the Mazda3 or Ford Focus, and the Hyundai and Kia compacts provide more features for less money plus a better warranty. But, if you're looking for a car that holds its value well, promises years of trouble-free operation with minimal fuel consumption and won't tempt your kids to reenact scenes from The Fast and the Furious, the Corolla makes an excellent choice.
Notable Features & Options
If you're one of the dying breed that still enjoy driving a manual transmission, you'll appreciate that the Corolla offers an excellent 5-speed unit on most trims. Finding one may be difficult, but at least you know they are out there. A 4-speed automatic is optional on base cars and standard on the XLE and later model LE trims.
There are five Corolla trims from which to choose: base L, LE, S, XLE and XRS, the latter two dropped from the line after 2011. Even the most basic Corolla includes air conditioning, a tilt-telescopic steering wheel, 60/40 folding rear seats, power mirrors, front side airbags and side curtain airbags. Moving up to the LE brings power windows and locks, 16-inch wheels and color keyed mirrors, while the XLE adds remote keyless entry and alloy wheels. The XRS brings a larger, more powerful engine, sport seats and suspension, 4-wheel disc brakes and cruise control. After 2010, electronic traction and stability control were made standard.
Options for the Corolla vary by year and trim. Base models offer the option of cruise control and heated outside mirrors, while all but the base model can be equipped with a power moonroof. Upper level models offer a JBL audio upgrade with navigation, leather seating, a power driver's seat and Bluetooth hands-free cell phone connectivity. After 2012, Toyota's Entune multimedia system is offered on the LE and S trims.
Model Milestones
2010: Electronic traction and stability control are made standard
2011: A mild refresh is preformed on the grille and interior, while Toyota's Smart Stop brake override system is added to all trims. Smart Stop cuts throttle input once the brake is activated, even if the throttle pedal is still depressed. LE trims gain cruise control as standard equipment and the XLE and XRS trims are discontinued.
2012: The L trim gains power mirrors, power windows, power locks and keyless entry, while LE trims add steering-wheel audio controls and 16-in alloy wheels. The LE and S trim receive new radios that include USB iPod connectivity and Bluetooth for phone and music streaming. Toyota's Entune multimedia system is offered on LE and S trims.
2013: Outside of a few cosmetic changes and some shuffling of option package equipment, the Corolla remains unchanged for 2013.
Engines and Performance
The Corolla's standard engine in all but the XRS trim is a 1.8-liter 4-cylinder delivering a rather tepid 132 horsepower and 128 lb-ft of torque. This engine provides only average acceleration and passing power, a problem compounded by the outdated 4-speed automatic transmission. The 5-speed manual feels more lively, but there are not many of them out there, especially on the higher trim levels. Fuel economy figures for the manual and automatic are nearly identical at 27 miles per gallon city/34 mpg highway with the manual and 26 mpg city/34 mpg hwy with the automatic.
On the road, the Corolla feels rather vague, with a numb steering feel from its electric assist power steering setup and a very soft ride. As a commuter car the Corolla does just fine, but those looking for a sportier drive probably won't find much to like here. The exception to this statement can be found in the XRS trim, which comes with a more robust 158 hp 2.4-liter engine, a sportier suspension, front sport strut tower brace and an available 5-speed automatic with manual shift control. Fuel economy for this model is a slightly lower but still respectable 22 mpg city/30 mpg hwy.
Recalls, Safety Ratings and Warranties
The National Highway Traffic Safety Administration (NHTSA) has issued the following recalls for the 2009-2013 Toyota Corolla.
2009: A recall was issued for a possible defect in the power window master switch assembly that could lead to overheating and possible fire.
2009-10: Recalls were issued for the following: a possible problem with increased braking distance due to extremely cold temperatures interfering with the brake vacuum strength; for improper load carrying capacity labels; and for a defective accelerator pedal assembly that may cause the pedal to become slow to return from the depressed position or possibly become stuck, leading to unintended acceleration.
2010-2013: Recalls were issued for aftermarket dealer installed items. Some cars that had leather seat covers, heated seats or DVD systems installed did not undergo proper testing of the passenger seat occupant sensing system for the airbags.
Recall repairs are required by law even if the vehicle is out of warranty. Your dealer can check to see if the repairs were performed and if not, will fix the car at no charge to you.
We should note that the 2009 and 2010 Toyota Corolla is included in the recall related to uncontrolled acceleration in Toyota vehicles. While there was much media coverage and Toyota recalled nearly 8 million cars, an exhaustive study by both NASA engineers and the NHTSA could find no flaws with the electronics in Toyota vehicles.
As for safety, the Corolla scored well in both the government and the independent Insurance Institute for Highway Safety (IIHS) tests. The NHTSA gives the 2009-2010 Corolla four out of five stars for the driver and passenger in the front end crash test and five stars for the driver and passenger in the side impact crash test. In 2011, the government revamped its crash tests to meet a higher standard, but the 2011-2013 Corolla maintains it excellent scores, earning a four out of five stars overall rating. The IIHS also gives the Corolla its highest marks in the offset front crash test, side impact test and roof strength test and named the 2013 Corolla a Top Safety Pick.
The 2009-2013 Toyota Corolla has a 3-year/36,000 mile basic warranty and a 5-year/60,000 mile powertrain warranty. Extended warranties purchased when the car was new are transferable, so be sure to inquire if the vehicle you are buying has an extended plan. Toyota also offers a line of Certified Pre-Owned (CPO) vehicles through its dealerships. If you purchase a Certified Pre-Owned Corolla, the warranty coverage for the powertrain is extended to 7-years/100,000 miles from the vehicle's original in service date. CPO cars also come with a 12-month/12,000 mile comprehensive warranty, one year of roadside assistance and a free CARFAX report. Best of all, Certified customers are eligible for standard new car financing rates. Vehicles that qualify for the CPO program cannot be older than six years or have more than 85,000 miles on the odometer. To learn more about the Toyota CPO program, visit their website at www.toyotacertified.com.
Word on the Web
A quick look at the Consumer Reports reliability and repair history for the 2009-2013 Toyota Corolla exposes a sea of red -- which in this case is good, because CR uses red circles to indicate better than average marks. However, reading through the discussion boards on sites like Toyotanation.com and Corollaland.com finds some complaints about the overall feel of the car in comparison to previous generation Corollas. We found some complaints about chipping paint and small rust spots, but nothing we could attribute to a wide spread problem. There was also a long thread regarding squeaking or a rattling noise upon start up, but Toyota issued a TSB (service bulletin) with a resolution to the problem. Overall we found most owners were very happy with their car's mileage, longevity and comfort.
Competitive Set
Ford Focus: The 2009-11 Focus is pretty dowdy, but it costs less than the Corolla. Plus, it offers the benefit of a 5-door and 2-door model. The 2012 and newer Focus is sharper, quieter, roomier, faster and better equipped than the Corollas, but it's also much more expensive.
Hyundai Elantra: The 2009-10 Elantra is not up to the Corolla's quality and reliability standards, but it is far less expensive and better equipped, with a longer transferable warranty. The newer 2011 model is stylish and better equipped than the Corolla, with more power, better fuel economy and a bigger backseat, plus equally impressive repair and resale figures.
Honda Civic: The Civic is the Corolla's longtime rival and mirrors it on just about every point that matters. The Civic is a better driver's car and there is a hybrid model as well as a CNG car.
Mazda3: The Mazda3 may not be as roomy inside as the Corolla, but it is by leaps and bounds a far more enjoyable car to have on long drives. Available as a sedan and a hatchback, the Mazda3 won't hit the same Environmental Protection Agency (EPA) mileage or resale values as the Corolla, but it won't bore you death, either.
Autotrader Recommendations
We think most people looking at a Corolla will be very happy with a nicely equipped LE model. Go for the ones which were produced after 2011 if you can afford it. They are better equipped and include important safety features like stability control and brake override. If you're lucky enough to come across an XRS, snap it up. The mileage won't be as good as the LE or XLE, but the driving experience is far superior.