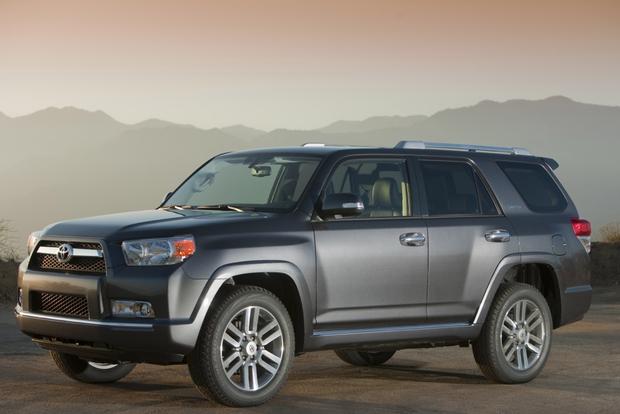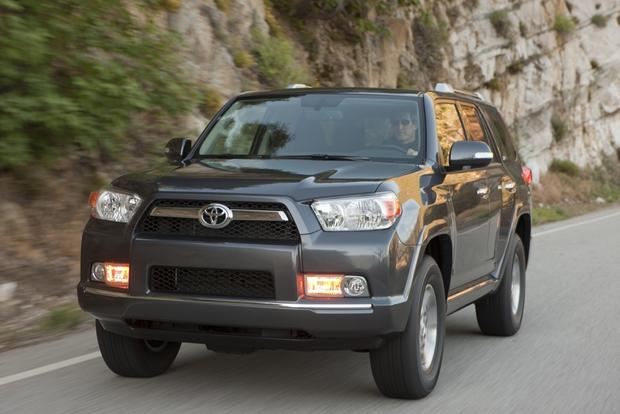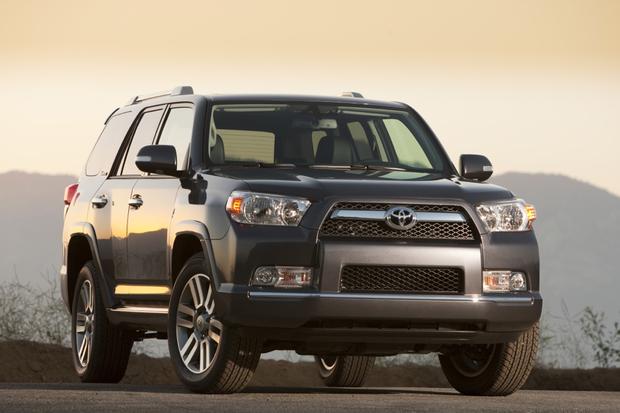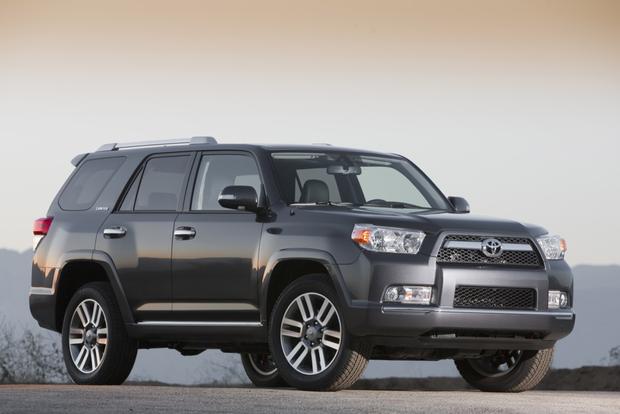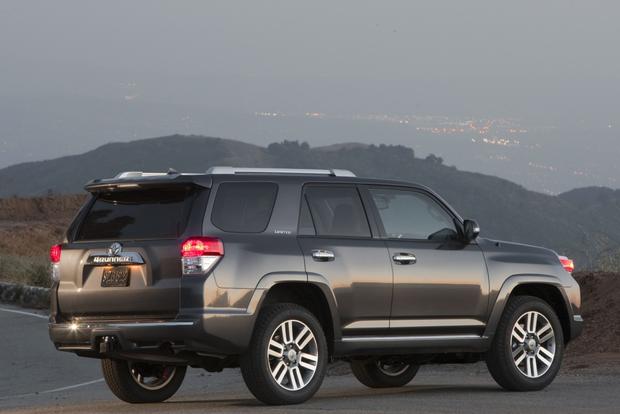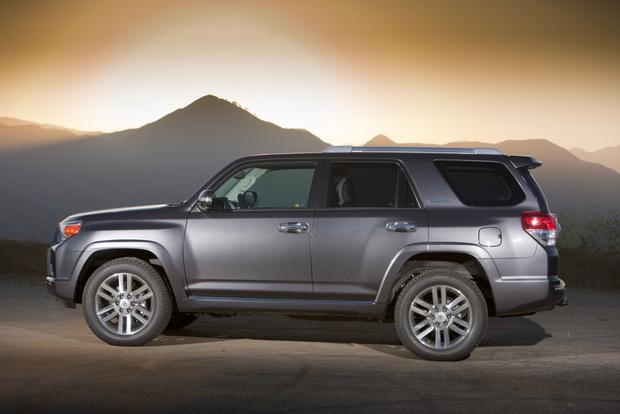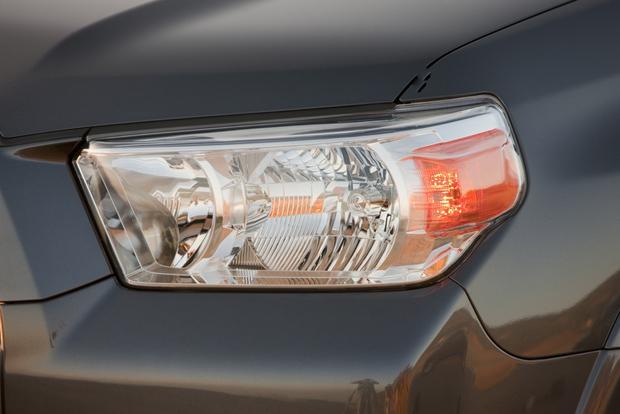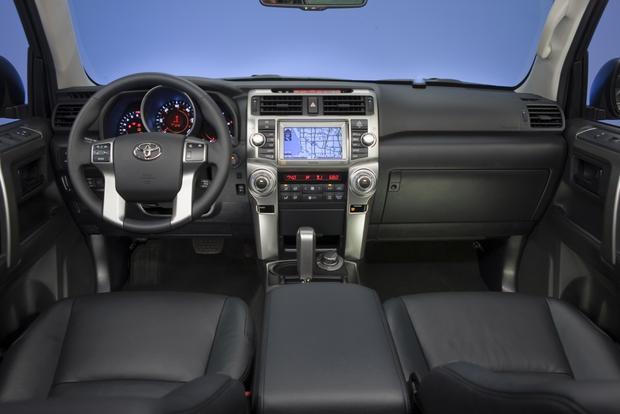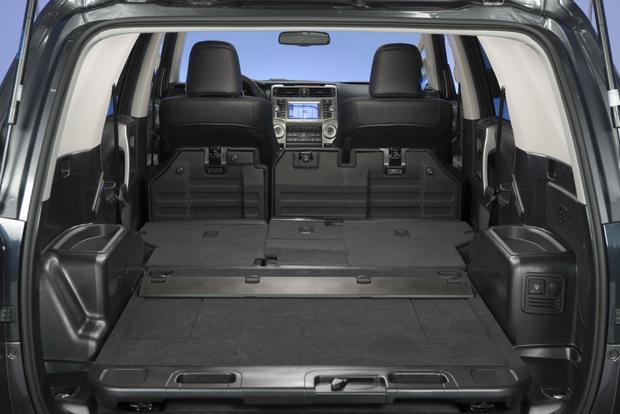 The 2010-2013 Toyota 4Runner isn't as small, light or affordable as its predecessors. In fact, it doesn't even share their body-on-frame architecture. Instead, the newest 4Runner springs from the same unit body platform that spawned the FJ Cruiser. As such, the latest 4Runner is wider, longer and taller than earlier versions, but it is no less capable of off-road adventures. New for 2010 is a 4-cylinder engine option. But with only 157 horsepower and offered only on the base 2-wheel-drive model, we really don't recommend this choice. The 4-cylinder is woefully underpowered and doesn't get better fuel economy than the V6. As with the previous generation, a third-row seat carries over as an option; however, the space it offers pales in comparison with car-based crossovers such as the GMC Acadia and Honda Pilot.
Why You Want It
Let's start with why you don't want the 4Runner: If you are looking for a modern crossover SUV with a spacious rear seat, big cargo hold and car-like road manners, the 4Runner is not the vehicle for you. If you don't need to tow heavy loads up to 5,000 pounds or tackle Rubicon-like off-road terrain, you don't need a 4Runner. And if you're looking for a nimble, fun-to-drive and fuel-efficient SUV, the 4Runner won't cut it, either. But if you're looking for a rugged SUV that is safe enough to transport the family to daily appointments and can get down and dirty when familiar asphalt turns to rarely traveled trail, the 2010-13 Toyota 4Runner is exactly what you need.
Off-road enthusiasts will love the available Kinetic Dynamic Suspension System (KDSS), which allows the front and rear stabilizer bars to be electronically disconnected at speeds below 40 mph -- giving the 4Runner greater wheel travel over obstinate terrain. The 4Runner also holds its value and has a better long-term repair and reliability record than most of it competitors, including the Dodge Durango, Ford Explorer and Chevrolet Trailblazer.
Notable Features & Options
The 4Runner comes in three trims: SR5, Trail Edition and Limited. SR5 standard equipment should fill the needs of most buyers looking for just the basics. It includes power windows, locks and mirrors, a 4.0-liter V6 (2011 and up) with 5-speed automatic transmission, Hill Start Assist Control (HAC), AM/FM CD stereo, air conditioning, power up/down rear tailgate window, cruise control, 17-inch alloy wheels, tilt/telescopic steering wheel, fog lights and cloth seats.
Four-wheel-drive (4WD) models gain heated side mirrors, chrome roof rails and color matching rocker panels and fender surrounds. The Trail Edition brings standard 4WD with Multi-Terrain Select, Crawl Control, a hood scoop, electronic locking rear differential, off-road tires, water resistant seat fabric, power front seats, a power moonroof, a rear backup camera, Bluetooth, steering wheel audio controls, Optitron gauge cluster and a sliding rear cargo deck. The Limited brings 20-in wheels, electronic suspension dampening, leather seating, push-button start and keyless entry, dual-zone automatic climate control, heated front seats, driver power lumbar support and a premium stereo. Standard safety features on all models include anti-lock brakes (ABS), electronic traction and stability controls, front seat side impact airbags, front knee airbags and full-length side curtain airbags with roll sensors.
Options for the 4Runner vary by trim and include a third-row seat, voice activated navigation, satellite radio, JBL audio, a power moonroof (SR5) and the Kinetic Dynamic Suspension System (Trail trim only).
Model Milestones
2011 - The underpowered 4-cylinder engine is dropped from the lineup.
2012 - A new audio system is added with standard iPod USB port, satellite radio and Bluetooth connectivity. Toyota's Entune infotainment system is offered for the first time and includes apps such as Bing and Pandora.
2013 - The outdated manual lever that engages the transfer case is changed to a simple electronic switch.
Engines and Performance
The 2010 2WD SR5 comes standard with a 2.7-liter 4-cylinder engine good for a mere 157 hp. It is mated to a rather ancient 4-speed automatic. Fuel economy is nearly identical to the V6, rated at 18 mpg city and 23 mpg highway. This engine was dropped in 2011, after which the sole engine choice was a 4.0-liter V6 rated at 270 hp and 278 lb-ft of torque. Environmental Protection Agency (EPA) fuel economy ratings for the 2WD 4Runner are 17/23 mpg, while the 4WD earns a slightly lower 17/22 mpg.
On the road, the 4Runner performs well, with strong acceleration and passing power from its V6 engine. The cabin remains fairly quiet, though the bigger tires on the Trail trim do make noticeable noise. The 4Runner's handling is not what you might expect from a vehicle with such a tall center of gravity, taking turns with confidence and limited lean and roll. Off-roading was every bit what we expected from this model -- which is to say, awesome. The 4Runner bounds over boulders and dirt ditches like a fifth grader traversing a hopscotch grid. The KDSS allows for a smooth transition over paths that would have other SUVs tossing their occupants around like socks in a dryer.
Recalls, Safety Ratings and Warranties
The National Highway Traffic Safety Administration (NHTSA) has issued the following recalls for the 2010-2013 Toyota 4Runner:
2010-2012 - A recall was issued pertaining to vehicles that have dealer-installed accessories, such as leather seat covers or seat heaters failing to meet federal compliance for recalibration of the seat-mounted airbags sensor. Recalls also were issued for some models sold in the Southeast and Gulf states without the proper load capacity labels for the rims and tires.
Recall repairs are required by law, even if the vehicle is out of warranty. Your dealer can check to see if the repairs were performed. If not, your dealer will fix the car at no charge to you.
We should note that the 2010-13 4Runner was not included in the recall related to uncontrolled acceleration in Toyota vehicles.
As for safety, the 4Runner earns good marks from the government, scoring four out of five stars for the driver and passengers in the front-end crash test and five stars in the side-impact crash test. However, the 4Runner earns only three stars in the rollover roof strength test. The independent Insurance Institute for Highway Safety (IIHS) gives the 4Runner its best score of Good in the off-set front-end crash test, the side-impact crash test and the roof strength test.
The 4Runner has a 3-year/36,000-mile basic warranty and a 5-year/60,000-mile powertrain warranty. Extended warranties purchased when the car was new are transferable, so be sure to inquire if the vehicle you are buying has an extended plan. Toyota also offers a line of Certified Pre-Owned vehicles through its dealerships. If you purchase a Certified Pre-Owned 4Runner, the warranty coverage for the powertrain is extended to 7 years/100,000 miles from the vehicle's original in-service date. CPO cars also come with a 12-month/12,000-mile comprehensive warranty, one year of roadside assistance and a free CARFAX report. Best of all, CPO customers are eligible for standard new car financing rates. Vehicles that qualify for the CPO program cannot be more than six years old or have more than 85,000 miles on the odometer. To learn more about the Toyota CPO program, visit their website at www.toyotacertified.com.
Word on the Web
From the highly rated ConsumerReports.com comes nothing but glowing praise for the 4Runner. We hear the same from enthusiast consumer sites such as Toyotanation.com and Toyota-4Runner.org. These sites are filled with ideas for improving off-road performance as well as audio and exterior upgrades. They also are good for pointing out common problems and their fixes. We found a few one-off complaints about exhaust fumes entering through the rear window when lowered (the owner solved this issue by having an extension added to the tail pipe), poor fuel economy around town and problematic Entune interfacing with smartphones, as well as grumbles about the cramped third-row seat.
Competitive Set
Dodge Durango: The Durango can't match the 4Runner's record for reliability and resale, but it does offer a larger third-row seat and an available V8 engine that brings a 7,200-pound tow rating (2,200 more than the 4Runnner).
Jeep Grand Cherokee: Jeep's Grand Cherokee can follow the 4Runner anywhere off-road, but it can't take more than five passengers and won't hold its value as well over time.
Nissan Pathfinder: The Pathfinder can't match the 4Runner's off-road abilities. Its interior, while more luxurious, feels cramped. On the other hand, the Pathfinder has equally good repair and resale figures and the option of a V8 engine.
Autotrader Recommendations
If you simply need a good, year-round vehicle that you occasionally take on light-to-moderate off-road trails, the SR5 with 4WD is the perfect choice. It has plenty of creature comforts, is the least expensive model and can be easily upgraded with audio, interior and off-road equipment. If, however, you are a serious off-road enthusiast, the Trail Edition with the KDSS system is your 4Runner of choice. Avoid the 2010 4-cylinder model.