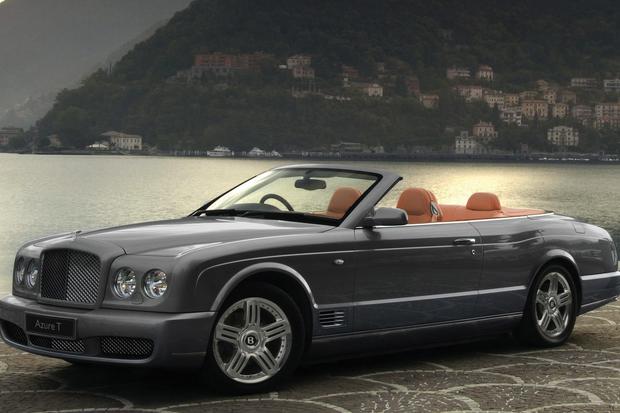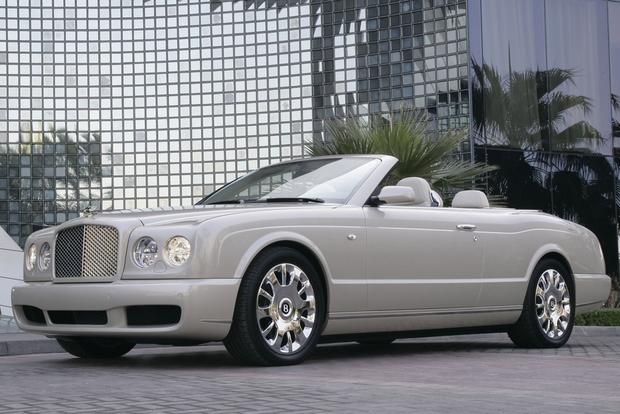 Pros: Tremendous power, smooth automatic transmission; Among the most relaxed, luxurious convertibles; Turns heads at every traffic light
Cons: Very expensive, considering the Continental GTC; Massive depreciation, even for a high-dollar car; Fuel economy is abysmal - not that you'd mind
What's new: The 2010 Bentley Azure was largely unchanged for 2010 following its 2007 debut. The large two-door convertible was dropped after the 2010 model year.
Overview:
The Azure debuted in 2007 as a convertible version of the Bentley Arnage sedan. A coupe bodystyle, dubbed the Brooklands, followed in 2009. The Arnage was dropped in 2009, while the Brooklands and Azure continued through 2010.
Bentley offered two versions of the Azure. All 2007 through 2009 models were called simply the Azure and used a 450-horsepower 6.75-liter V8. In 2010, it became the Azure T. Its 6.75-liter V8 added a twin turbocharger for a total of 500 hp and a massive 738 lb-ft of torque. The rear-drive convertible delivered power to the ground through a smooth six-speed automatic. It reached 60 mph in around 6.5 seconds.
Pricing for the 2010 Bentley Azure T started at a tremendous $363,000. That made it $160,000 more expensive than the smaller Continental GTC. While the GTC didn't offer the Azure's commanding road presence, it did boast even more horsepower thanks to a turbocharged W12 engine.