Car News
2010 GMC Terrain - New Car Review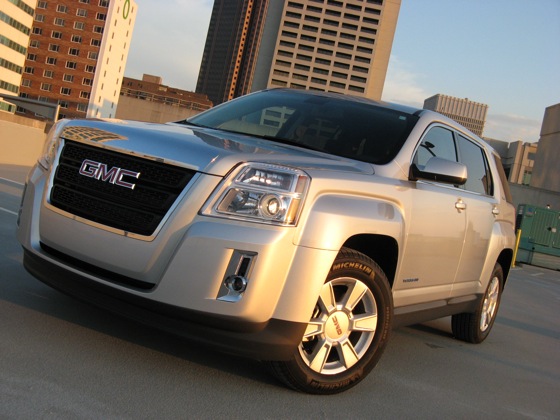 GMC Truck Negotiates New Territory
With General Motors down to four brands, those still standing must cover more of the automotive landscape. And so, for the first time, GMC has two crossover utility vehicles: the big three-row Acadia and a tidier younger brother, the Terrain. Based on the same platform and engines as the Chevrolet Equinox, but with crisp folds and edges instead of the Equinox's curves, the Terrain aims to compete with the likes of the Ford Edge, Hyundai Santa Fe, Mazda CX-7, Nissan Murano and Toyota Highlander.
During GM's reinvention, the lackluster previous-generation Chevrolet Equinox was put out to pasture. The new one has been praised for its design, ride, handling and overall quality. To create the Terrain, GMC put unique sheetmetal and style on these solid bones. In terms of external parts, the Terrain shares only its windshield, door handles and a few other minor things with the Equinox. So far, most people find GMC's styling approach the more extreme of the two.
Like its competition, the Terrain's interior is full of clever features and thoughtful design. It seats five in comfort. The rear seat slides forward or aft, depending on whether cargo or legroom is more important. A reversing camera (with a monitor screen integrated into the rear-view mirror) is standard, as is USB connectivity for the stereo.
Direct injection, four cylinders and variable valve timing give the base Terrain some sprightly performance and 32 mpg on the highway – impressive for the category, being a 3,800-pound-plus vehicle. A V6 is available, though it loses 7 mpg on the highway and isn't a lot quicker than the four-cylinder version.
Cabin class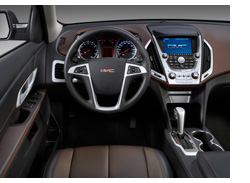 If this interior is the new GM, keep it coming. The Terrain presents a fresh, cockpit-like environment with attention to detail. On top of that, it adds a bold, contrasting color theme that starts on the dash and spreads to the center console, seats and door panels, giving the look of a far more expensive vehicle.
Theater-style rear seats provide great comfort (just like those in front), ride nice and tall, and offer generous legroom when positioned fully aft. Side curtain airbags cover both front and rear passenger zones. The Terrain earns top marks for occupant protection in crash testing from both the Insurance Institute for Highway Safety (IIHS) and the National Highway Traffic Safety Administration (NHTSA).
Surface tension
GMC's design language speaks boldly through squares, rectangles and straight lines. Some may find its oversized grille and squared-off wheel openings a bit heavy-handed. It can come across as a mid-size CUV with something of a Napoleon complex. In contrast with the bold nose and rectilinear flanks, the plain rear end looks like the tail from a neighbor's minivan.
That's the general view. Zoom in and there are many exterior details to appreciate. For example, the headlamp units, with piercing projector beams, form an appealing shape. The smallest wheels are handsome 17-inch alloys; available 18- and 19-inch rims pull the Terrain's styling bravado into a more cohesive statement.
Four cylinders good, six cylinders just ok
The base engine is a great performer. By pairing the power and efficiency benefits of direct fuel injection, an automatic transmission with six gears, variable valve timing and a power steering pump that doesn't run off the engine, GMC has wrung a very usable 182 horsepower from this 2.4-liter four-cylinder. Around town, the combination feels enthusiastic. No one will be overwhelmed by its passing power on the highway, but it spins sweetly to its 6,700-rpm horsepower peak. And the transmission is so adept at getting it there that the lack of big-time grunt isn't really missed.Frisky and light on its feet, the Terrain feels nothing like its truck siblings at GMC.
The optional 3.0-liter V6 also features direct injection, but is only marginally quicker than the four and much thirstier. The V6's biggest advantage is in towing. It can pull up to 3,500 pounds against the four's 1,500-pound maximum. Also, while the V6's traditional power steering pump diminishes fuel efficiency, it does make for a sportier steering feel.
Frisky and light on its feet, the Terrain feels nothing like its truck siblings at GMC. It exhibits very little lean in corners, responds well to being hustled and doesn't lose composure over lumpy roads. All-wheel drive is available with both engines, though the Terrain's standard front-wheel drive and traction control should provide all the grip most owners need.
The navigation system and power tailgate are two more options that work well, but add weight and cost. If turn-by-turn navigation is a necessity, standard OnStar circuitry can be activated for a modest monthly fee. Bluetooth is definitely an option to spring for – it's well integrated into an intuitive audio system that features three months' free XM satellite radio.
Mid price, maximum value
Positioned slightly upscale from its platform-mate (the $22,615 Chevy Equinox), the Terrain starts at $24,250. For the extra cash, the GMC provides useful items like the aforementioned USB port and rear vision camera, fog lamps, floor mats, and more aggressive, "big-ute" styling.
Peer pressure
Among its competitors, the Terrain shines in all-around quality, matching the best in class for cabin isolation, ride, interior materials and powertrain refinement. Handling is agile, if not quite as athletic as the CX-7. The Terrain's optional V6 is down on power compared with those in the equivalent Highlander, CX-7, Edge and Murano.
Cargo room and passenger comfort are strong points for the Terrain. It offers 31.6 cubic feet with the rear seats up and 63.9 when folded. Total cargo capacity is ahead of the CX-7 (58.6), on par with the Murano (64) and behind both the Edge (69) and the gargantuan Highlander (95.4).
If economy is more important than acceleration, the four-cylinder Terrain is a wise buy. Only the CX-7 is cheaper, at $21,700, but is smaller and has fewer features in base form. The Highlander, Edge and Murano all cost and drink more (including the four-cylinder Highlander), though the base V6 engines in the Edge and Murano are satisfyingly quick.
The Terrain gives GMC a strong competitor in the ever-popular mid-size crossover category, a smart move as Americans turn toward lighter, more efficient car-based utility vehicles and away from the truck-based Suburbans and Yukons that have been this company's mainstays. With its macho big-truck styling, the Terrain polarizes opinion, possibly turning away those who prefer more subtlety while likely attracting those who want a smaller crossover without a downsized look.
In base form, the Terrain impresses with its refinement, safety, fuel efficiency, slick interior, driving manners and thoughtful features. Unless towing or icy conditions are part of the equation, a loaded, all-wheel-drive V6 Terrain makes less sense, gaining only small advantages in driving ability while consuming considerably more fuel.
Although reliability remains to be seen for this new GM platform, the GMC Terrain merits a strong look for anyone shopping mid-size crossovers.