Car Video
2010 GMC Terrain: New Car Review - Video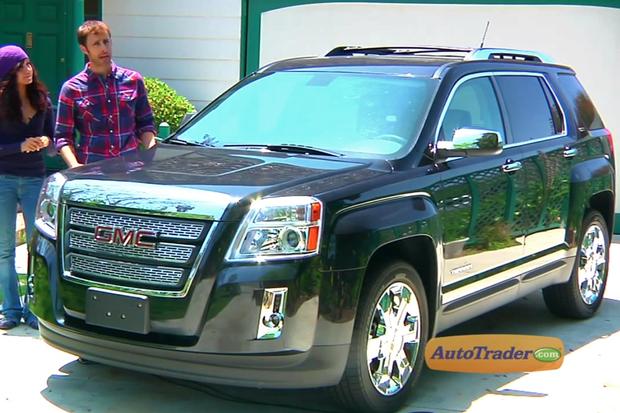 Patrick McIntyre: Offering big-truck styling in a nimble mid-size crossover is a feat that GMC boldly sets out to accomplish with the five-passenger 2010 Terrain SUV.
Amanda Salas: A crossover with small curbside appeal without the downsized look.
Patrick: Now underneath this hard-edged exterior, the Terrain shares the same platform and engines as the much curvier Chevrolet Equinox.
Amanda: At first glance, this car may look macho, like it's trying too hard. And yet the 17-inch wheels don't really do any justice to that rough-and-ready look like the 18- or 19-inch wheels would. But then there's the interior.
Patrick: The Terrain is hard on the outside but soft on the inside. There's plenty of room built into this dual-cockpit interior. Good, comfortable seats and a nice layout.
Amanda: No question. And these black and silver accents give it the look of a much more expensive vehicle.
Patrick: Comfort isn't confined to the front seats, either. Back passengers have similar cockpit-style seating plus there's eight inches of seat travel for extra room.
Amanda: That's the best legroom I've seen in the mid-size SUV category. Plus, cargo space, let's talk about that. The 60/40 split seats definitely come in handy, and optional power tailgate as well.
Patrick: Now behind the wheel, there's a lot to please the driver as well. The LCD display system for your backup camera is placed right where it should be. And that's a great piece of standard equipment. And there's steering-wheel-mounted controls for the driver as well, volume controls, Bluetooth for voice dialing, and the sound system handles the calls very well.
Amanda: It's easy to connect an iPod, too. Right here. And with all this storage space, you can hide your laptop.
Patrick: GMC has put a great performer under the hood with a 182-horsepower 2.4-liter 4-cylinder. It does all the work that it needs to do with plenty of pep considering its size. Now that's paired with a six-speed automatic and front-wheel drive on the Terrain's standard configuration.
Amanda: There's also a 264-horsepower 3.0-liter V6 available and an all-wheel drive. Its EPA mileage rating for the 2.4-liter engine is 22 in the city and 32 on the highway. That's really impressive with most any SUV, but if you get the all-wheel drive your ratings drop to 20 in the city and 29 on the highway, which, you know, Patrick, is still not bad.
Patrick: When you're checking out the competition, you'll definitely want to take a look at the Ford Edge, the Hyundai Santa Fe and the Mazda CX-7. Now when you're checking them out, look for ride quality, cabin sound isolation and interior materials for starters.
The Terrain has the macho good looks of its GMC truck siblings and is a welcome mid-size crossover that, while not a standout, is certainly worthy of consideration.
Amanda: Thanks for watching this New Car Review of the 2010 GMC Terrain right here on AutoTrader - The Ultimate Automotive Marketplace.