Car News
2010 Kia Forte - New Car Review
A Handsome, Sporty Ride with Excellent Values
Once perceived as the bargain-basement stepsister of Hyundai (a brand with its own image problems to overcome), Kia has risen quickly to embody high-content, high-quality cars with some of the lowest prices in their various segments.
An industry-leading 10-year/100,000-mile powertrain warranty and vastly improved quality laid the foundation for Kia's recent growth. Still, many of its cars were fairly bland conveyances. Enter the mid-sized Forte and Forte Koup.
Suddenly, Kia's got soul. The Forte's sharp exterior and sporty interior match the driving experience: clean, crisp, refined and eager. Kia can now stand up against the likes of the Honda Civic, Toyota Corolla, Volkswagen Golf and Scion tC, undercutting them in price while still delivering the goods.
All Fortes have amenities that are rare in the economy segment: Sirius satellite radio (with three months' free service), Bluetooth connectivity with steering wheel-mounted controls, a USB connection and an auxiliary port for MP3 players, traction control, stability control… the list goes on.
The Forte earns five out of five stars in the government's frontal driver, frontal passenger and side driver crash test ratings, and four stars for side rear passenger impacts and vehicle rollover resistance. The Insurance Institute for Highway Safety (IIHS) rates it a "Top Safety Pick."
Loaded, lush and livable inside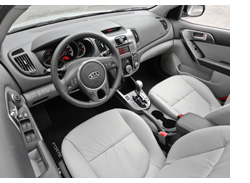 Kia sweated the Forte's interior. Forward visibility is excellent, ergonomics are solid and nothing looks cheap – although a few plastic trim pieces could be a touch softer. The analog gauges are clear and pleasing to the eye.
Headroom, legroom and seat comfort are mostly exemplary and good for a small or occasional middle rear seat rider (with restricted headroom in the Koup due to its rakish styling). The sedan employs a roomy (14.7 cubic feet) trunk.
Props go to Kia for making a USB/iPod/MP3 player hookup standard issue. The easy-to-decipher stereo interface makes scrolling through playlists, artists and albums as easy as operating an iPod.
A Korean with German styling
Appealing angles, beveled edges, low hood and a high tail. Designer Peter Schreyer (lured away from Audi in 2006) has made his mark with the Forte, breathing new life into the brand. Kia's first styling efforts were pretty much shapeless (anyone remember the Sephia?), and in the Forte, the design language has progressed to handsome.
This is an elegant, attention-getting vehicle. Pleasing details abound, such as the dip in the body's character line at the top edge of the front doors. Surprising touches for the segment include heated side-view mirrors with turn signal indicators (EX and SX trims) and 17-inch wheels (standard on the SX model) that fill the wheel wells with swagger.
A smooth mover with a rough edge or two
The Forte strikes a good balance between taut handling and a comfortable ride. This is revolutionary for Kia, whose past offerings imparted a rather vague sense of the road. By contrast, the Forte is clearly skewed toward sporty, showing little lean through the corners. The steering, although direct, can occasionally feel a bit hyper in its responses, while the 17-inch wheels and low-profile tires (of the SX model) compromise ride quality somewhat.The Forte strikes a good balance between taut handling and a comfortable ride.
The 156-horsepower, 2.0-liter four-cylinder engine featured on base (LX) and mid-level (EX) models is smooth and willing throughout most of its operating range, if a bit gruff near redline. The 2.4-liter four, at 173 hp, is standard in the SX. It puts the Forte at the top of its class for acceleration and is also the more refined of the two.
The only powertrain let-down is the optional four-speed automatic in the LX and EX. After setting off enthusiastically, it shifts too soon and makes the 2.0-liter feel lethargic. To avoid this, opt for the EX with the Fuel Economy Package. This retains the 2.0-liter four, but has the more responsive five-speed automatic of the SX, yielding better acceleration and returning the best fuel economy of the range (27 mpg, city/36 mpg, highway). We think this configuration represents the smartest Forte buy.
Confidence is a big part of the repertoire. Hefty disc brakes at all four corners provide strong stopping power (anti-lock is standard), standard traction control and stability control keep the car pointed straight in extreme conditions, and there's even a brake assist system that clamps the discs with extra force in a panic stop.
Compelling and comprehensive
Starting at $13,695, the Forte offers a staggering amount of standard equipment for a sweet price (nearly $2,000 less than a Honda Civic or Toyota Corolla, about $4,000 less than a Volkswagen Jetta/Golf). The Forte's 10-year/100,000-mile powertrain warranty beats its competitors easily. A full complement of standard safety features matches them. Items that are part of the Forte's stock complement – like Bluetooth and USB audio interface – are either stand-alone options or bundled inside pricey option packages on the others. When comparably equipped, the competitors' price disadvantage widens.
Comparable and competitive
The compact class has some great cars. The Mazda3 does almost everything right. Either as a sedan ($15,345) or five-door hatch ($19,685), and with two different four-cylinder engines, Mazda mixes sport, clever and comfort. It also keeps its value well.
If smoothness is a priority, the Toyota Corolla delivers in spades. Materials, refinement, ergonomics and comfort make the Corolla feel like a mini-Lexus. But its high quality is at the expense of personality. The sporty XRS trim helps.
The Honda Civic has precision engines and a great ride/handling balance. There isn't much standard equipment, though, and prices skyrocket as option packages are added.
Volkswagen's Golf comes standard with a quick, quirky five-cylinder that loses ground to the base Forte in efficiency. And the $17,620 starting point is high for its minimal entry-level model. But the VW is about driving joy, and as such won't disappoint. Plus, smart hatchback styling means great space efficiency and easy cargo toting.
While the current Ford Focus is no real competition, its European-based replacement, due in 2011, promises much more. Imagine all the pizzazz displayed in the new Fiesta, but in a bigger package.
A favorite in its class, the Scion tC compares well to the Forte Koup SX: same size engine, taut handling, sporting intent. But the Koup pushes styling attitude and performance a few more notches.
The Kia Forte represents the re-invention of the brand. No longer simply a stand-out value, this Kia is svelte in appearance, a playful ally on curvy roads and a capacious sedan for longer trips. Base models offer so much standard equipment, it's hard to see how Kia turns a profit. With the Forte, Kia now offers a credible alternative to Japanese and German small cars. We look forward to seeing how it compares to upcoming domestic competitors like Chevrolet's Cruze and Ford's new Focus.