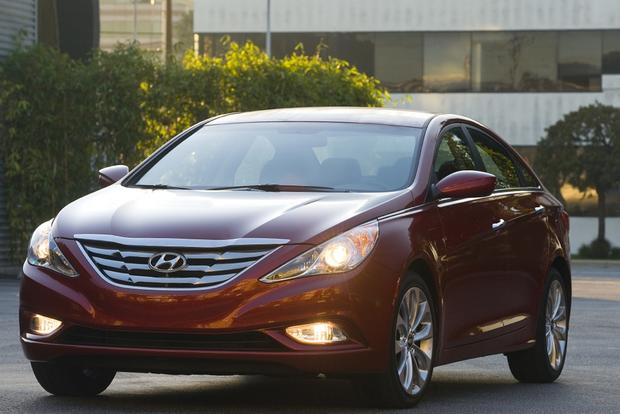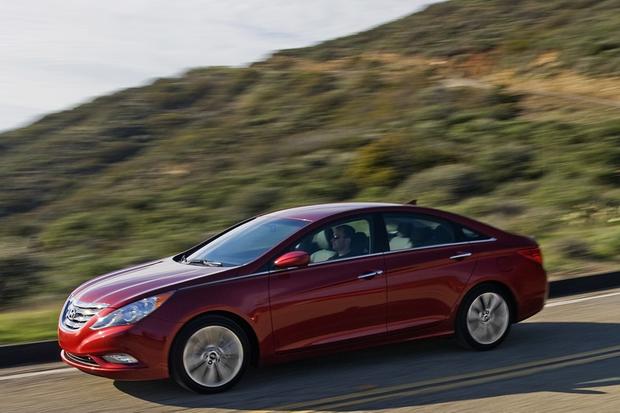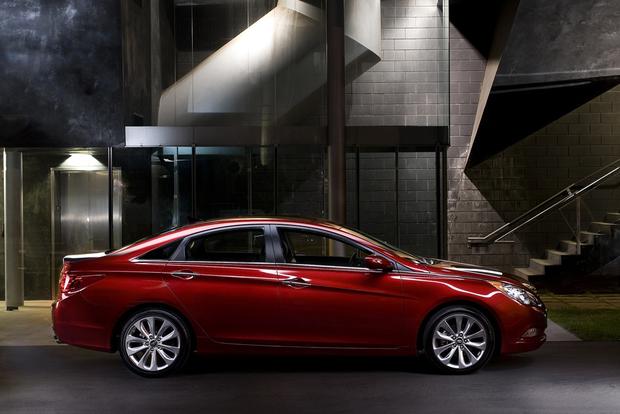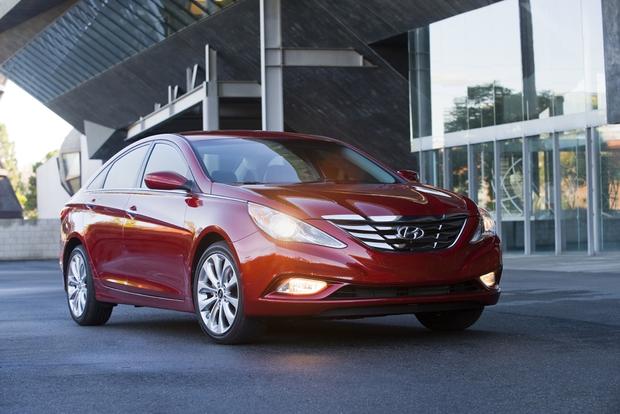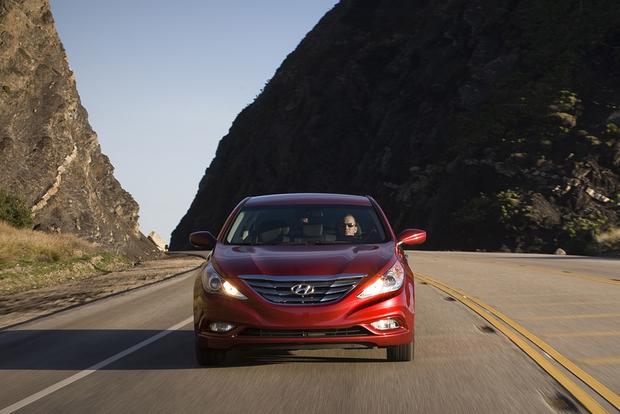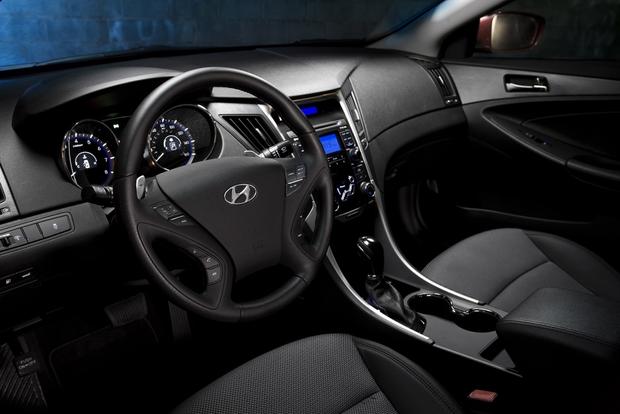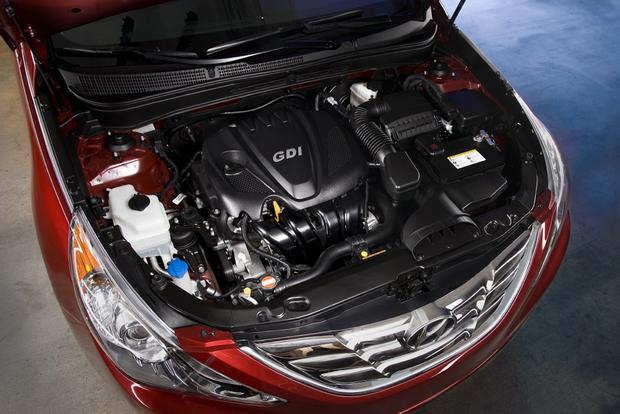 The 2011-2013 Hyundai Sonata is one of the hottest midsize family sedans around. Its styling is so sleek and attractive that it could easily wear a $60,000 price tag and a Mercedes-Benz badge. Introduced in 2011, the Sonata represents a giant leap forward for Hyundai, one that took almost every competitor by surprise and raised the bar on what $25,000 could buy. Offered with a choice of two powerful yet fuel-efficient 4-cylinder engines, as well as one hybrid drivetrain, the Sonata delivers a rare combination of performance, luxury and economy. With room for four adults, a massive trunk and enough electronic communication and audio features to make Bill Gates consider a hostile takeover bid, the Hyundai Sonata very well may be the family sedan anyone can fall in love with.
Why You Want It
When you look at the features offered on the Sonata, it doesn't appear to be in the same league as the Honda Accord or Ford Fusion; it's in a league of its own. While the base SE offers many of the same features found on other midsize sedans, it does so at an amazingly low price. Stepping up to the Limited trim sees features unheard of for a family sedan, including a heated rear seat and a dual-panel panoramic glass sunroof. The Sonata also features cutting-edge navigation and infotainment systems, including Hyundai's Blue Link technology that allows for voice texting, vehicle reports and the use of popular apps (2012 and later). From a practical standpoint, the Sonata offers impressive interior space for four adults (five in a pinch), ranks near the top of its class in horsepower, safety and fuel efficiency, and comes with an impressive 5-year/60,000-mile powertrain warranty. The Sonata drives well and wins rave reviews from owners and media alike, but there are some notable detractors. The Sonata does not handle as well as the Ford Fusion or VW Passat, for example, and the hollowed-out seats on models without lumbar support might not appeal to those who fatigue easily on long trips. Also, the hybrid model doesn't attain the lofty fuel economy figures claimed by Hyundai in real-world driving situations.
Notable Features and Options
The most basic Sonata features the following: a 6-speed manual transmission; power functions for the windows, locks and outside mirrors; air conditioning; Bluetooth; USB/iPod interface; rear defroster; tilt/telescopic steering wheel with controls for audio and cruise; remote keyless entry; and 16-inch steel wheels with full covers. Options for the base GLS include an automatic transmission, 8-way power driver's seat, touchscreen navigation with rear backup camera and an upgraded Dimensions audio system. The SE adds an upgraded suspension with larger anti-roll bars, 18-in alloy wheels, dual exhaust, proximity entry with push-button start, leather bolstered seats and an 8-way power driver's seat with lumbar support. Options for the SE include a 2.0-liter turbocharged engine, touchscreen navigation and backup camera, a power sunroof and the Dimensions audio upgrade. The top-of-the-line Limited gains full leather seating, heated front and rear seats, console mounted rear seat vents, 360-watt Dimensions sound system, automatic climate control, 17-in alloy wheels and HD radio. Options for the Limited trim include a 2.0-liter turbocharged engine, touchscreen navigation and backup camera and an Infinity amplifier, subwoofer and speakers. The Sonata Hybrid is outfitted very much like the SE and can be optioned to mirror most of the Limited's features by ordering the Hybrid Limited.
Standard safety equipment on all Sonatas includes electronic traction and stability control, 4-wheel anti-lock disc brakes, a tire pressure monitoring system and six airbags, including front side impact and side curtain airbags.
Model Milestones
2011 - The hybrid and turbocharged 2.0T powertrains debut late in the 2011 run.
2012 - The Limited gains a 3-piece panoramic glass sunroof, while Blue Link is made standard across the board. The navigation system now features HD radio.
2013 - The manual transmission is dropped from the line, while the Limited is given a traditional sunroof; the panoramic sunroof moves to the optional column. Heated front seats are added to all trims except the base GLS. Changes to the Sonata Hybrid's powertrain allow it to run longer and more often in pure electric mode, and its 30 kW electric motor is increased to 35 kW.
Engines and Performance
The standard engine in the Sonata is a 2.4-liter GDI (gasoline direct injection) 4-cylinder that is good for 190 horsepower and 186 lb-ft of torque. GDI technology uses high-pressure injectors to put the fuel directly into the combustion chamber, creating a more powerful and fuel-efficient engine. When mated to the 6-speed manual, the Sonata earns estimates from the Environmental Protection Agency (EPA) of 24 miles per gallon city and 35 mpg highway. With the 6-speed auto, it earns an identical rating of 24/35 mpg.
Optional on the SE and Limited is a 2.0-liter turbocharged 4-cylinder good for 274 hp and 269 lb-ft of torque. This engine is only available with the 6-speed automatic and earns an EPA-estimated 22 mpg city and 34 mpg highway.
The Sonata Hybrid combines the 2.4-liter gasoline engine with a 30 kW (35 kW in 2013) electric motor driven by a bank of lithium polymer batteries. The combined output translates to around 200 hp, but with the electric motor's pure torque, the Sonata Hybrid is a bit quicker off the line than its gasoline-powered mates. Fuel economy estimates vary by year and range from around 34-36 mpg city to 39-40 mpg highway. However, numerous outlets as well as consumer feedback place the Sonata Hybrid's mileage range closer to 27-30 city and 34-44 highway.
Recalls, Safety Ratings and Warranties
The National Highway Traffic Safety Administration (NHTSA) has issued the following recalls for the 2011-2013 Hyundai Sonata:
2011 - A recall was issued for a possible problem with the Sonata's steering assembly. The bolts connecting the wheel with the intermediate shaft's universal joint were improperly or insufficiently tightened and could result in a separation of the wheel from the steering linkage, resulting in a complete loss of steering control. A recall was also issued for a possible defective front door latch switch.
2011-12 - A recall was issued for a possible defective rear center seat belt assembly in the Sonata Hybrid.
2012-13 - A recall was issued for a possible defect during assembly that could result in the side curtain airbag deploying without cause.
Recall repairs are required by law even if the vehicle is out of warranty. Your dealer can check to see if the repairs were performed and, if not, will fix the car at no charge to you.
As for safety, the 2011-2013 Hyundai Sonata scores well in the government's newest crash tests, scoring five out of five stars overall, with four stars awarded in the front crash test and five stars for the side and roof strength test. The independent Insurance Institute for Highway Safety (IIHS) considers the 2013 Sonata a Top Safety Pick, giving its highest score of Good in the moderate overlap and side impact crash test, and Marginal in the small overlap crash test.
When new, the Sonata rolled off the showroom floor with a 10-year/100,000-mile powertrain warranty and a 5-year/60,000-mile bumper-to-bumper vehicle warranty. Unfortunately, the powertrain warranty is not transferable to the second owner and is reduced to a 5-year/60,000-mile warranty -- the same as the vehicle warranty. However, if you choose to purchase your Sonata through Hyundai's Certified Pre-Owned (CPO) program, you will receive the full 10-year/100,000-mile powertrain warranty starting from the date the car entered into service, plus the remainder of the 5-year/60,000-mile vehicle warranty. Buying a CPO vehicle makes a lot of sense, especially a late model low mileage car. The Hyundai CPO program includes a 150-point inspection in which any part or system that fails is repaired or replaced. It also comes with a 10-year/unlimited mileage roadside assistance plan, including first-day car rental reimbursement for covered repairs, a free CARFAX history report, 90 days of complimentary satellite radio and Hyundai Blue Link service for cars so equipped.
Word on the Web
Compared to where it was just five years prior to the 2011's debut, the Sonata is almost unrecognizable in terms of quality, reliability and resale. Consumer Reports gives the Sonata fairly good marks, though it did find more than acceptable levels of complaints regarding some electrical issues and audio problems. The Sonata Hybrid and Turbo models don't score as well, getting a rating that was much worse than average. Mind you, this score is for the number of complaints reported, not the overall reliability or dependability of the vehicle. From the consumer side, we found strong praise for the Sonata, with owners posting on sites such as Hyundai-forums.com and Sonataforums.com. There was an issue with 2011 and 2012 models experiencing a problem where the car pulled strongly to the right or left. The problem seems to have been resolved by a new set of front-end alignment specs and an adjustment to the front camber bolt.
Competitive Set
Honda Accord: The Accord holds its value much better than the Sonata, and it has a better overall repair and reliability rating. But the Accord is rather boring, both visually and from a driver's point of view. It also can't match the Sonata for features.
Ford Fusion: The Fusion holds about the same resale and reliability ratings as the Sonata, but it is not as roomy or well appointed. A plus for the Fusion is that its hybrid model is rated more favorably than the Sonata Hybrid. The Fusion also offers the option of a V6 engine and AWD.
Toyota Camry: The Camry may not be as exciting to look at or drive, but it is the gold standard for midsize family sedans. The Sonata offers more features and better audio and navigation systems, but the Camry holds its value better and is nearly trouble free in almost every category.
Auto Trader Recommendations
Although there are some problems with the 2011 and 2012 models, Hyundai seems to have identified and resolved most of the annoying ones. If we were shopping for a used Sonata, we'd push for an SE or Limited with the 2.4-liter engine. The turbo model is faster but also more problematic, and the hybrid just doesn't make sense as the 2.4-liter engine gets such great gas mileage. Try to find a CPO car that suits your needs. You'll pay a bit more but you'll get the extended warranty, which is well worth the additional cost.