Despite technology such as all-aluminum construction, all-wheel drive, and levels of performance and luxury matching rivals from Mercedes-Benz and BMW, the Audi A8 has never been able to catch the attention of enough large luxury sedan buyers in the United States to even qualify as a cult car.
That's about to change, given Audi's current push to beat out BMW as the world's best-selling luxury brand. Although it won't reach American showrooms until late November 2010 as a 2011 model, Audi has been touting the virtues of its newest A8 since the end of last year, when the car made its lavish international debut in Miami.
The spec sheet shows plenty of substance worthy of the advance billing. The all-aluminum Audi Space Frame (ASF) is as strong as steel. It weighs 40 percent less than a comparable steel unit, but is 25 percent more rigid than its predecessor. Overall weight – including standard-issue Quattro all-wheel drive – is less than a two-wheel-drive S-Class or 7 Series. Less mass contributes to fuel efficiency that puts the V8-powered A8 at the top of the segment, matching the mileage ratings of the Mercedes S400 Hybrid, the 7 Series hybrid and six-cylinder models.
Audi's latest version of its patented MMI navigation and infotainment system includes an industry-first touchpad with handwriting recognition. A long list of available features includes driver assistance safety systems as well as a "business class" rear seating option.
Get the massage
Clean and contemporary, the interior invites with soft curves, plush leather seats and trim with a luxurious but understated blend of wood and aluminum accents. LED ambient lighting enhances the mood.
Eighteen-way power seats are standard, but must-have options are the 22-way power seats with a pneumatic multi-contour feature that coddles and manipulates the body into a perfect seating position. Even better is the six-way massage function that can stretch, rub, tingle or firmly but soothingly pummel the lower back.
Rear passengers enjoy ample room. The A8 L adds about four more inches of legroom and an executive seating option that includes recliners with footrests.
Controls are well placed and the MMI navigation/infotainment system is intuitive to operate with commands via voice, rotary dial or the incredible handwriting recognition touchpad. A crisp, eight-inch LCD screen rises from the dash to display a wealth of information. The A8 is a WLAN hotspot providing wireless internet access for laptops and smart phones.
Among the many safety features are 10 airbags and pre-sense collision protection. Optional night vision can detect and differentiate pedestrians from other objects ahead, including animals.
Handsome does as handsome is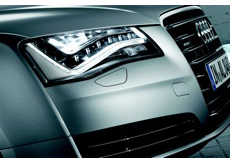 The A8 can truly be said to lead the way in lighting technology with its full (76 bulbs) LED headlamps including high and low beams, daytime running lights, cornering lights and turn signals. Besides providing daylight-quality lighting under all conditions, the array provides a menacing "bird of prey" gaze to the distinctively bold Audi family face.
However, it is the elegant sculpted sides with muscular shoulder lines and flowing roof that sets the A8 apart from other luxury sedans, either moving or standing still. Subtly squared-off corners with little overhang impart a bold stance, enhanced by standard 19-inch 10-spoke wheels (20-inch wheels are optional). High-mounted wraparound LED taillights complete the jaunty but graceful look.
Smooth operator
Behind the thick, leather-wrapped steering wheel, the A8 delivers on the promise of its looks. The 4.2-liter V8 puts out 372 horsepower at a relatively high 6,800 rpm, but thanks to direct fuel injection and a two-stage variable intake manifold plus 328 pound-feet of torque coming on at 3,500 rpm, power delivery is smooth and never peaky. Credit the eight-speed automatic transmission for also contributing to this process. Audi claims acceleration from standstill to 62 mph in 5.7 seconds and the certainly car feels at least that quick. Sporty types can control shifts manually using the steering wheel-mounted paddles, but this is hardly necessary thanks to the drive select system that allows a choice of four modes (Dynamic, Comfort, Auto and Individual) to dial in suspension, steering, throttle and transmission settings to suit differing driving styles.
Beyond those four modes, the air suspension adapts automatically to road conditions and speed to eliminate body lean and assure a smooth ride. It can lower itself by an inch at high speed for better road holding and fuel efficiency.
Despite having all-wheel drive, the A8 always feels almost as light on its feet as a sports car, because the Quattro system is programmed with a 40/60 rearward torque bias – although the system assures maximum traction by adjusting (if necessary) over 100 times a second.
Braking is superb, thanks to internally ventilated four-wheel disc brakes that now employ aluminum to shave almost 11 pounds from the unsprung weight at each corner, enhancing handling and reducing brake fade.
Further state-of-the-art safety technologies comprise the pre-sense collision sensors. These invoke various precautions to protect occupants not only from potential frontal collisions, but also impact from the rear.
More contemporary than its contemporaries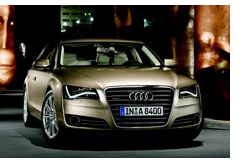 Parked next to the sleek new A8, the Mercedes-Benz S-Class seems bulky and busy. A base S550 starts at $91,600 and is only slightly quicker than the A8, but also thirstier and does not offer all-wheel drive even as an option.
In the parking lot beauty pageant, the BMW 7 Series seems awkward next to the A8. A 750i starts at $82,500 and offers more performance and comparable fuel consumption, but like the Benz, is rear-drive only.
The A8 also has more user-friendly controls than its two major competitors (neither of which offer wireless internet access or a touchpad with handwriting recognition) that are high-tech yet easy to master.
Base price is $78,050, or $84,000 for the longer-wheelbase A8 L. What concerns there are center on the Audi's long-term reliability and resale value, especially if dealers – not known for their service capabilities – must see to a larger volume of cars.
Everything from the ride and handling to the high-tech gadgetry works smoothly and contributes to a deeply pleasurable driving experience. Real-world mileage is good, averaging around 20 mpg, and the seat massage feature is pure nirvana. The only gripes are the funky shaped gear lever and Audi's insistence that, in manual mode, the transmission and not the driver is the better judge of whether to hold a lower gear.