Car News
2011 BMW 5 Series - New Car Review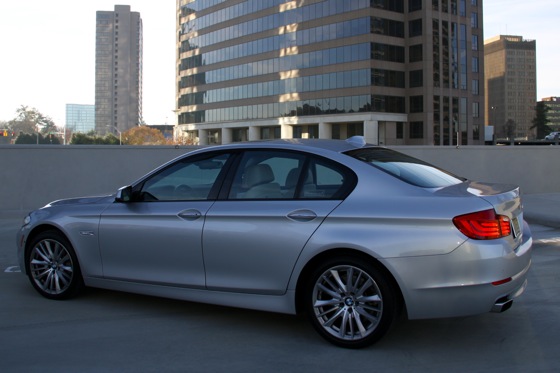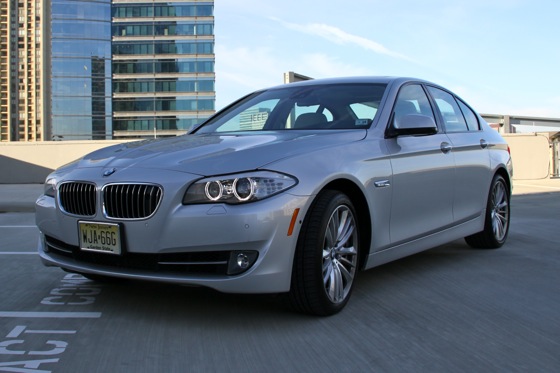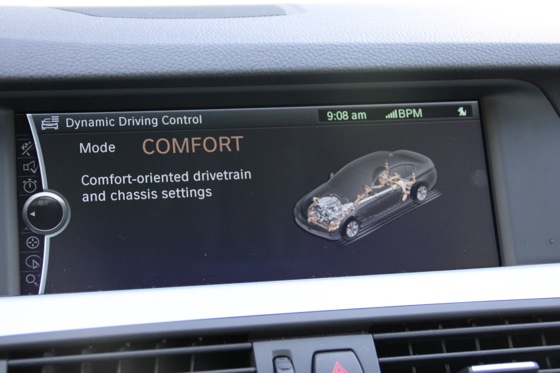 This German mid-size premium sedan has now reached its sixth generation. With sales of over 5.5 million, the 5 Series has been a long-running success, because it combines many key attributes – build quality, space, safety and refinement – with an involving drive. This model appeals to someone mature and moneyed (mid-to-upper management types, doctors, dentists and the like) who knows how to appreciate a car with depth. For those who like a nice toy or two, the new model comes a parking assistance option. It works like the Lexus self-parking system. And 5 Series ownership is now more affordable. This car has so many bases covered.
The 5 Series inside story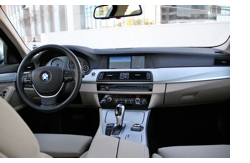 The interior is fresh but easily recognizable as quintessential BMW. The company wanted to go for modern without being cold. Job done. There's plenty of seat adjustability to assume the ideal driving position, while a clever ergonomic mind has been at work throughout the rest of the cabin. The navigation screen is large and easily visible. BMW's iDrive system – which controls everything from air conditioning to Bluetooth phone connections – gets easier to use with each new iteration. In true premium sedan style, quality leather and classy dark wood trim adorn the inside, and these materials seem an improvement over the previous model's rather disappointing decorations. Rear passenger space, never stingy in a 5, now offers one inch more legroom thanks to an extended wheelbase.
Exterior controversy
For a moment, let's just address the elephant in the room, or rather the lack of elephant: the styling. The new 5 Series still looks like a 5 Series should, but it doesn't have that polarizing design of generation five, the look that would send some people reaching for an antacid. Other folks must have liked it, because it sold well, but this new, sleeker-looking model could bring older customers back into the fold who were prepared to trade away that highly enjoyable BMW driving experience for something more conventionally handsome.
Drivers impressed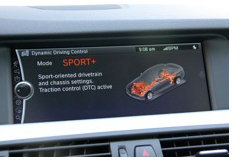 Just to the right of the steering wheel is the now-obligatory engine start button (ignition keys are soooo 20th century). Prodding this will, depending on the model, fire up either a 3.0-liter straight six making 240 horsepower and 230 pound-feet of torque (in the 528i), a 3.0-liter turbocharged straight six replete with 300 hp and 300 lb-ft of torque (the 535i), or a twin-turbo 5.0-liter V8 that dishes out 400 hp and 450 lb-ft (the range-topping 550i).
This seems counter-intuitive, but Americans are the only drivers to be offered a six-speed manual transmission option in the 535i and 550i. Apparently, these real enthusiasts – who make up about 10 percent of buyers – stir their stick shifts as a badge of pride. For those who prefer letters rather than numbers on their gear levers, there's an eight-speed automatic that comes with a sport mode and is quick-witted enough to keep most drivers more than happy.
Typically, power goes to the rear wheels, although the company does offer its xDrive all-wheel-drive option. Once on the move, the famed 50:50 weight distribution of BMW cars gives a neutral, balanced demeanor here. Everything seems to hit the sweet spot. The ride is comfortable without being sloppy, the electrically assisted steering has an ideal weight and feel, and the handling is crisp (for such a large car) without being jarring.
The 5 is crushingly competent, with a satisfying urge to even the smallest engine. And there are plenty of electronic driver aids – like Dynamic Stability Control, Corner Braking Control, Active Roll Stabilization – to help out if someone's ambition exceeds their talent. The only relatively minor downside is that, despite the hood and front fenders being fashioned from aluminum, this is not a light car – chassis and engine magic can only go so far in disguising that fact.
Price, pride and prejudice
The 2011 528i starts at $44,550, that's $1,400 less than the car it replaces. The 535i goes from $49,600 (down by $1,650) and the 550i begins at $59,700 (a drop of $900). Also bear in mind that BMW offers free servicing for four years or 50,000 miles.
Not only are the new models less expensive to buy, they're thriftier with gasoline. For example, a 2010 535i gets 16 city and 24 highway miles per gallon. This new generation returns 20 and 29, with an automatic transmission.
BMW resale values remain strong because BMW cars remain strong. There's a depth of engineering that goes a long way to justifying the initial outlay and the 5 now offers an array of safety features such as night vision with pedestrian detection and intelligent cruise control that will apply the brakes if necessary. Such gadgetry helps the 5 stack up against its rivals
Healthy competition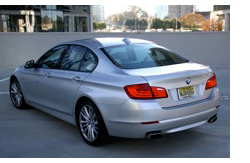 Mercedes-Benz debuted the current generation of its highly capable E-Class in 2009 and this is the main adversary right now. It has many similar tech features, such as lane departure warning and blind spot monitoring. But whether by chance or design, BMW has time on its side at the moment because so many other cars in this segment are ending their current market run.
The Audi A6 is stylish and the company is famed for its Quattro all-wheel drive system, but this car is due for replacement, perhaps as soon as 2011. The Cadillac CTS has the distinction of being a serious home-grown alternative, but is almost ancient in automotive terms; a new generation is set to go on sale in 2013. The Lexus GS has been without change for years and is not known for its great driving dynamics, although its Japanese heritage makes it a reliable choice. The Acura RL, which prefers to take things more sedately than a 5 Series will be updated later this year.
Jaguar's talented XF is still pretty fresh and could be an interesting choice; it has a great interior, the option of a supercharged 470-hp V8, and a certain overall cachet. A new generation of Infiniti M came out in March 2010. It's a fine car that deserves a bigger slice of the pie and more recognition as Japan's chief contender against a BMW in terms of engines, handling and equipment. This is no mean feat. The other newcomer is the Hyundai Genesis: good pricing, good build, but its reputation as an upscale brand is still building steam.
The new generation of 5 improves upon the last, which (styling and slightly low-rent interiors aside) wasn't too far from perfect either. The other bit of good news is that it's also less expensive. A 3.0-liter diesel engine with 245 hp, 398 lb-ft of torque, and only needs about a gallon to cover 30 miles, will be offered some time in 2011; the Europeans rave about it. In many ways, a BMW 5 Series is the ideal car: smooth and safe enough to keep a family unrattled and well protected, while also possessing the agility and muscle to grab an enthusiast's interest. It's roomy, practical, well-made and prestigious. It could be argued that anything bigger and/or more expensive is merely an extravagance.