Car News
2011 Chrysler Town & Country First Drive: Minivan to the Max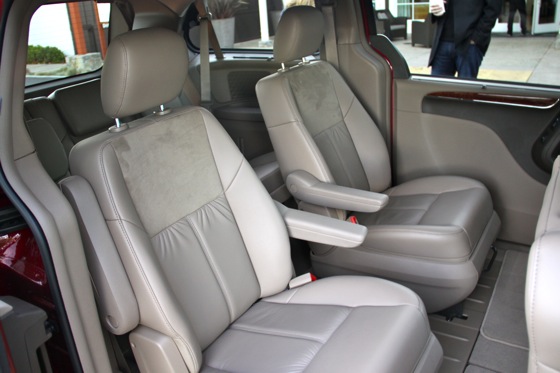 Two decades ago, the Chrysler Town & Country debuted in the wake of its phenomenally successful stablemate, the Dodge Caravan. Offering a more upscale treatment of the minivan, the Town & Country has since become a strong seller for the domestic carmaker, even inspiring Volkswagen to tap into the lucrative segment by re-badging the Town & Country for its own purposes and dubbing it the Routan.
For 2011, the Town & Country's cosmetic upgrades include a new front fascia with projector-style fog lamps, curved rear glass, a rear spoiler, LED tail lamps and a chrome lightbar. Nearly every interior surface has been improved for a more premium look and feel; soft-touch materials now abound, from the door pulls to the dashboard, and a new one-piece instrument panel incorporates a cleaner design.
A fresh chrome-rimmed center stack features air conditioning controls and vents, topped by a tasteful analog clock. An available "Super Center" console incorporates a sizable storage bin for first and second row passengers, with integrated power outlets and a pass-through space large enough for a purse. The available Uconnect system enables voice-activated navigation, multimedia and cell phone operation, and an optional web feature can transform the entire minivan into a wi-fi hot spot.
Chrysler's often-imitated Stow 'n' Go seating setup has been upgraded with larger and more comfortable second-row seats, and a new fold-down function operates with one touch. Applying that theme to roof storage, a new Stow 'n' Place roof rack allows roof bows to be stored in the side rails when they're not in use, for a flush look and improved aerodynamics. The Town & Country also gets a quieter ride, thanks to strategically placed acoustic treatments, improved body sealing and added sound insulation.
A new 3.6-liter V6 is now the only engine available and it produces a best-in-class horsepower figure of 283, along with 260 pound-feet of torque. Fuel economy figures have not yet been released, but the engine runs on 89 octane unleaded and is mated to a six-speed transmission. In addition, nearly every aspect of the suspension has been re-tuned for more agile handling.
The cabin is inviting and airy, with dual power sliding doors revealing a voluminous interior trimmed in Nappa leather and convincing faux wood. Second-row seats fold easily, allowing access to a third-row bench that offers an impressive 32.7 inches of legroom; the seven-passenger interior has between 156.1 and 163.5 cubic feet of volume, depending on configuration.
Even after several hours behind the wheel, the T&C offers a surprisingly satisfying driving experience, in spite of its massive proportions and tall "one-box" design. Engine power is never lacking, and the crisper suspension gives enough feedback to inspire the sort of driving style usually associated with smaller, nimbler vehicles. Though not quite as pliant as it could be, the firm-ish ride is a welcome trade-off for vague handling. At highway speeds, road and wind noise is eerily absent from the cabin, a testament to the sound-deadening efforts of Chrysler's engineers.
The T&C is available in three configurations: Touring ($30,160), Touring L ($32,160) and Limited ($38,660). Optioning up a top-of-the-line Limited to include a Uconnect media center, dual DVD entertainment system and a power sunroof can add up to around $43,000.
This much-improved people mover joins a total of eight Dodge/Chrysler vehicles updated for 2011 and this is proof that the company is serious about building quality cars. Perhaps the most notable indicator of the Town & Country's relevance is the fact that it has reclaimed the 2010 title of best-selling minivan from its fierce competitor, the Honda Odyssey. Chrysler's hard work has finally earned back the status that made it credible among early adherents of the minivan genre in the 1990s.