Car News
2011 Dodge Journey: This Major Refurb is an Inside Job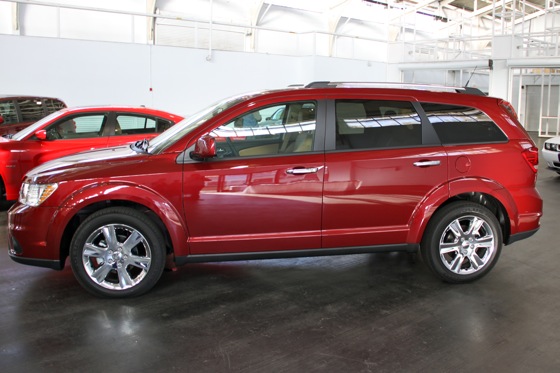 Life is a journey, but the Journey, Dodge's mid-size crossover, needed a bit more life if it was to meet the automaker's aspirations as a vehicle that emphasizes fun with a passion for driving.
To carry this out, Dodge has redesigned and re-engineered most of its 2011 lineup, upgrading (or should that be "improving?") quality as well as the quantity of life in the Journey. This model slots in between the Nitro SUV and the Grand Caravan minivan to serve up a blend of sport utility capability with the efficiency and performance of a passenger car.
A mildly refreshed exterior now wears the latest version of Dodge's "signature" split cross-hair grille, hinting at the major overhaul in terms of its drivetrain, suspension and interior.
Under the hood is a powerful new 3.6-liter V6 engine that puts out 283 horsepower and 260 pound-feet of torque – a 20-percent power increase over the previous 3.5-liter unit. A six-speed automatic transmission sends this enhanced muscle to the standard front-wheel drive system. All-wheel drive is an option.
The new V6 (versions of which appear in most 2011 Dodge vehicles) is rated at 17 mpg city and 25 mpg highway (all-wheel-drive models are 16 mpg/24 mpg), and comes standard in all but the bare-bones Express that only has front-wheel drive and a 2.4-liter, 173-hp four-cylinder with a four-speed automatic. This combination is rated at 19 mpg city, but achieves the same 25 mpg highway rating.
Dodge engineers have also made significant improvements to the steering and suspension. Larger shocks and revised spring rates improve ride comfort as well as reducing body lean in corners. New premium tires with lower rolling resistance not only increase fuel efficiency but – with additional cornering grip and improved steering response – make the Journey feel more at home on a curvy road. There's a fine balance between performance and ride, especially for a vehicle that can carry up to seven in comfort, plus a decent amount of their gear.
The Express rides on 16-inch steel wheels. The most basic V6-powered model, Mainstreet, gets 17-inch aluminum wheels. The better-equipped Crew, R/T (a sport model expected in Spring 2011) and premium-level Lux versions' standard equipment include 19-inch cast aluminum wheels.
These changes improve the Journey significantly. But even more remarkable is the work done by Klaus Busse, Chrysler's head of interior design, who attacked what he and his team called "our single biggest Achilles heel."
The result is an abundance of soft-touch surfaces that add a premium feel to the surroundings. A sculpted one-piece instrument panel is the most visible example of the effort to eliminate unsightly and potentially creaky seams and gaps throughout the interior. Other changes include bigger and better-placed cup holders; larger, easier-to-read instruments and a paraphernalia-swallowing center console. Fit and finish is tight, and there's hardly a whisper of wind noise – even at freeway speeds.
An all-new Uconnect Touch media center provides many entertainment and information options as well as connectivity for phones and music players.
The 2011 Journey hits showrooms in December. Pricing starts at $22,245 for the four-cylinder Express, $24,245 for the six-cylinder Mainstreet and $32,740 for the high-zoot Lux.
All the upgrades Dodge has applied to its latest models are impressive, but after driving every one, the Journey comes off as the most improved.