Car News
2011 Ford Explorer - New Car Review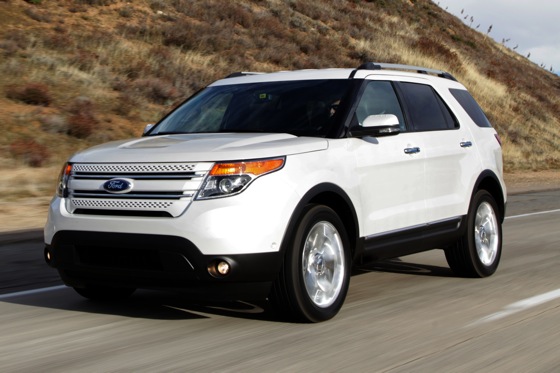 Imagine sharing breakfast with a Ford engineer. Then have that engineer tag along while the kids are driven to school, the week's grocery shopping is bought and loaded, and whatever other tasks are done with the aid of an SUV.
That's exactly what happened with some people. Ford sent R&D team members to spend quality time with real SUV users. Because the company not only wanted to find out what consumers wanted, but also to "read between the lines" and determine what they really needed. It seems a lot of us still want and need sport utility vehicles. According to Ford's research, the SUV market is growing faster than the rest of the industry. But we have new requirements in the 21st century. We want fuel efficiency and better handling to complement SUV-style practicality.
Ford's response is the 2011 Explorer. It's larger and has more content than the old model, yet it's also lighter – a crucial element in fuel consumption.
Built on a platform shared by the Flex and the Taurus, the Explorer's construction is known as unibody, as opposed to the separate body-on-frame arrangement that was the old model. So if hairs were being split, this new vehicle is technically a crossover utility vehicle (CUV). But what Ford has really done is to bring the letters S, U and V up to date, and make them acceptable once more.
Exploring the interior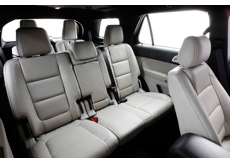 This is a seven-seater vehicle. That third row comes as standard. And although younger family members are best suited to it in terms of space and accessibility, it's not out of the question for average-sized adults to cram in for a shorter jaunt or two. Passenger space elsewhere is also generous. The second row is raised a little for a kind of theater seating effect, although a tall driver will encroach upon available legroom back there. At least the two outside second-row seats have a world first: inflatable seat belts.
The front seats are well shaped and deeply comfortable. If long road trips are in the cards, this is your vehicle. Throughout this remarkably serene cabin, materials, shapes, construction and even noise levels are all first-rate. Ford said it benchmarked Audi; that target has pretty much been hit.
Ford is doing a nice line in mobile technology these days, at least at the best-equipped trim level. There is almost an encyclopedia's worth of information at the driver's fingertips, along with voice-activated control of navigation, phone, audio and even air conditioning. The central "brain" has over 10,000 commands it can recognize, so users don't need a specific wording to get the desired outcome. The system can find gasoline, food and ATMs, plus many more points of interest, and then calculate a route. Even here, there's the option of taking the most economical way, with criteria taken from regular traffic updates.
On a more basic note, the second and third row of seats can fold flat, for a highly useful load space. The Explorer offers 80.7 cubic feet of cargo volume. This time around, the rear window does not open separately, but there is a power liftgate on the highest trim. And in models with the rear-view camera, a zoom function helps to home in on that pesky trailer hitch.
Outward bound
There's more than a touch of high-class Range Rover about the front end. It looks imposing without being ugly. The subtle balance of shapes and proportions camouflage the fact that this vehicle can seat seven in comfort.
Perhaps the prettiest aspect is the dark rear glass areas and blacked-out rear pillar. The ultimate effect is a wrap-around look. There are also some fetching-looking alloy wheel designs. But it isn't all about aesthetics. This vehicle is 12 percent more aerodynamic than its predecessor, which helps with fuel efficiency.
The journey, not the destination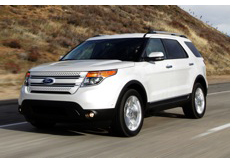 At first, the only engine is a 3.5-liter V6, driving either the front wheels or all four via a six-speed automatic transmission and capable of towing 5,000 pounds. This latter figure, according to Ford's research, is adequate for 96 percent of people who do actually hitch stuff up to the back of their SUV.
There will be no V8 option, but this newly developed V6 has the measure of older engines with two extra cylinders. Maximum muscle is 290 horsepower and 255 pound-feet of torque, while fuel consumption runs to a claimed 25 mpg on the highway. It's happy to spin round to the upper reaches of the rev counter, yet delivers most of its punch around 4,000 rpm.
For a big, commodious machine like this, the chassis is a revelation. It inspires confidence through every turn. The steering has a honed precision, complemented by the body's resolute composure. With the optional 20-inch wheels, bumps in the road are more easily felt (bigger wheels mean a thinner tire sidewall, hence less "give"), but the available 18-inchers strike a good balance between poise and pose. Really, the Explorer handles better than many popular mid-size sedans.
In case something does get overcooked, Ford has a new technology to go with its standard electronic traction and stability programs called Curve Control. This can sense an imminent calamity and brake whichever wheel(s) it feels necessary to prevent it, also cutting engine power at the same time. In this way, up to 10 mph can be scrubbed off in one second.
Another new piece of equipment is for when the Explorer is taken off the road deliberately: Terrain Management. This is the reason for the vehicle's ability over mud, sand or snow, with each setting accessed by the simple turn of a dial. Also, Hill Descent Control takes the Explorer down a slippery slope with only steering input required from the driver.
It's a trend
It seems Ford isn't the only company to update the SUV for modern times. Jeep has a 2011 Grand Cherokee, starting from $30,215, that has already earned fans for its Mercedes-Benz M-Class underpinnings, 290-hp V6, air suspension and off-road capability.
The 2011 Dodge Durango is also now of unibody construction and also a seven-seater. Like the GC, it has V6 and V8 engine options. It starts at $29,195 for a rear-drive model.
With seating for eight, the GMC Acadia and Chevrolet Traverse (basically the same vehicle) start at $31,840 and $29,224 respectively. Each offer plenty of utility and the manners of a conventional car, but less in the way of off-road ability. Their optional all-wheel drive systems are more suited to inclement weather.
The other big names in this class are the 2011 Honda Pilot (from $28,045) and 2011 Toyota 4Runner (from $29,525), but they have yet to be subjected to any SUV rejuvenation program.
The 2011 Ford Explorer starts with a base model at $28,995 that still enjoys the major safety features. It's $31,995 for the XLT trim, offering extras like heated side mirrors, leather-wrapped steering wheel and reversing sensors. Moving up to the Limited scores all the really good stuff like the voice-activated infotainment system, power-folding third-row seats, big wheels, heated front seats, leather trim and blind spot detection. It starts at $37,995 and can easily hit the 40s with several choice options. But this domestic SUV comes tantalizingly close to rivaling luxury German counterparts that cost much more.
Later in the year, another version will make its debut. It will have a turbocharged four-cylinder engine, front-wheel drive only, no option for Terrain Management and less towing capacity. However, Ford does claim a 30 percent improvement in fuel economy over the outgoing V8 engine. Basically, it's for drivers who tackle surfaces no tougher than a speed bump. Anyone wanting real SUV chops should find this V6 version to be a better idea.