Car News
2011 Ford Explorer: The SUV Strikes Back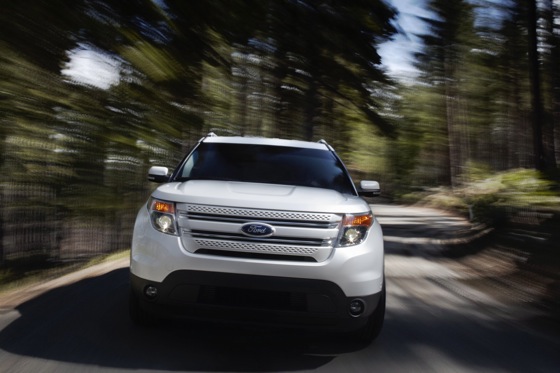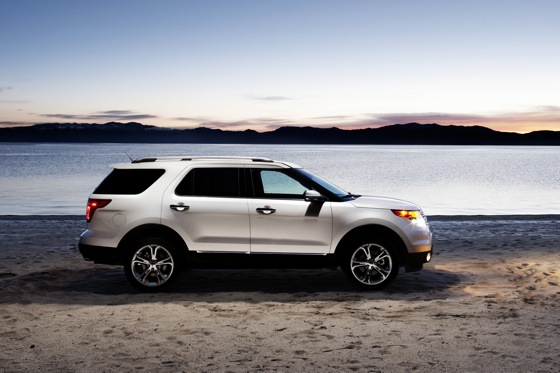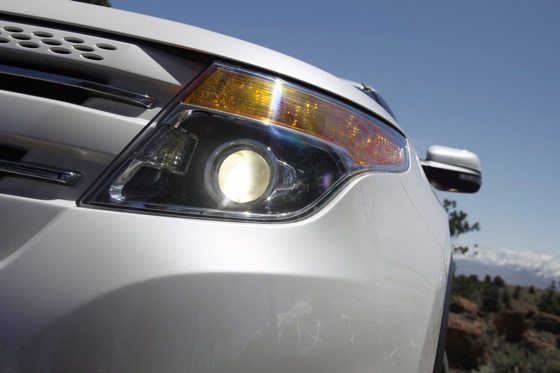 "The reinvention of the SUV" is how Ford puts it. Up to this point, it seemed like the Explorer belonged to bygone era, a time when no one cared about fuel prices or emissions and just wanted a big, basic sport utility vehicle.
Well, the 2011 Ford Explorer is a big sport utility vehicle, but it's far from basic. All the things learned from car-based crossovers and the rest of the modern auto industry – regarding more efficient engines, body control, safety features and smarter packaging – have made their way into the new version. Ford has not so much dragged the Explorer badge into the contemporary world, as launched it back into the spotlight.
Still loved, but the SUV had to change
There's still a market for SUVs. According to Ford's research, they constitute 30 percent of all vehicle sales in the United States. But people are demanding more – they want practicality, muscle and economy. Some big V8 making a couple of hundred horsepower and drinking like a dehydrated fish isn't going to cut it any more.
There's still a market for SUVs, but people are demanding more practicality, muscle and economy.So the standard engine in this new Explorer is a 3.5-liter V6 that makes 290 horsepower and 255 pound-feet of torque. But here's something unusual: the optional engine is a four-cylinder. It displaces just two liters, but it has variable camshaft timing, direct fuel injection and a turbocharger to make 237 hp and 250 lb-ft of torque. Ford says it achieves "at least" a 30 percent improvement in fuel economy over the outgoing 210-hp, 4.0-liter V6, while having only 2 horsepower less than the old Explorer's V8.
Whatever engine is under the hood, power goes to a six-speed auto transmission and then on to drive either just the front wheels (ye olde Explorer had rear-wheel drive as its basic setup) or all four, depending on the model. And here we arrive at another piece of modernity.
Clever things to do with mud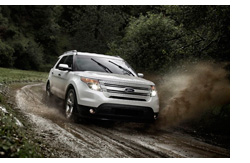 The new Explorer dispenses with antiquated and heavy off-road hardware like a transfer case, opting instead for computerized control of throttle, transmission and brakes to get it through the unpaved wilds. All this trickery has been boiled down to a four-position selector switch on the center console and is called the Terrain Management System. In Mud, Sand, Snow or Normal mode, the system will take on the burden of the work, letting the driver do little things like steering or the occasional prod on the gas pedal. There's also a hill descent control: engage, steer, and keep feet away from all pedals to ease down that slippery slope.
Ford is expecting the new Explorer to be taken off-road, then. But since this is not an old-school SUV whose body-on-frame construction gave it plenty of ground clearance and reassurance on the rocks, the 2011 Explorer is slightly more limited. Comparing approach and departure angles, the old model has 28.2 degrees and 23.8 degrees respectively. The new one makes do with 21.3 and 21.8. Even so, its eight inches of ground clearance and smart systems should be enough for most people. While on the subject of outdoor pursuits, the new Explorer has a maximum towing capacity of 5,000 pounds. And yes, there's a trailer sway control and a rear-view camera available.
The grand cavern
There's still room inside for seven people. And before the cynical laughter begins, be aware that a six-footer can sit in the third row. Maybe not all the way to the Grand Canyon, but still. That third row can also be flattened by pressing a button (a power tailgate is another available feature). The second row gets down pretty easily too, with a strap and a lever.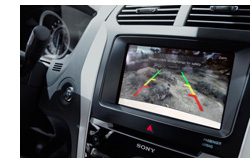 The cabin in general has some good quality materials. For example, where once there might have been metal-effect plastic on door handles and speaker grilles, there is now real metal. "The best interior we've done to date," says Ford; plus a claimed best-in-class quietness, no less. Upscale marques like Audi and Lexus were benchmarked for quality of fit and finish.
Taking pride of place in the dash is the eight-inch touchscreen for MyFord Touch. This is a development of the Ford/Microsoft Sync navigation, communications and entertainment system. So many commands (around 10,000, including climate adjustment) are now voice-controlled and all expected forms of connectivity are present and correct, plus the ability to be an Internet Wi-Fi hotspot. Devices like these are more often found in high-end cars, but this is part of Ford's mission to democratize technology: "making cool stuff affordable."
To protect and serve
Family, friends and features are cocooned in a shell that deploys a hefty proportion of high-strength steel, inflatable second-row seatbelts (a world first), blind spot alert and plenty of airbags. Before those resorts are needed, though, the 2011 Explorer has radar sensors to warn of imminent collision, brakes that can pre-engage, blind spot detection and curve control. The latter is there to prevent vehicle rollovers, something to which SUVs – with higher-than-average centers of gravity – are prone. This feature can apply braking to one side of the vehicle and scrub off 10 mph in one second if required.
The design of the new Explorer was penned by an almost famous person: Moray Callum. Callum has an older brother, Ian, a star in the design world, responsible for most of the current Aston Martins and Jaguars. It's fair to say the drawing talent is in the genes. Pricing will start at $28,995. That is cheaper than the outgoing 2010 Explorer XLT entry-level model ($29,290). AutoTrader will be giving the new Explorer a full test later in the year, before it goes on sale, so please keep checking back. But from what has been revealed so far, it looks like the SUV really has just been reinvented.