Car News
2011 Ford F-150 - New Car Review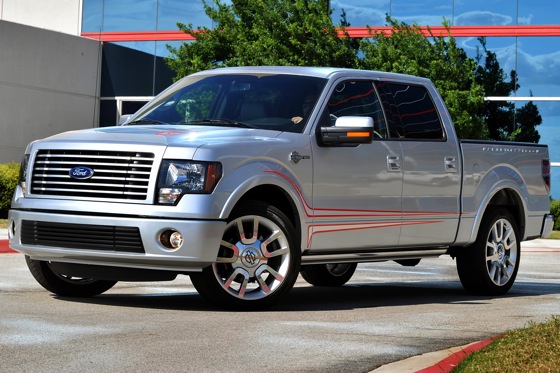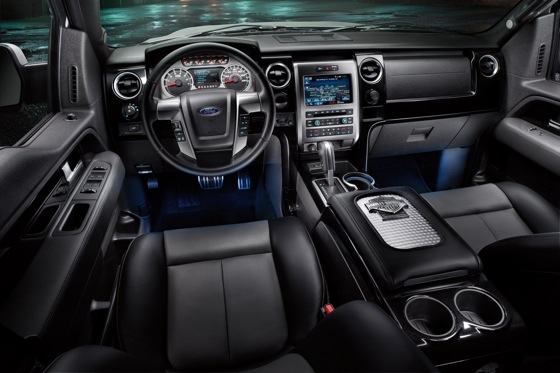 From Strength to Strength
Ford's F-series trucks have been best sellers for 33 years straight and that fruitful reign looks set to continue with the 2011 F-150. After a complete redesign of this pickup in 2009, Ford looked to its loyalists and other truck buyers for feedback. Aside from power, payload and towing prowess, fuel economy is growing ever more important. As a result, the new lineup is greener. There are four new engines: two V6s and two V8s.
The big break from tradition is the option of a turbocharged EcoBoost 3.5-liter V6, with 365 horsepower and 420 pound-feet of torque. Its abilities are equal to a large-displacement V8. For instance, it can tow 11,300 pounds. Yet it is also expected to achieve up to 24 mpg.
Other changes include a six-speed automatic transmission across the board, new electric power-assisted steering and a raft of small to significant upgrades. The 2011 F-150 is available in Regular Cab, SuperCab and CrewCab versions, with short- and long-bed variants, and in trims that range from the base XL to the top-of-the-line Platinum, as well as Harley-Davidson, King Ranch and Raptor special editions. Back in the lineup are the special-edition Lariat Limited and XLT Custom package, with bespoke trim and wheels; both have optional all-wheel drive packages.
Insider's guide
Distinctive materials and trim elements differentiate each model's interior. Buyers can choose seating for three to six occupants. The newest feature is the 4.2-inch LCD message center – as seen in its big brother, the Super Duty. On display are functions such as fuel economy, towing performance and off-road parameters.
Among the many amendments are new gauges in the instrument panel are a larger, higher-resolution rear-view camera with a zoom feature integrated into the rear-view mirror; a three-point safety belt and head restraint for the middle passenger in the front; one-touch power front windows; 110-volt outlet; remote start; telescoping steering wheel; HD radio and perimeter alarm.
Pickups have a reputation for being workhorses, but the nature of work has changed in the 21st century. The 2011 Ford F-150 reflects that with a proprietary Sync voice-activated infotainment system, Bluetooth connectivity, navigation with Sirius Travel Link and Ford Work Solutions. This last feature turns the F-150's cabin into a mobile office, with available internet access.
Old-school cabin practicality includes a load floor that can fold completely flat, a rear seat that folds with ease and a sliding heated rear window.
Macho libre
The F-150 also has a diverse array of exterior elements, depending on the model, but each one sports a large grille, bulky headlamps and hefty outside mirrors. Useful features include box side steps, tailgate step and a stowable bed extender.
Motion thickness
Ford claims each of the four available engines deliver best-in-class towing, payload and power ratings, and all are projected to be up to 20 percent more fuel efficient than the 2010 equivalents. Fuel savings come from engine improvements, the new six-speed auto transmission and switching to electric power steering assistance on all models (except the Raptor). These changes to the steering system also make F-150 easier to park, easier to execute towing maneuvers and it feels more nimble on the road.
The 365-hp EcoBoost comes at a $1,750 premium over the 3.7-liter V6 and will be offered on 90 percent of F-150 variations. It is capable of fast sprints off the line with no turbo lag; 90 percent of its torque is low in the rev range for that immediate punch.
The top V8 displaces 6.2 liters to develop a substantial 411 hp and 434 lb-ft of torque. This can also pull 11,300 pounds, while Ford claims its fuel economy to be "impressive." Now available on up-level and special-edition models only, Ford expects 10 percent of buyers will select this most powerful motor, while 50 percent will opt for a V6. Other engines are a 3.7-liter V6 (302 hp/378 lb-ft) and a 5.0-liter V8 (360 hp/380 lb-ft).
What else is out there
The 2010 Toyota Tundra is well priced, drives decently, offers three engines and various cab/bed options. Equipment levels are generally good, but there's a Work Package that, for a saving of $195, actually deletes some features like power mirrors. That doesn't really sound like a corner worth cutting. Toyota promises an updated Tundra with numerous advances in the near future.
Chevrolet's 2010 Silverado is the other standout truck along with the F-150. Cabs, beds, engines, quality... it's all there. A Silverado can be a good choice. Ditto for the GMC-badged version, the Sierra. Except for the hybrid versions. These are too expensive for what they are and don't achieve any fuel consumption figures that could really sway a buyer.
The Nissan Titan doesn't have quite the range or the modernity, but does pack some power. And it has proper off-road abilities. It's just been overtaken by the competition.
Formerly known as a Dodge, the Ram 1500 has ditched the old leaf-spring arrangement for a coil-link rear suspension that delivers a better ride. This also enhances the truck's general versatility. But 210 hp from a 3.7-liter engine? That's just asking to be outclassed.
Ford is putting the squeeze on the light-duty truck competition at a time when fuel economy is more important than ever. High marks also go to the sheer range of models, interior packaging (the cab floors of rivals do not fold flat) and technologies such as Ford Work Solutions, Sync and the LCD screen communication system. Although proven in other Ford vehicles, EcoBoost is new to trucks, so some might prefer to wait and see, regardless of whether Ford's predicted fuel economy for this engine pans out to be in the vicinity of 15 mpg in the city and /21 mpg on the highway, besting most of the competition's V8 automatics.
Ford is now poised for more stringent fuel economy standards expected from the government, although EPA miles per gallon figures were not available at the time of writing this review. The 2011 models will go on sale from the end of 2010, starting from $22,415; EcoBoost versions follow in February.